8 Feb 17

As we farewell A History of the World in 100 Objects from the British Museum, I'd like to extend my warmest thanks to everyone who helped make it our best-patronised exhibition yet.
I was fortunate to meet people from across Australia and and the globe for the four months this unique and ambitious exhibition was on show in Canberra.
Thank you to all our visitors, volunteers and staff for their interest and support. Thanks too for bearing with us on the car parking and queues that sometimes come with an influx of visitors. We're taking your suggestions into account as we plan for the future.
New experiences and exhibitions
Of course none of this would have been possible without the British Museum, consolidating on the success of our earlier collaboration for Encounters. A third British Museum exhibition on ancient Rome is expected to open here in 2018.
Meantime, we're offering exciting new experiences in 2017, and the exhibitions continue with Freewheeling: A History of Cycling in Australia opening in April and Kungkarangalpa: Seven Sisters Songlines on show from September.
Forecourt and gallery renewal
We're also redeveloping the Museum's forecourt, where new native plants, shade and seating will help provide a more meaningful and comfortable welcome for visitors.
The renewal continues across the Museum, as we refresh the large objects on show in our Main Hall, and prepare to launch the new Welcome Space in our First Australians gallery.
I encourage you to continue exploring all the Museum has to offer and particularly look forward to seeing some of the record number of people who joined our Museum Friends last year.
Thanks again for your support.
You may also be interested in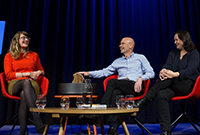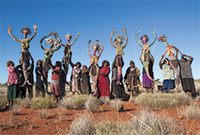 Exhibitions
Songlines: Tracking the Seven Sisters and more
501972
576365
568869
558890
558733
540334
517446
535108
535167
533985
533694
527942
527378
524798
522450
521352
519072
517553
516283
516179
514579
514509
514310
513855
512249
510452
508942
509149
508918
508843
508176
508208
506723
506088
504645
504335
504509
503450
502722
502069
501972
500921
500837
500362
500509
499822
498893
498600
Read next >>
<< Read previous
News index