20 Jun 17

Cycling adventure starts in 1946
Have you ever thought about abandoning your normal life, packing a bag and setting off around Australia on your bike? That is exactly what two young women, Shirley Duncan and Wendy Law, did in 1946. Driven by a desire to travel but without the funds to buy a car, the two women set off on their bikes to see as much of Australia as cheaply as possible. It was a journey that lasted three years.
'We have a love of travel and thirst for adventure. Travelling the country by bike is much more interesting, seeing the country first hand, meeting local people and gathering experiences,' Shirley said.
The story of Duncan, 21, and Law, 19, is one of many in the National Museum's Freewheeling exhibition. The women left their homes in Melbourne and cycled to Queensland for winter and returned three years later, after cycling to Darwin, Adelaide and across the Nullarbor Plain to tour Western Australia.
Odd jobs and self-promotion
This endearing story about two young women illustrates the sense of adventure and freedom in postwar Australia. Duncan and Law financed their trip by working odd jobs along the way, acting as agents for a publishing company and selling souvenir pamphlets of their tour. They camped and lived frugally.
The women bought a dog from a Brisbane pet shop early in the trip. The dog, Peter, learnt to balance on the back of the bike, but also ran alongside, his feet protected by special shoes. He was named after Peters Ice Cream, who provided the girls with a pass that allowed them to obtain a free ice-cream in each town they visited. They were also sponsored by bicycle manufacturer Malvern Star.
Public imagination
Duncan and Law's trip captured the public imagination. They were interviewed by local media and were invited to talk in schools and community organisations. While travelling through Sydney the girls approached Movietone News to film their story. The newsreel was played in movie theatres around the country and featured scenes shot in the outskirts of Sydney.
Many people remembered them as 'the girls with the washing on the bikes', a scene which we find out in Wendy Law's 2008 book With Bags and Swags was set-up for the cameras. Shirley Duncan's Two Wheels to Adventure: Through Australia by Bicycle, was published in 1957.
Film footage provided by Rightsmith. Main image: Shirley Duncan and Wendy Law leaving Melbourne, 1946 by H Dacre Stubbs, Department of Information, Australia.
You may also be interested in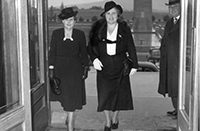 Defining Moments
Explore key events in Australian history or contribute your own
508918
572207
580359
584136
576365
568869
558890
558733
540334
517446
535108
535167
533985
533694
527942
527378
524798
522450
521352
519072
517553
516283
516179
514579
514509
514310
513855
512249
510452
508942
509149
508918
508843
508176
508208
506723
506088
504645
504335
504509
503450
502722
502069
501972
500921
500837
500362
500509
499822
498893
498600
Read next >>
<< Read previous
News index