4 December 2013
Never exhibited in Australia Arnhem Land barks from the world's biggest collection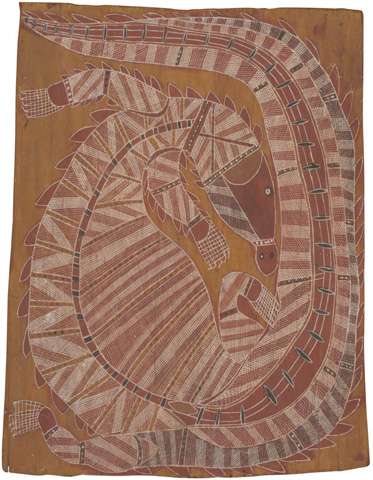 Rare bark paintings will feature in a December exhibition of Arnhem Land artworks at the National Museum of Australia, in Canberra.
Old Masters: Australia's Great Bark Artists celebrates the genius of master bark painters who worked on eucalyptus bark from northern Australia.
'This exhibition challenges our notions of what Aboriginal barks are by presenting exquisite artistry, diverse palettes and innovative designs that are not popularly associated with barks,' said National Museum consultant curator, Wally Caruana, 'Most of the works have not been displayed in Australia before.'
With over 2000 works of art on bark, the National Museum holds the world's largest collection of bark paintings.
The Old Masters exhibition draws from the Museum vaults to feature 122 of the most outstanding Arnhem Land works by 40 artists, painted between 1948 and 1988.
The exhibition will feature masters including Yirawala and Narritjin Maymuru, Mawalan Marika and David Malangi who put Aboriginal bark painting firmly on the map of the world of art.
The exhibition will explore the dynasties of Aboriginal bark painters and the strong master-student bonds that epitomise the genre. A number of artists in the exhibition also painted on the rock walls and overhangs that abound in west Arnhem Land and beyond to Kakadu.
Old Masters also pays homage to the collectors including Charles P Mountford, Karel Kupka, Helen Groger-Wurm and Jim Davidson, who not only recognised the cultural significance of these works, but also their artistic and aesthetic qualities.
They identified the barks as 'Art' - acquiring them for everyone to see and celebrate.
Old Masters runs from 6 December 2013 to 20 July 2014.
For more information please contact Tracy Sutherland, (02) 6208 5338 / 0438 620 710 or media@nma.gov.au
Return to

Top