October 31, 2013
It is the race that stops the nation and the National Museum of Australia in Canberra hopes to stop visitors in their tracks with the acquisition of the earliest unaltered Melbourne Cup in existence.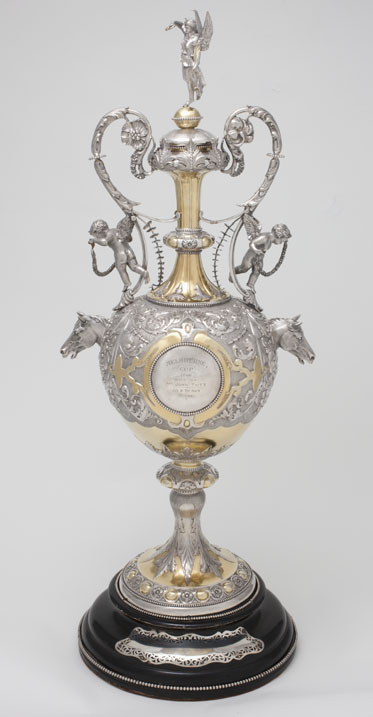 In tribute to a race that captivates the nation on the first Tuesday in November every year, the National Museum has purchased the ornate 1866 Melbourne Cup.
"The purchase ensures that this magnificent trophy will rest permanently in the Museum's national collection for all Australians to enjoy," said National Museum of Australia acting director, Dr Mathew Trinca.
The 1866 Melbourne Cup joins the 1867 and 1934 Melbourne Cups in the Museum's collection. It also complements the Museum's other most requested object - Phar Lap's heart.
First run in 1861, the Melbourne Cup was initially a cup in name only. For the first four years of its existence, no trophy was awarded.
It was not until1865 that the race winner was presented with a trophy, but this cup was later sold by its owner to the Flemington Hunt Club, which rebranded it.
The 1866 and 1867 trophies now resting at the National Museum, are therefore the oldest Melbourne Cups, which still retain their original inscriptions.
The 1866 Melbourne Cup was won by then owner and trainer John Tait's, 'The Barb', a magnificent stallion affectionately known as the 'Black Demon' on account of his fiery temperament - a reputation forged when he threw off his rider before the start of his first race.
The 1867 Melbourne Cup was won by 'Sydney' Tim Whiffler (one of two Tim Whifflers who entered the race), trained by Tait's great rival, Etienne de Mestre, who ultimately won five Melbourne Cups.
The 1866 and 1867 Cups are currently featured in the Museum's New Acquisitions Case, where they will remain until December.
The National Museum is currently undertaking a research project on the history of the horse, ahead of a major exhibition in September 2014. See nma.gov.au/horses
For interviews and more information, please contact Tracy Sutherland on 02 6208 5338, or 0438 620710, or media@nma.gov.au
Return to

Top