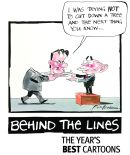 1 March 2005
A cackle of cartoonists (or is the collective noun a giggle?) will gather in Sydney tomorrow for the launch of the National Museum of Australia's Behind the Lines exhibition.
The year's best political cartoons - tracing the tsunami, war, free trade and the fall of Latham - go on show at Parramatta's Riverside Theatre as part of the Big Laugh Comedy Festival.
The exhibition features cartoons from Bruce Petty, Fiona Katauskas, Phil Somerville and Lindsay Foyle, who will all attend the 11am launch. Behind the Lines also includes work from Alan Moir, Bill Leak, Warren Brown, Cathy Wilcox and David Rowe, among others.
WHAT: Behind the Lines launch with Bruce Petty
WHEN: 11am, Wednesday March 2, 2005
WHERE: Foyer, Riverside Theatre, corner Church and Market streets, Parramatta
National Museum curator Guy Hansen, who has compiled the annual exhibition for the past eight years, said the graphic commentary in each cartoon was often more evocative than the words surrounding them in print.
Behind the Lines is a compilation of the best 80 entries from the National Museum's Australian Political Humour Competition. The winning cartoon - which attracts a $5000 prize - will be announced when the exhibition opens in Canberra.
Behind the Lines is on show at the Riverside Theatre until March 20. It then travels to the National Museum in Canberra from March 24 to June 13, 2005 and the Constitutional Centre of Western Australia in Perth from July 1 to August 31, 2005. Entry is free.
For interviews, images or more information please contact please contact Leanda Coleman on 02 6208 5338, 0438 620 710, l.coleman@nma.gov.au ; or Sandy Forbes on 02 6208 5351, 0409 916 481 or s.forbes@nma.gov.au
Return to

Top