Promoting and marketing the Museum
In 2013–14, the Museum continued to raise the visibility of its profile and brand in local, national and international markets. For the first time, the communications strategy included a mix of traditional and non-traditional media. Successful strategies and creative campaigns were developed for Glorious Days: Australia 1913, Old Masters: Australia's Great Bark Artists, Warakurna: All the Stories Got into Our Minds and Eyes and Lag, Meta, Aus: Home in the Torres Strait.
The Museum developed key partnerships with the Centenary of Canberra, the National Folk Festival, Crowne Plaza, Palace Electric Cinema, Novotel Canberra, QT Hotel, the Canberra Times, 666 ABC Canberra and Foxtel. Wholesale distribution of tickets to the Glorious Days and Old Masters exhibitions provided the Museum with further promotional opportunities via nationally branded accommodation properties and media channels.
The Museum maintained its close links with the Canberra tourism industry. Museum representatives attended trade shows in Adelaide, Sydney and Cairns, and participated in the ACT Trade Mission to Singapore, and Tourism Australia's Corroboree China. These events provide the Museum with access to international distribution networks and the opportunity to raise the profile of the Museum and build relationships with suppliers, agents and wholesalers working in international tourism markets.
In June 2014, the Museum participated for a second year in the 'Human brochure' campaign run by VisitCanberra. This campaign was designed to generate positive perceptions of Canberra and encourage people to visit the Museum by creating a community of advocates. This year's Human Brochure activity targeted 101 local residents who are also influential social media users, inviting them to participate and experience the best of Canberra attractions with a view to their becoming local ambassadors.
Advertising and market research
In accordance with reporting requirements contained in Section 311A of the Commonwealth Electoral Act 1918, the Museum annually reports expenditure on advertising and market research. Expenditure by the Museum in 2013–14 is summarised in the following chart:
| Firm | Type | Value |
| --- | --- | --- |
| Adplacer | Media advertising organisation | $16,500 |
| Fairfax Media Limited | Media advertising organisation | $37,908 |
| Fairfax Media | Media advertising organisation | $12,463 |
| Prime Media | Media advertising organisation | $16,753 |
Note: In accordance with Section 311A(2) of the Act, only payments over $12,166 are reported.
The Old Masters: Australia's Great Bark Artists exhibition was launched in December 2013 with a multimedia press release that combined video, audio, images and text, giving it broad appeal across broadcast, print and online media. The most popular media stories, as measured by broadcast numbers and print circulation figures, included:
stories generated by the two major temporary exhibitions, Old Masters and Glorious Days
the acquisition of the 1866 Melbourne Cup
a story on the 'digital' effort, through the Museum's robot program, to reunite Phar Lap's heart, skeleton and skin to coincide with Melbourne Cup Day
preservation of the thylacine specimen
the proposed post-Budget merger of back-end functions of cultural institutions
the appointment of Dr Mathew Trinca as Museum Director.
Overall in 2013–14 the Museum reached a combined broadcast and print media audience of 53,610,944. This included a radio and television audience of 12,887,102 and a print circulation of 40,684,154.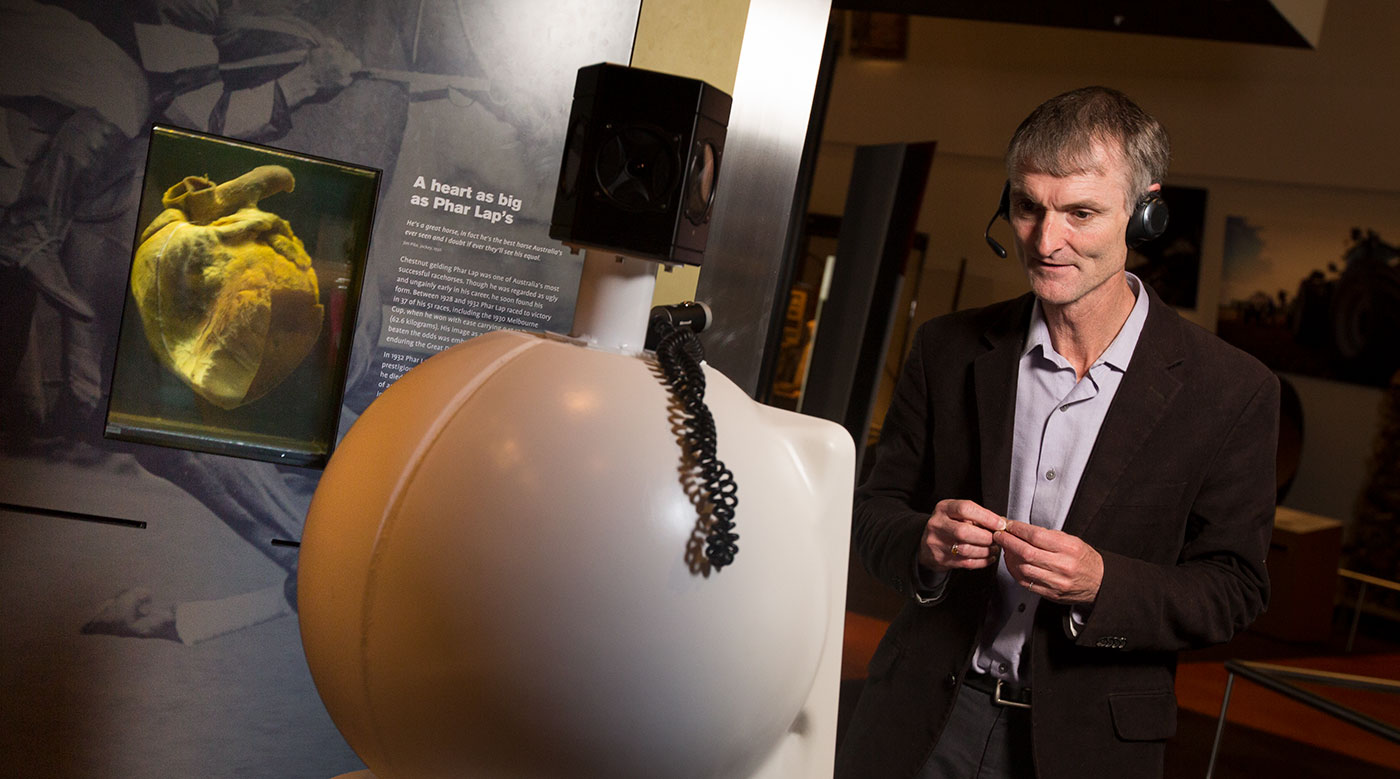 Special projects manager and robot-wrangler Robert Bunzli, helping the Museum robot reunite — in a virtual sense — Phar Lap's hide, heart and skeleton, November 2013
National Museum of Australia Press
National Museum of Australia Press was established in 2004 and publishes scholarly, special interest and corporate titles, as well as books for general readers and exhibition catalogues.
In 2014–15, the press published two exhibition catalogues, Old Masters: Australia's Great Bark Artists, and Behind the Lines: The Year's Best Political Cartoons 2013. It also published I Am Woman Hear Me Draw, an updated and expanded edition of a popular book by cartoonist Judy Horacek.
The press also published two issues of the Museum's scholarly journal, reCollections: A Journal of Museums and Collections, a number of corporate publications and two issues of The Museum magazine. The magazine is distributed nationally and presents information on a diverse range of exhibitions, programs and activities.
Return to

Top