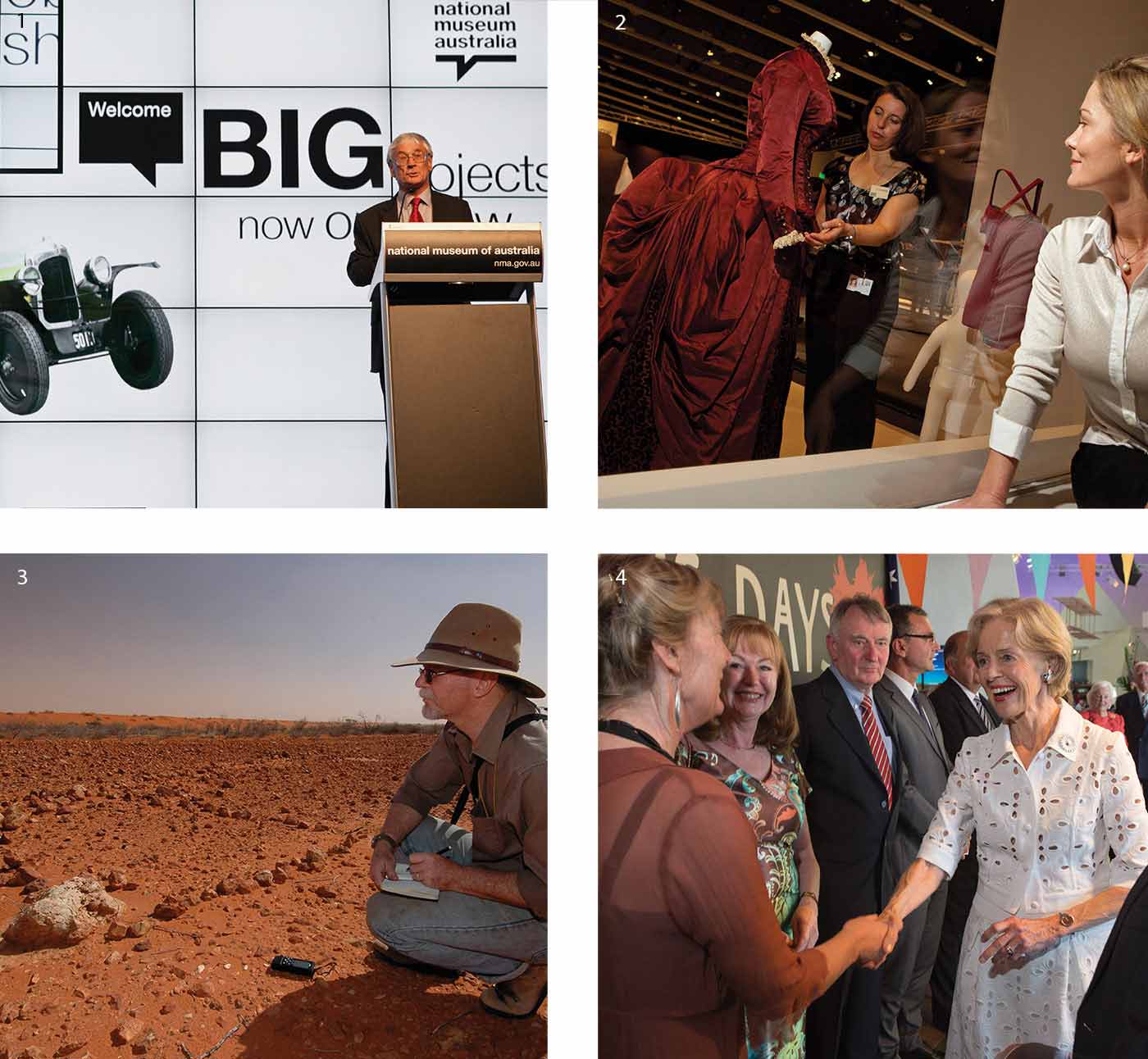 July 2012: Community consultation continues on the upcoming exhibition resulting from the Encounters project, based on Indigenous Australian collections that are held by the British Museum. This collaboration will result in two major exhibitions in London and Canberra in 2015.
October 2012: Dick Smith launches a display of large objects in the Museum Hall. Framed by beautiful views of Lake Burley Griffin, the grand-scale treasures have transformed the Main Hall into a vibrant gallery space (1).
October 2012: Museum Workshop: The Art, Science and Craft of the Conservator, a unique exhibition that went behind the scenes with Museum conservators, opens. Here, conservator Carmela Mollica prepares a duchess satin dress from the Springfield collection for display (2).
January 2013: Pioneering desert archaeologist Dr Mike Smith is awarded an AM in the 2013 Australia Day Honours list for significant service to archaeological scholarship. This image, taken by Stuart Grant, shows Mike Smith at work in the Simpson Desert (3).
March 2013: Governor-General Quentin Bryce officially opens Glorious Days: Australia 1913. This exhibition features the fashions, cars, designs and ideas that expressed our dreams before the world changed forever. Here, the Governor-General meets the lead curator of the exhibition, Michelle Hetherington (4).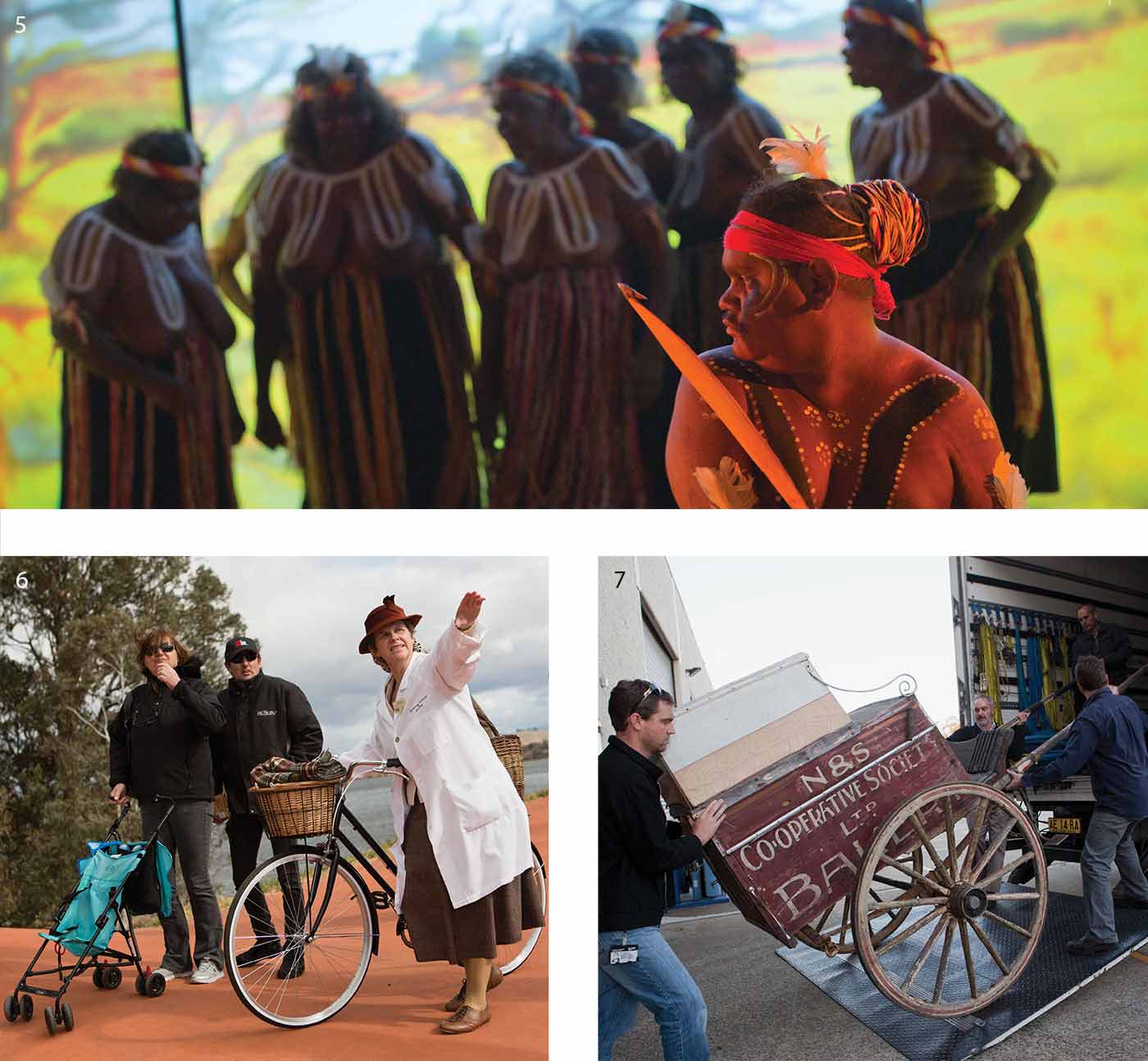 March 2013: The ancient chants of the Kungkarangkalpa: Seven Sisters Songline fill the night as traditional dancers from Central Australia perform under the stars at the Museum (5).
March 2013: The Museum Robot is unveiled. Students from regional and remote Australia can now virtually visit the Museum via a robot that accompanies a Museum educator through the gallery and streams panoramic video from an omni-directional camera.
April 2013: Peninsula tales walking tours begin. Wearing period costume, guides 'Catherine' (pictured) and 'Ernest' share the history of Acton Peninsula with visitors on a one-hour walking tour (6).
April 2013: The Museum acquires bakery cart no. 168 operated by the Newcastle & Suburban Co-operative Ltd, and used from 1930 to the 1960s (7).
May 2013: The Museum acquires the 1866 Melbourne Cup that was presented to 'Honest' John Tait, owner and trainer of the winning horse, The Barb.
June 2013: The new administration building, designed by ARM Architecture, opens. The administration extension has been built to meet the equivalent of a 4.5 star NABERS (National Australian Built Environment Rating System).
June 2013: The Royal Daimler Project generates a community of hundreds of national and international supporters, raising over $24,000 towards the restoration of the Museum's 1948 DE 36hp Daimler landaulette. This is well on the way to our target of $60,000 to mark the 60th anniversary of the first visit to Australia by Queen Elizabeth II in 1954.
Return to

Top