We are no longer updating this page and it is not optimised for mobile devices.
Research and scholarship underpin all the Museum's exhibitions and programs, and are critical to the Museum achieving its PBS outcome. Under the National Museum of Australia Act 1980, the Museum is mandated to conduct and disseminate research about Australian history. Sustaining research and scholarship activity is one of the Museum's key strategic priorities, outlined in the Strategic Plan 2007–10.
Centre for Historical Research
The Centre for Historical Research comprises a head, four senior and four research fellows and an administrative and grants officer. In 2009–10 the centre hosted two visiting fellows, four Museum staff on curatorial fellowships and 17 associate researchers, as well as student visitors. These visitors have worked on a range of projects spanning the Museum's principal themes.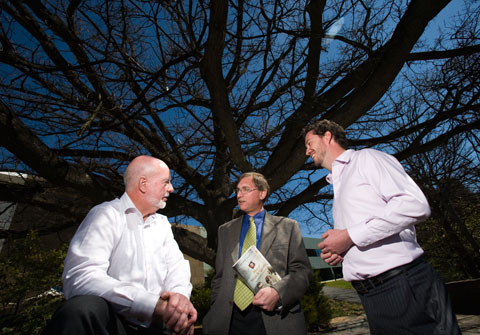 Research activities
Centre staff and visitors conduct research in the fields of human and environmental history and material culture of Australia, including anthropology, environmental, cultural and social history, and Indigenous studies. They include:
Dr Peter Stanley, whose latest book, Men of Mont St Quentin: Between Victory and Death, was published by Scribe Publications in September 2009. In November 2009 he spoke at the conference National Museums in a Transnational Age at Prato, Italy and continued research for his latest book, 'Black Saturday at Steels Creek'
Dr Mike Smith, a desert archaeologist with an international reputation, who continued his field work in central Australia, and made substantial progress on his forthcoming book on the history of human settlement in Australian deserts
environmental historian Dr Libby Robin of the Fenner School of Environment and Society at The Australian National University, who works at the Museum for half the year. She completed her book 'Desert channels', due to be published by CSIRO Press early in 2010–11
biographer Dr Nicholas Brown of The Australian National University's Australian Dictionary of Biography, who works at the Museum for half the year and has made substantial progress on his biography of environmental and Indigenous activist Rick Farley
Margo Neale, the Museum's Principal Adviser on Indigenous Matters, who organised the Barks, Birds & Billabongs symposium, which explored the legacies of the 1948 American–Australian Scientific Expedition to Arnhem Land
research fellow and historian of the pastoral north, Dr Darrell Lewis, who continued research for his book, 'The Leichhardt Hunters', including field research in Queensland
research fellow and environmental historian Dr Lynne McCarthy, who continued her research on European and Indigenous understanding of the ecology of Arnhem Land and was awarded a prestigious Harold White Fellowship by the National Library of Australia
research fellow and Pacific specialist Dr Jenny Newell, who continued her research into Australia and the Pacific, and was awarded a Bicentennial Fellowship by the Menzies Centre for Australian Studies in London. Her book, Trading Nature: Tahiti, Europeans and Ecological Exchange, was published by the University of Hawai'i Press in June 2010.
The centre's four curatorial fellows in 2009–10 were:
curator Anne-Marie Condé, who researched the 1975 Pigott inquiry into Australian museums
Carol Cooper, the Museum's registrar, who conducted an extensive study of Indigenous artefacts from south-eastern Australia held in Australian and international collections
curator Dr Laina Hall, who produced a proposal for a book on road trips in twentieth-century Australia
curator Stephen Munro, who completed and submitted his PhD thesis on Hominid evolution.
Strategic research partnerships
As well as maintaining and developing networks and relationships with researchers across Australia and internationally, the Museum has formed several partnerships with key kindred bodies. These include with The Australian National University (the Museums and Collections course and a new partnership with the Centre for Environmental History and its director, Professor Tom Griffiths). Under the Victorian Bushfire project, the key project with the Centre for Environmental History, the Museum supported the work of filmmaker Moira Fahy and her film on the Black Saturday bushfire at Steels Creek, Victoria. The centre maintains links with other research centres, notably the Menzies Centre for Australian Studies in London and Curtin University's Centre for Advanced Studies in Australia, Asia and the Pacific.
The Museum's 2009 Visiting Fellowship scheme supported two fellows: Kate Walsh, independent scholar of Adelaide, who edited a book on Australian museums since 1975, and Dr Ross McMullin, independent scholar of Melbourne, who continued research for his book on the 'lost generation' of the First World War. The centre also supported the work of information technology scholar Dr Mitchell Whitelaw, who collaborated with the Museum in the Defining Moments in Australian History project.
The centre's research associates grew in number in 2009–10 and included environmental historian Bernadette Hince, Dr Anne Doggett (researching town criers in colonial Australia), Biff Ward (writing on the family life of historian Russel Ward) and Canberra historian Allan Mawer, who completed his history of the Acton Peninsula.
"During 2009–10 reCollections won a major international prize in the scholarly journals category of the American Association of Museums (AAM) design competition."
Australian Research Council grants
The Museum actively collaborates in research ventures with other museums and with academic institutions. It is invited to participate in many projects but is able to sustain only a few projects annually. In 2009–10 the Museum contributed to one project funded by the Australian Research Council (ARC), 'Conciliation narratives and the historical imagination', in partnership with the University of Melbourne, and the Tasmanian Museum and Art Gallery. Three projects await approval to proceed.
Supporting the research program
The Museum's Library is administered as part of the Centre for Historical Research, and supports research across the institution. It holds more than 40,000 books, journals and other items, mainly dealing with museum studies, conservation and Indigenous and Australian history. The Library has two main functions: to provide a reference collection for Museum staff, and to develop special collections, mainly comprising personal papers and book collections relevant to the Museum and its themes. The special collections are increasing in value and interest to scholars. Notable recent additions to the collection include further acquisitions from the personal and library collections of Dr Robert Edwards and a large collection of books donated by historian Bill Gammage. The Library is open between 9.30 am and 4.30 pm, Tuesday to Friday.
reCollections
The Museum's scholarly e-journal, reCollections: Journal of the National Museum of Australia, is a leading vehicle for museum and collection research in Australia, with a growing national and international reputation.
The journal, which focuses on museum practice and the history and interpretation of objects in Australia and the Asia–Pacific region, was published twice in 2009–10 and averaged 15,280 visits per month, up from 10,265 per month in 2008–09. The journal's Editorial Board is drawn from the academic and museum sector, and National Museum of Australia staff.
During 2009–10 reCollections won a major international prize in the scholarly journals category of the American Association of Museums (AAM) design competition. The AAM is an organisation that represents over 3000 institutions and helps to develop standards and best practices, gather and share knowledge and provide advocacy to ensure that museums remain a vital part of our culture.
Return to

Top