The Museum increases the public's awareness and understanding of Australian history and culture (its PBS outcome) through a broad range of public and schools programs for visitors to the Museum.
These programs explore subjects related to permanent and temporary exhibitions; the Museum's themes, collections and research; and historic and contemporary issues. In 2009–10 the Museum attracted 28,166 participants to its public programs and had its most successful year yet for school visits, with 88,981 students attending from approximately 2235 schools.
The Museum develops these programs to ensure they are accessible to a wide range of audiences and represent the diversity of the Australian community.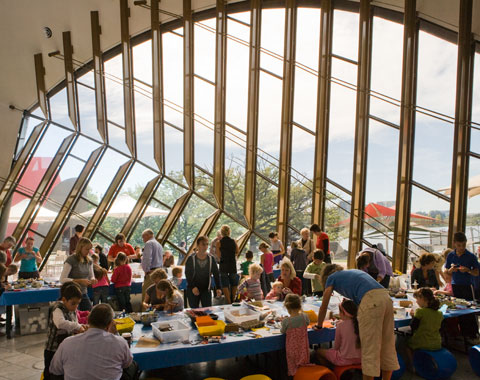 For families and children
In line with the Public Programs interpretation strategy, and responding to regular and positive evaluations, family programs continued to include a free discovery drop-in space, in-gallery and other facilitated workshops, mini festivals and a family trail throughout the permanent galleries. Activities supported the temporary exhibitions Voyages of the Pacific Ancestors: Vaka Moana, Water: H2O=Life and Behind the Lines: The Year's Best Cartoons 2009. Programs also supported the permanent galleries, Australian Journeys and the Gallery of First Australians.
Winter 2009 school holiday workshops were structured around the theme of the temporary exhibition, Vaka Moana. The Discovery Space encouraged children to 'Make a vaka', their own boat, to take home. This was well-received, with 1700 children participating over the two weeks. Artists from the Pacific community facilitated henna tattooing workshops and a musical 'Moana beats' workshop. A mini festival linked to NAIDOC Week, celebrating Aboriginal and Torres Strait Islander culture through storytelling, dance workshops and the Museum's annual didjeridu competition, attracted 1902 people.
In Spring 2009 'Australia's own car' was the theme for the Discovery Space, based on the Museum's Holden Prototype No. 1. Children enjoyed making their own car of the future. Summer workshops focused on the Water: H2O=Life exhibition, with children making water bugs in the Discovery Space. This was a very successful collaboration with ACT Waterwatch, with nearly 2500 attendees, the Museum's largest attendance at a Discovery Space program, to date.
Autumn programs were inspired by handmade objects in the Museum's collection. Children were encouraged to make their own toys (1714 participants); while paper plane demonstrations, ACT Woodcraft Guild, spinners and weavers and metal smithing were featured during the Handmade Festival — 'Built to Last' (1498 visitors). Paper sculpture workshops and an in-gallery workshop in the Australian Journeys gallery using air-dry clay materials were not as popular but a wooden toy workshop was fully booked.
Recognising that children and families are core audiences, the Museum also supported important community events such as Children's Week and the disability sector with Music for Everyone programs.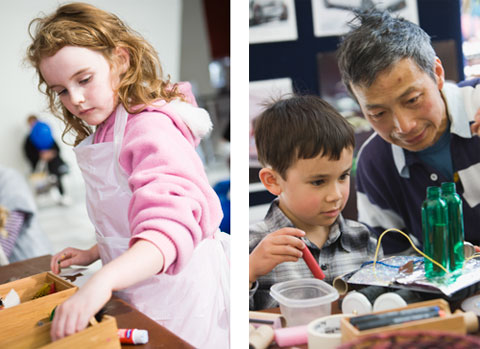 Left: Young visitor Kaytlyn joins in children's activities presented as part of the NAIDOC on the Peninsula event held in conjunction with the Australian Institute of Aboriginal and Torres Strait Islander Studies.
Right: A father and son build a car together during the 'Australia's own car' school holiday program in the Discovery Space in the Hall.
For adults and young people
The Museum presented forums and panel discussions interpreting the Museum's collections, highlighting significant aspects of Australian social history and relating to temporary and permanent exhibitions.
These included programs and events related to:
Voyages of the Pacific Ancestors: Vaka Moana, including a public lecture with researcher Kirk Huffman (July 2009), a seminar series (July, August and September 2009), gallery tours (August 2009) and an outrigger demonstration (October 2009)
Behind the Lines 2009, for which the Museum organised a public conversation interpreting the exhibition, with Mike Bowers, Karen Middleton and Guy Hansen (December 2009)
Water: H2O=Life, including a water tasting and panel discussion, a film screening, an author presentation and a poetry slam (March 2010)
the book and exhibition Symbols of Australia, including a public forum hosted by comedian Rod Quantock, a discussion with sports commentator Gideon Haigh, and the first Collectorfest program for collecting enthusiasts to share and show off their collections, featuring travel memorabilia (June 2010)
From Little Things Big Things Grow: a public forum (September 2009); a discussion on Indigenous football held in conjunction with Manning Clark House (September 2009); and an in-gallery public conversation (March 2010).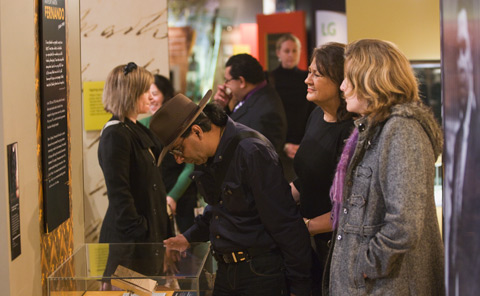 This year the Museum hosted a number of talks, workshops and conferences that attracted academics, researchers and professionals.
These included:
'Current research in free-choice learning', a seminar for museum professionals with John Falk and Lynn Dierking, held in conjunction with Museums Australia (July 2009)
a symposium, Sites of Memory, featuring presenters from the arts, sciences and humanities (August 2009)
lectures on 'Death and dying in multicultural Australia' and 'Australians in the Himalayas' (October 2009)
a 'Weekend of ideas' held in partnership with Manning Clark House
Barks, Birds & Billabongs, symposium and performances in November 2009
'Defining moments', a facilitated workshop for historians held in November 2009
a two-day conference on Baz Luhrmann's Australia in December 2009
Collections Symposium 2010: Caring for Collections.
Adult workshops and demonstrations were also used to interpret collection objects through hands-on activities. These included calligraphy, corsetry, acting and music-making.
Performance was another key form of interpretation used throughout the year for adults and young people. In February 2010 the Museum held a large outdoor concert featuring Holly Throsby and The Cashews. In May 2010 composer Elena Kats-Chernin returned to the Museum for two performances of her 2009 composition that was specially commissioned by the Museum. Also in May 2010, in conjunction with the Canberra International Music Festival 2010, the Museum hosted the premiere of Henryk Górecki's Songs Are Sung for string orchestra, to commemorate the people who died in the 2010 Polish air disaster.
The Museum continued to deliver programs for people with a range of disabilities, and carers of those with disabilities, by providing opportunities to experience the exhibitions and participate in workshops specifically designed for their needs (see Appendix 10).