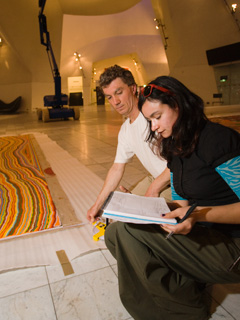 The Museum's performance is guided by a set of legislative, public sector and organisational requirements. The National Museum of Australia Act 1980 charges the Museum with the function of developing, preserving and exhibiting historical material of the Australian nation. It also specifies that the Museum should conduct and disseminate research and information about Australian history (see 'Functions and powers of the National Museum of Australia' in Appendix 2)
These functions determine all aspects of the Museum's performance. The government's performance targets, specified in the annual Portfolio Budget Statements (PBS), are achieved through work defined in two programs, which together lead to this outcome:
Increased awareness and understanding of Australia's history and culture by managing the National Museum's collections and providing access through public programs and exhibitions.
For the Australian public, the Museum's vision statement captures the essence of the organisation's role:
A recognised world-class museum exploring Australia's past, illuminating the present, imagining the future.
At the operational level, the National Museum of Australia's Strategic Plan and annual business priorities outline the organisation's strategic goals and guide the activities of all Museum business units. The key priorities, outlined in the Strategic Plan for 2007–10 and described in the Museum's Charter of Operations, were to:
enhance exhibitions, programs and services
develop the National Historical Collection and improve collections storage
strengthen research and scholarship capability
enhance the Museum's national and international profile
develop staff, business practices and infrastructure.
The reports that follow provide quantitative measurement of the Museum's performance against the PBS, and qualitative discussion of its achievements as a cultural institution and in relation to the Strategic Plan.