The Museum's people are at the heart of the organisation. The Museum continues to attract passionate, creative, highly qualified people with diverse skills and experience to care for and exhibit the collection and maintain the physical infrastructure. A major task is to develop and retain high-quality employees — a task to which the Museum is committed.
The premium placed on high performance and diversity in the Museum is highlighted in the Strategic Plan, with a commitment to continually reviewing the way business is conducted, operating in a way that utilises better practices and providing an environment to assist staff to undertake their work.
Museum staff members are employed under the Public Service Act 1999, and employment conditions are established under legislation applying to the Australian Public Service and, in particular, the Museum's workplace agreement.
The staffing numbers over the past five years indicate the Museum's overall numbers have stabilised within the 280–300 range, with the gender split fairly constant every year. At 30 June 2010, the Museum employed 297 staff consisting of 237 ongoing and 60 non-ongoing employees, which represented a full-time equivalent number of 257.54.
Total staff numbers, 2004–10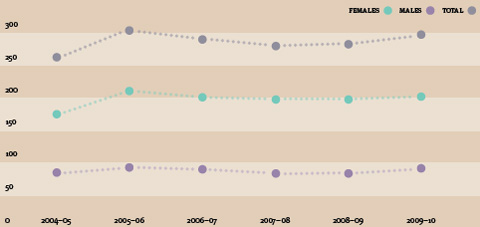 Staffing by employment status
| Status | Male | Female | Total |
| --- | --- | --- | --- |
| Ongoing full-time Principal Executive Officer (PEO) | 0 | 0 | 0 |
| Non-ongoing full-time PEO | 1 | 0 | 1 |
| Ongoing full-time Senior Executive Service (SES) | 1 | 2 | 3 |
| Ongoing full-time non-SES | 55 | 107 | 162 |
| Ongoing part-time SES | 0 | 0 | 0 |
| Ongoing part-time non-SES | 18 | 54 | 72 |
| Non-ongoing full-time SES | 0 | 0 | 0 |
| Non-ongoing full-time non-SES | 12 | 25 | 37 |
| Non-ongoing part-time SES | 0 | 0 | 0 |
| Non-ongoing part-time non-SES | 8 | 14 | 22 |
| TOTAL | 95 | 202 | 297 |
Staffing by division, as at 30 June 2010
| Division | Ongoing | Non-going | Total |
| --- | --- | --- | --- |
| Directorate | 24 | 3 | 27 |
| Operations | 40 | 3 | 43 |
| Collections, Content and Exhibitions | 78 | 25 | 103 |
| Audience, Programs and Partnerships | 95 | 29 | 124 |
| TOTAL | 237 | 60 | 297 |
Staffing by APS level, as at 30 June 2010
Status

Male

Female

Total

PEO
1
0
1
SESB2
0
0
0
SESB1
1
2
3
Executive Level 2
12
11
23
Executive
Level 1
12
29
41
APS6
19
38
57
APS5
12
24
36
APS4
9
47
56
APS3
6
16
22
APS2
22
34
56
APS1
0
0
0
Cadet
1
1
2
TOTAL
95
202
297
Impact and features of workplace agreements
As an Australian Public Service (APS) agency, the Museum employs people within a regulatory framework that includes federal workplace relations and related legislation, the Public Service Act 1999 and common law employment contracts.
In a rapidly evolving workplace relations and public sector management environment, a range of instruments regulate the Museum's terms and conditions of employment. Agreements negotiated with employees and their representatives are at the heart of this framework. The Museum has maintained a high level of employee support for collectively negotiated arrangements over the last decade, reflecting an ongoing culture of consultation and trust.
The National Museum of Australia Workplace Agreement 2008–2011 commenced on 30 October 2008 and is the primary agreement covering most Museum employees. It is a three-year union collective agreement with the Community and Public Sector Union, and has a nominal expiry date of 30 October 2011. The Museum will negotiate a new Workplace Agreement in 2010–11. The National Museum of Australia Workplace Agreement 2008–2011 delivered a total pay rise to eligible staff of 4 per cent during 2009–10.
The Museum also has a number of Australian Workplace Agreements (AWAs) made under the Workplace Relations Act 1996. These include comprehensive agreements with Senior Executive Service employees and individual AWAs covering a small number of non-SES employees. Under the Transition to Forward with Fairness Act 2008 and the Fair Work Act 2009, AWAs will continue to operate until they are terminated or the relevant employment ceases, but no new AWAs may be made.
The workplace agreement provides for individual employees to negotiate pay and conditions enhancements through Individual Flexibility Agreements, designed to provide more flexible working arrangements where appropriate.
Attracting the right people and doing it better
The Museum competes in a highly competitive employment market with public sector agencies, other museums and cultural institutions, academic institutions and private enterprise. Longer-term demographic trends in the Australian population, including the ageing of the Australian working population and the retirement of the 'baby boomer' generation, is leading to increased competition for highly qualified, experienced and skilled people. Throughout the downturn in the global and Australian financial environments, the Museum has continued to attract highly competitive external and internal applicants for vacancies.
Consistent with other APS agencies, the Museum continues to focus on recruitment and selection procedures that deliver efficient, effective and timely filling of vacancies. The dual outcomes sought are to secure the best candidates and minimise recruitment time frames and costs. In 2009–10, the Museum continued to reduce recruitment costs and attract a high standard of candidates for vacancies.
The Museum's induction and orientation experience includes personalised day-one induction by the recruitment officer, regular 'new starter' training sessions on a range of essential issues such as performance management and APS Code of Conduct and Values, an online induction package and a regular Orientation Day program involving a tour of the Museum's collection storage and conservation facilities.
Supporting and maintaining a high performance culture
The Museum's staff performance management framework, Workplace Conversations, is a key productivity initiative. The intent of Workplace Conversations remains the same as in previous years: to support a 'guided conversation' approach. Workplace Conversations continues to use Museum specific work-level standards to clarify job roles and expectations, and Museum-specific capability profiles to identify and reinforce work behaviours that support the Museum's objectives.
Workplace Conversations requires staff members to have regular performance discussions with their manager. These formal guided discussions, linked to overall strategic and business objectives, cover the scope and deliverables of a staff member's position, the support required to deliver them, and a documented agreement on relevant learning and development opportunities. Aggregate learning and development data assists in the development of overall corporate training activities.
Mid-cycle team conversations encourage discussions on team performance and complement the regular individual focus characteristic of Workplace Conversations.
Sustaining a consultative culture
The current workplace agreement establishes a framework for formal and informal consultation arrangements as an integral part of decision making in the Museum, enabled by a biannual Museum Consultative Forum in which the Director, Executive Group and staff representatives engage on higher level strategic issues for the Museum. This is supplemented by a Workplace Consultative Committee for broad consultation on operational matters.
The Museum continues to work closely with the Community and Public Sector Union (CPSU) on all relevant matters affecting staff. Consistent with the Australian Government Employment Bargaining Framework, the Museum will negotiate and finalise in 2010–11 an agreement with the CPSU concerning negotiation, communication and access to the workplace.
Supporting and making workplace diversity a priority
A significant factor in delivering services for diverse audiences is to sustain a workforce that reflects an equally diverse background and perspective. Subsequently, the Museum works hard to maintain and encourage diversity in its workforce.
The Museum's Workplace Diversity Plan seeks to create an environment that is supportive of people's diversity by building knowledge and capabilities from many backgrounds within the Museum, having business processes that support diversity, and developing diverse ways to work. In implementing the plan, the Museum continued to encourage a staffing profile that reflects Australia's cultural diversity.
Progress has been achieved through the development of recruitment strategies, promoting APS values relating to diversity, maintaining a network of equity and diversity contacts, and continuing to raise awareness on ways to prevent bullying and harassment in the workplace. The plan expired during the year and a replacement plan was developed. In May 2010, the Museum became a member of the Australian Network on Disability, an employer group dedicated to improving employment conditions for people with disabilities.
Aware of the ongoing decrease in the number of Aboriginal and Torres Strait Islander people employed across the APS, the Museum continued to take particular measures during the year to provide and support employment opportunities for Indigenous people. These included:
a dedicated role in the Visitor Services and Volunteers team to promote, facilitate and support the employment of Indigenous people
the provision of cultural awareness training for staff
employment of three people under the Indigenous Cadet Program
continuing the Aboriginal and Torres Strait Islander Program, which employed a 12-month non-ongoing APS 4 curator.
The Cadet Program offers cadets ongoing employment upon successful completion of the program and supports cadets who are completing their postsecondary education while they gain valuable on-the-job work experience. In 2010 the Museum offered two visitor services host positions through the Indigenous Entry Level Recruitment Program coordinated by the Australian Public Service Commission. This program provides entry level staff with the opportunity to obtain a Certificate IV qualification.
The Museum received financial assistance from the Workplace Modification Scheme for two staff from JobAccess, a government initiative to assist with workplace solutions for the employment of people with disabilities.
Museum staff who report as belonging to specific groups
| Group | No. | % total staff |
| --- | --- | --- |
| Aboriginal and Torres Strait Islander peoples | 14 | 4.7 |
| People with disabilities | 8 | 2.7 |
| Culturally and linguistically diverse backgrounds | 38 | 12.8 |
| Females | 202 | 68 |
Enhancing our capability through learning and development
The Museum's corporate training program is aligned with its capability profile and strategic business objectives. During 2009–10 the program focused on building capability in leadership, writing, performance management, understanding our business and application of the APS Values and Code of Conduct.
As in previous years, in 2009–10 a number of staff members presented papers at conferences and seminars, undertook research and attended technical and professional workshops. A list of these activities is reported in Appendix 7. In addition, one employee took part in the 2009 Cultural Management Development Program (CMDP), with another enrolled in 2010.
Two employees completed the Advanced Workplace Skills Program (AWSP) during 2009 with another two enrolled in 2010. Both the CMDP and AWSP are collaborative development programs, run in conjunction with other cultural institutions in the Australian Capital Territory.
The Museum also supported attendance of two Indigenous staff at a two-day course designed to improve skills for mentoring of other Indigenous staff. In addition, the Museum continued to utilise the funding pool of $5000 established in the Workplace Agreement to sponsor four Indigenous staff to attend the Barks, Birds & Billabongs symposium.
The Workplace Agreement also gave employees access to Museum-sponsored study leave, with special provisions for staff to learn languages other than English.
Other staff training focused on core behaviours, skills and knowledge required by staff across the Museum, and included:
training for the Museum's Equity and Diversity contact officers on harassment and bullying in the workplace
seminars on mental health in the workplace, with a particular emphasis on resilience and managing change
seminars on occupational health and safety (OHS) for all staff, through induction presentations, as well as focused OHS presentations for visitor services teams
manual handling training
courses for first aid officers, wardens and section health and safety representatives
regular and comprehensive orientation programs for all new Museum employees.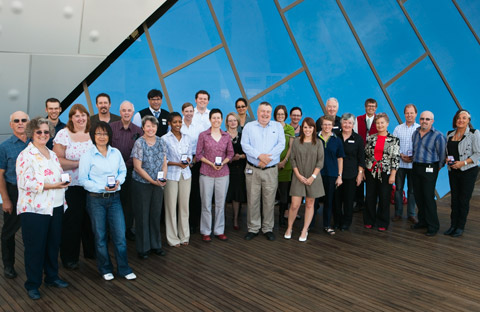 Recognising people
Staff recognition at the Museum is usually expressed formally between those involved in individual performance management via the Workplace Conversations framework. This is a critical level of recognition, stressing the importance of having constructive conversations, aligned with strategic and business priorities, throughout the year.
To provide wider recognition of significant contributions and achievements by its staff, the Director presented Australia Day Achievement Medallions to 39 employees, including two volunteers, who had made noteworthy contributions to the work of the Museum during the past year, or over a number of years.
Internal communications and staff news are regularly communicated through the Museum's active intranet and the internal newsletter, The Loop.
Post-separation employment
There were no applications for post-separation employment during the year.