Grants and sponsorship
The total value of support secured from external sources was $1,602,638 comprising $750,523 in cash or in-kind sponsorship (exceeding the target of $570,000) and $852,115 in grants received to support key activities.
Water: H20=Life and Voyages of the Pacific Ancestors: Vaka Moana both attracted substantial media support from Prime Television and Foxtel's History Channel.
Significant grant funding received was:
$219,233 from the Department of the Environment, Water, Heritage and the Arts' National Collecting Institutions Touring and Outreach Program to support the development of one and touring of three exhibitions
$100,000 from the Department of Foreign Affairs and Trade for Papunya Painting: Out of the Australian Desert to travel to the National Art Museum of China in Beijing (a further $400,000 has been provided for expenditure in 2010–11).
In anticipation of the opening of a major new exhibition on the history of the Irish in Australia in March 2011, preliminary steps were taken in 2009–10 to raise awareness of the exhibition among members of corporate Australia, including two events hosted by Daniel Gilbert AM, Chair of the National Museum of Australia Council, in Sydney (11 December 2009) and Melbourne (13 April 2010).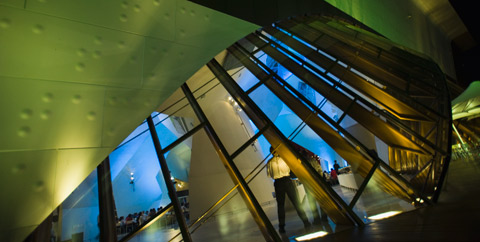 Merchandising and retail
Merchandising and retail operations raise revenue while enhancing visitor experiences by providing merchandise that is largely inspired by the Museum's exhibitions, programs and its unique building. It was a challenging year for Museum retail operations with gross revenue declining by 20.2 per cent compared to the previous year, although it did surpass the budget target for 2009–10 by 3.1 per cent.
This result was largely due to the worldwide financial situation as well as the fluctuating Australian dollar, which also had an impact on tourism and discretionary domestic spending. In the later half of the financial year a review of retail operations was undertaken, resulting in improvements to be implemented in areas of the product range, price points, merchandising and customer service.
Venue hire
The Museum is a popular venue and in 2009–10 a range of corporate events was held at Acton, including conferences, meetings, product launches, gala dinners, awards presentations and cocktail receptions.
Key relationships were developed within the industry to help promote the Museum as a venue to local, national and international markets, particularly the conventions industry. See Appendix 6.