We are no longer updating this page and it is not optimised for mobile devices.
Research and scholarship underpin all the Museum's exhibitions and programs, and are critical to the Museum achieving its PBS outcome. Under the National Museum of Australia Act 1980, the Museum is mandated to conduct and disseminate research about Australian history. Sustaining research and scholarship activity is one of the Museum's key strategic priorities, outlined in the Strategic Plan 2007–2010.
Centre for Historical Research
The Centre for Historical Research comprises a director, four senior and four research fellows and an administrative and grants officer. In 2008–09 the centre hosted four visiting fellows and two early career summer fellows. A welcome development was the time spent in the centre by Museum staff: three on curatorial fellowships and three on short-term stays. The centre offers support for non-institutional and visiting researchers, and in 2008–09 hosted 15 associate researchers as well as several interns and student visitors.
Research activities
Centre staff and visitors work in fields spanning the Museum's interests in the human and environmental history and material culture of Australia, including anthropology, environmental, cultural and social history, and Indigenous studies. They include:
Dr Peter Stanley (Director), a military social historian whose book Between Victory and Death: Men of Mont St Quentin, a social history of a small group of men in the Great War and through twentieth century Australia, will be published in September 2009
biographer Dr Nicholas Brown (of The Australian National University's Australian Dictionary of Biography, who also works at the Museum in rotation). His postgraduate workshop, Using Lives, held at and supported by the Museum, attracts and develops scholarly talent in the field. He is continuing research for his biography of environmental and Indigenous activist Rick Farley
Margo Neale (the Museum's Principal Advisor on Indigenous Matters), who successfully completed curating the Utopia: The Genius of Emily Kame Kngwarreye exhibition in Japan and at the Museum. She also commenced work on the conference Birds, Barks and Billabongs: Exploring the Legacy of the 1948 American–Australian Scientific Expedition to Arnhem Land, to be held at the Museum in November 2009
environmental historian Dr Libby Robin (of the Fenner School of Environment and Society at The Australian National University, who also works at the Museum for half the year). Her latest book, Boom and Bust: Bird Stories for a Dry Country, was launched at the Museum in March 2009
Dr Mike Smith, a desert archaeologist with an international reputation, who in 2008–09 conducted field research in Australia and spoke at conferences in South Africa and in the United States
historian of the pastoral north Dr Darrell Lewis (research fellow), who continued research for his book The Leichhardt Hunters. Another of his books A Wild History, a history of the Northern Territory's Victoria River district, will be published in 2009 by National Museum of Australia Press
environmental historian Dr Lynne McCarthy (research fellow), who continued her research on European and Indigenous understanding of the botany of Arnhem Land cultural study of Tahiti, will be published by the University of Hawai'i Press in 2009
Dr Maria Nugent (research fellow), who published her book Captain Cook Was Here in April 2009 and continues her research into Indigenous history. She also co-ordinates the centre's material history project and the Museum's internship program.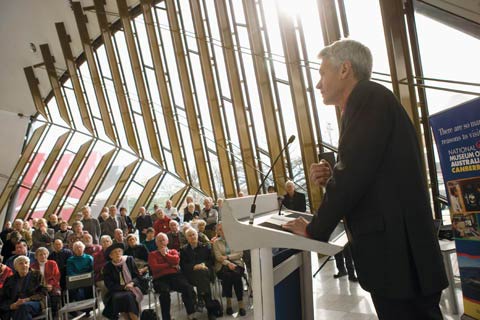 Curatorial fellows in 2008–09 were Matthew Higgins (completing Rugged Beyond Imagination, his history of the Australian Capital Territory high country, published in May 2009 by National Museum of Australia Press), Sophie Jensen (continuing her doctorate on exploration in Australia's north), Dr Richard Reid (completing a book on Irish–Australian history to be published in 2009 by National Museum of Australia Press) and Carol Cooper, the Museum's registrar, researching Indigenous artefacts in south-eastern Australia. Several other Museum staff have taken up residence in the centre to advance their research. Introduced last year, the Museum's Endorsed Research Time Program enables a number of curatorial staff to undertake approved research at the centre as part of their work plan for this year.
Work progressed on nine research projects including: Joseph Banks and the cult of celebrity; the birds of paradise case inherited from the Australian Institute of Anatomy; the Michael Leunig collection of cartoons; the history of the National Museum's collection; preventive conservation; and the historical and cultural dimensions of climate change. Three research projects were discontinued or suspended due to staff retiring or leaving the Museum: the instruments of international science in the Museum's collection; the Leichhardt toy factory owned by the Lindsays; and a history of motor touring in Australia, 1925–2004.
Strategic research partnerships
The centre's members are involved in a common 'material histories' project, and have productive relationships with networks of researchers within Australia and beyond, including strong collaborative relationships with The Australian National University (sharing staff and collaborating to organise conferences). The centre has links with other research centres, notably the Menzies Centre for Australian Studies in London and Curtin University's Centre for Advanced Studies in Australia, Asia and the Pacific.
The Museum's four visiting fellowships for 2008–09 were awarded to Dr Robert Crawford from the Menzies Centre for Australian Studies, London (investigating the 1988 bicentennial celebrations); Dr Adele Wessell of Southern Cross University, Lismore, New South Wales (history of diet and cuisine); Dr Tim Bottoms, an independent scholar of Cairns, Queensland (frontier violence in colonial Queensland); and Mr Phil Gordon of the Australian Museum in Sydney (history of museum repatriation in Australia).
The centre's associates span a similarly wide range of expertise, in subjects as diverse as nineteenth-century scientific instruments, oral history in museums and desert archaeology. Interns, volunteer researchers and other visitors, such as Indigenous cadets, two of whom worked in the centre over the summer of 2008–09, enhance the centre's vitality and productivity.
Australian Research Council grants
The Museum actively collaborates in research ventures with other academic and cultural institutions. These projects focus on historical interpretation, the care and preservation of the National Historical Collection, and other museological areas such as audience needs, outreach and learning in museums. In 2008–09 the Museum contributed to several research projects funded by the Australian Research Council (ARC).
The ARC Discovery Grant project, 'Unsettling histories: Indigenous modes of historic discourse', in collaboration with the Australian Centre for Indigenous History at The Australian National University, concluded in 2008–09.
Australian Research Council Linkage Grants, 2008–09
Project no.
Project title and time-frame
Industry partners
Museum contact
LP0775392
Indigenous participation in the Australian colonial economy: An anthropological and historical investigation (2007–09)
The Australian National University,
University of New England
Michael Pickering
LP0776830
Conciliation narratives and the historical imagination (2008–10)
University of Melbourne,
Tasmanian Museum and Art Gallery
Michael Pickering
LP0669566
Cultural collections, creators and copyright: Museums, galleries, libraries and archives and Australia's digital heritage (2006–08)
University of Melbourne
Denis French
Making Museum research accessible
The National Museum of Australia seeks to disseminate its research in a variety of forms to a range of audiences, and its members publish in both academic and popular forms. Its staff participate in academic debate across a range of disciplines, as well as publishing in newspapers and magazines and appearing in the media. The Museum encourages and facilitates debate by organising and supporting conferences and seminars across the Museum's fields of interest. Conferences, seminars and workshops held in 2008–09 included:
Using Lives (8–12 September 2008), organised by Dr Nicholas Brown and jointly supported by The Australian National University and the Museum, which attracted some 30 postgraduates working in biography from universities across the nation
2009 Collections Symposium (27 March 2009), organised by Guy Hansen (Senior Curator, collection development)
Australia, Asia and the Pacific: Imaginaries, Histories and Futures (29 May 2009), jointly organised by the Centre for Historical Research and the Centre for Advanced Studies in Australia, Asia and the Pacific at Curtin University of Technology
Violent Ends: The Arts of Environmental Anxiety (11 June 2009), jointly organised by Dr Libby Robin of the Centre for Historical Research and Dr Carolyn Strange of the Research School of Humanities, The Australian National University.
Staff from the Centre for Historical Research take part in public events hosted at the Museum, such as a St Patrick's Day event at which Dr Richard Reid and Brendon Kelson spoke of their forthcoming book, Through Irish Eyes, and the symposium, Writing Captain Cook, organised by Dr Maria Nugent to coincide with the publication of her book, Captain Cook Was Here. As part of its contribution to The Australian National University's Museums and Collections program, the Museum helps to organise and deliver seminars in the Public Cultures series in the Research School of Humanities, and organises an annual Friends Research Day through the Museum's Friends, specifically catering to the needs of amateur historians.
Fulfilling its promise to serve as a focus for the interpretation of Australian history, staff from the centre spoke at conferences and seminars in a range of disciplines, delivering over 50 papers in the course of the year. Staff also produced a range of books, chapters and articles (see Appendix 7).
Supporting the research program
The Museum's Library is part of the Centre for Historical Research, and supports research across the institution. It holds more than 40,000 books, journals and other items, mainly dealing with museum studies, conservation and aspects of Indigenous and Australian history. The Library has two main functions: to provide a reference collection for Museum staff, and to develop special collections, mainly comprising personal papers and book collections relevant to the Museum and its themes. The special collections are increasing in value and interest to scholars. Particular mention should be made of the continuing accession of the papers of Dr Robert Edwards and Dr David Ride, two key players in the Museum's development.
The Library is open to the public between 9.30 am and 4.30 pm, Tuesday to Friday, and is used frequently by students and researchers.
reCollections
The Museum's scholarly e-journal, reCollections: Journal of the National Museum of Australia, is a leading vehicle for museum and collection research in Australia, with a growing national and international reputation. During this year it was recognised by well-regarded online indexers, including Scopus (Elsevier Bibliographic Databases) and JURN (intellectual e-journals in the arts and humanities), which has resulted in an increase in visitation to the website.
The journal focuses on museum practice and the history and interpretation of objects in Australia and the Asia–Pacific region, and was published twice in 2008–09. In 2008–09, visits to the reCollections website totalled 126,164, and 1058 journal articles or reviews were downloaded. The journal's Editorial Board is drawn from the academic and museum sector, and National Museum of Australia staff from the Centre for Historical Research, National Museum of Australia Press and the curatorial team.
Return to

Top