Curatorial outreach
All permanent galleries have a strong focus on place and community. Curators travel extensively to visit historic sites, research objects and stories, make presentations and consult with communities. Successful outreach is not just achieved by travel, but also through a variety of communication strategies, including regular phone and email contact and visits from communities. Curators remain in constant and close contact with stakeholders in Museum programs, and work hard to maintain long-established relationships.
Curators working on the Australian Journeys gallery and the forthcoming Creating a Country gallery visited communities across Australia, including Melbourne, Portland, Wangaratta and Bendigo in Victoria; Hobart, Launceston, Devonport and Port Arthur in Tasmania; Charters Towers, Cape River and Brisbane in Queensland; Sydney, Port Macquarie, Adaminaby, Forbes, Eugowra, Grenfell and Gunnedah in New South Wales; Adelaide, Robe and Penola in South Australia; and the Australian Capital Territory.
During these visits, curators met with representatives of community groups and the staff of local and regional museums to introduce the Museum's two new galleries, to explore possibilities for the sharing of collections and information, and to discuss how places should be represented in the new galleries. It is anticipated that these relationships will develop as outreach programs during the life of the two galleries.
In 2008–09 curators from the Eternity and Old New Land galleries travelled within the local region as part of their outreach activities. Several senior Museum staff spoke at the Beyond the Limits of Location conference at Galong, New South Wales, and were able to facilitate a greater awareness of the Museum's activities among the various groups and individuals — mainly local and family historians — who were attending the regional gathering.
Outreach is an integral component of activities undertaken by the Aboriginal and Torres Strait Islander Program (ATSIP). ATSIP remains committed to the delivery of projects pertinent to Aboriginal and Torres Strait Islander cultures and histories that are based on thorough consultation, both for research and approval purposes. Many of the outreach projects incorporate elements of community advice and training.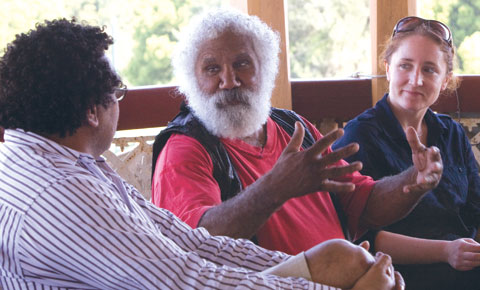 Highlights of major outreach events participated in by ATSIP staff over the 2008–09 year included:
curatorial staff travelling to Perth, Broome, Fitzroy Crossing, Halls Creek, Balgo and Mulan in Western Australia; Thursday Island in the Torres Strait; and Darwin in the Northern Territory, as part of community consultations about forthcoming exhibitions
providing advice and assistance to the organisation Link Up, which supports members of the Stolen Generations in their search for families
providing advice and assistance on collection management and exhibition development to community members responsible for management of the Lake Mungo National Park in New South Wales
working with the Tiwi Island community on a local exhibition of the Museum's collections of Tiwi Islander children's art
consulting with communities and individuals over issues and content associated with ongoing object changeovers, module redevelopments, and collection acquisitions in Canberra; Queanbeyan, Kinchela, Lake Mungo, Cootamundra, Yass and Maitland in New South Wales; Yugambah, Rockhampton, Woodford, Worrabindah, Cairns and Lockhart River in Queensland; Perth, Western Australia; and Hobart, Tasmania
entertaining Aboriginal and Torres Strait Islander visitors from Wreck Bay in New South Wales; Coopers Creek, South Australia; Alice Springs, Eastern Arnhem Land and Borroloola in the Northern Territory; Yugambeh and Thursday Island in the Torres Strait, and Toowoomba, Queensland; Perth, Jigalong, Mount Newman, Punmu, Broome, Fitzroy Crossing, Kununurra and Halls Creek in Western Australia
organising a presentation of a replica illuminated address to descendants of the Wurundjeri people of Victoria
presenting tours to a visiting delegation from the Cook Islands and to Department of Foreign Affairs and Trade staff preparing for overseas postings.
In addition, two issues of Aboriginal and Torres Strait Islander News were published. This newsletter, which presents the activities and events relating to the Museum's Aboriginal and Torres Strait Islander Program, is delivered to over 5000 communities, schools, organisations and individuals across Australia. The newsletter is also available online. Contributions are provided by staff and invited authors.
William Barak's illuminated address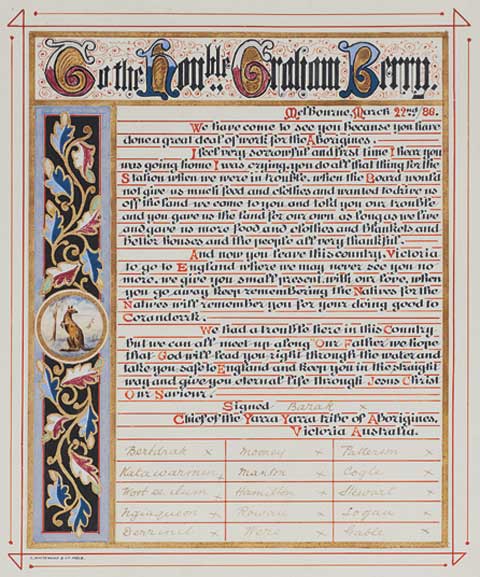 In the Executive Council Chamber of Melbourne's Old Treasury Building in 1886, Wurundjeri elder William Barak presented an illuminated address to former Victorian premier Graham Berry, who was returning to England. As premier, Berry had earned the trust and confidence of the Wurundjeri people by supporting their right to live at the Coranderrk Aboriginal Station, near present-day Healesville.
In February 2009, the National Museum of Australia acquired the elaborately scripted and illustrated written 'address', which was a type of formal document popular in Australia in the 1880s and 1890s. According to Senior Curator Ian Coates, 'William Barak today stands as a monumental figure of his time, a diplomat and communicator, who was called on to operate in a European world while defending the rights of his people. The address was a nod to the European etiquette of the day as well as a potent political document setting a standard for the Victorian premiers who would follow Berry'.
Museum staff arranged for a reproduction of the address to be presented to descendants of the Wurundjeri who were present in 1886. The presentation took place in the same room where the original illuminated address was presented. Wurundjeri elder Ron Jones described the handover of the reproduction of the Barak address as one of the most important days of his life and thanked the Museum for making it happen.
Centre for Historical Research outreach
During 2008–09 members of the Centre for Historical Research have been involved in outreach work with colleagues in museums and other institutions internationally, in Tahiti, Hong Kong, South Africa and the United States. Contact with community groups within Australia included support for members of the Aboriginal community at La Perouse on local and community history matters and a program of talks to groups such as Probus and the University of the Third Age.
Almost every field trip involves contact with local communities, from Indigenous communities in Arnhem Land to cattle communities in Queensland. The centre's early career summer fellows, Dr Fran Edmonds and Dr Kate Bagnall, continued strong relationships with Indigenous and Australian– Chinese community groups as part of their respective projects.
Several staff assessed applications for Australian Research Council grants or assessed articles or wrote reviews for journals such as History Australia, Australian Historical Studies, Australian Humanities Review and reCollections, and articles for newspapers. Dr Peter Stanley particularly is prominent in commenting on history in the media, notably in commentary on the ABC TV Anzac Day broadcasts in Canberra.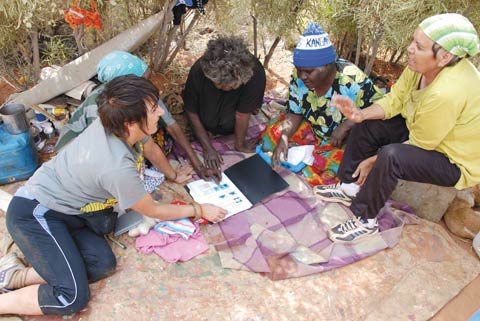 Extending our national reach
Working Spaces workshop
In early November 2008, the National Museum of Australia was a partner in a weekend of workshops for museum volunteers organised by Museums Australia Lachlan Chapter (New South Wales). Sessions included: 'Curate a temporary exhibition', 'We've got a disaster plan' and 'Winning volunteers and friends'. Working Spaces was held at St Clement's Conference Centre at Galong, New South Wales, with one session held on site at the Harden–Murrumburrah Museum. Presenters included current and former Museum staff. Volunteers from over 30 museums participated in this successful event that does much to promote best practice in small museums.
The Dora Fay Davenport Show — How to Achieve Domestic Bliss
The Dora Fay Davenport Show (a theatrical collaboration between the Museum and NDS Productions) explores domestic life in post-war Australia. The show had two major tours during the year. The first, in December 2008, was to western New South Wales (Wagga Wagga and Dubbo) where 14 shows were presented to more than 725 people. The second tour saw the show presented at three venues in metropolitan Sydney (Epping, Campbelltown and Bondi) and Tumbi Umbi in March 2009, as part of Seniors Week. The tour was funded by the New South Wales Seniors Week Program and was enjoyed by more than 1000 people. A theatrical touring company is considering the feasibility of developing a national tour of the show.
The Chifleys of Busby Street
The Museum also provided a grant of $40,000 to enable completion of The Chifleys of Busby Street, a film produced by Ronin Films that explores popular memories of Ben Chifley in Bathurst. The film was released in cinemas in May 2009.
ICOM Australia Museum Partnerships Program
The National Museum of Australia is a long-term institutional member and key sponsor of the International Council of Museums Australian Committee Incorporated (ICOM Australia). The Museum provided $20,000 over two years to establish a joint secretariat for ICOM Australia and Museums Australia in Canberra, with both associations providing membership services and advocacy on behalf of the Australian museum community.
The Museum has also been a major sponsor of the ICOM Australia Museum Partnerships Program (IAMPP). This program assists Australian not-for-profit and incorporated cultural organisations to provide skills and resources through formally partnered governance and heritage projects in the Asia–Pacific region. The IAMPP is supported through two funding streams: by a direct grant from the Museum and through grants attracted by the Museum from AusAID. Since the 2005–06 financial year, $190,000 has been given to support projects in the Solomon Islands, Vanuatu, Papua New Guinea and Fiji, as well as a project with the Pacific Islands Museums Association.
The positions of chair and national secretary of the ICOM Australia Executive Board are filled respectively by the Museum's Director, Craddock Morton, and Manager, Strategic Development and Policy, Roger Garland.
Community Heritage Grants Program
The Museum continued to support the Community Heritage Grants Program with a grant of $40,000. This program aims to preserve and provide access to nationally significant Australian cultural heritage material held by community groups across the country by providing small grants for preservation projects and collection management training. The program is administered by the National Library of Australia with funding partners the Department of the Environment, Water, Heritage and the Arts, the National Film and Sound Archive and the National Museum of Australia.
Online outreach — the Museum's website: www.nma.gov.au
Visits to the Museum's website continued to increase exponentially, growing from 1,521,926 last year to 2,533,138 this year. This result exceeds the target specified in the Museum's PBS performance measures for Output group 1.2: National exhibitions, programs and services ( see Performance summary ). The continuing growth in website visits is due to ongoing development of new content and the release of a substantially upgraded version of the Museum's collection database.
Four comprehensive and new online exhibitions supported and extended public access to the following: Australian Journeys, the Museum's new permanent gallery; Utopia: The Genius of Emily Kame Kngwarreye; A Different Time: The Expedition Photographs of Herbert Basedow 1903–1928; and Behind the Lines: The Year's Best Cartoons 2008.
The audio-on-demand service continued to grow, with 69 programs added during 2008–09 to extend the reach of the Museum's public programs. Transcripts of all programs are available to make them accessible to people with hearing impairment.
Audio-on-demand supports the Museum's strategic priority of sustaining research and scholarship, enabling researchers unable to attend conferences and symposiums to listen to papers and presentations. Events made available in 2008–09 included talks from the 2009 Collections Symposium, and symposiums relating to the Darwin and Utopia exhibitions. The Historical Interpretation series features research undertaken by Museum curators and fellows at the Centre for Historical Research.
In keeping with the Museum's program of periodic review and the priority of improving access to the collection, the Collection Highlights section of the website was redeveloped, with nine new Australian Journeys highlights being added during the reporting year. The highlights complement the collection database, providing historical and contextual information for general readers ( see Australian Journeys ).
A web-based interactive on the Crimson Thread of Kinship, a 12-metre-long embroidery representing the unfolding story of Australia, was 'Highly Commended' in the Museums Australia Multimedia and Publication Design Awards 2009. The interactive depicts the changing landscape of the nation, beginning with Aboriginal occupation of the continent and finishing in the southern night sky.