The Museum continued to enhance its national and international profile by delivering and participating in a diverse range of outreach programs and activities.
Travelling exhibitions
Number of exhibitions at venues, 2001–09
| Gallery | Number of exhibitions |
| --- | --- |
| 2001–02 | 1 at 4 venues |
| 2002–03 | 5 at 6 venues |
| 2003–04 | 6 at 9 venues |
| 2004–05 | 5 at 9 venues |
| 2005–06 | 8 at 28 venues |
| 2006–07 | 9 at 28 venues |
| 2007–08 | 9 at 26 venues |
| 2008–09 | 11 at 32 venues |
International travelling exhibitions
This year saw the Museum reach out to an international audience with the display of Utopia: The Genius of Emily Kame Kngwarreye at Tokyo's National Art Center (28 May – 28 July 2008). The exhibition cemented Emily Kame Kngwarreye's international reputation and signified the Museum's status as a producer of world-class exhibitions.
Princess Takamado Hidenka opened the exhibition in Tokyo, and it received substantial coverage in the Japanese press. A total of 147,035 people visited the exhibition at its two Japanese venues — it was also displayed at the National Museum of Art in Osaka (25 February – 13 April 2008).
Ronin Films produced a documentary film that covers the three years of the exhibition's journey from the development process to the overwhelming Japanese response to the exhibition. The documentary will be distributed nationally and internationally.
The Museum accepted a ministerial invitation to deliver this exhibition in partnership with the Japanese media organisation the Yomiuri Shimbun. The Museum began to develop an international exhibition strategy as a result of the success of the Utopia exhibition.
Emily in Canberra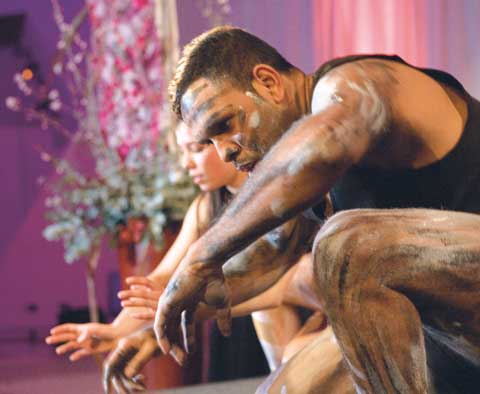 Above image: Dancers Ella Havelka and Sani Townson perform at the opening of Utopia: The Genius of Emily Kame Kngwarreye.

In August 2008, a National Museum of Australia exhibition came home. Utopia: The Genius of Emily Kame Kngwarreye opened in the National Museum's temporary gallery at Acton after successful showings at the National Museum of Art, Osaka, and the National Art Center, Tokyo.
Emily Kame Kngwarreye (about 1910–96) was a senior Anmatyerre custodian and artist who lived and worked in a remote community called Utopia, 250 kilometres north of Alice Springs. Her prodigious output and the range and quality of her work led to her becoming one of Australia's greatest contemporary artists, and the first Indigenous artist to have an exhibition of such scale and significance on the international stage.
Utopia included 104 works from 58 national and overseas collections. Works on display from the Holmes à Court collection included Emily's first canvas, Emu Woman. The Alhalkere Suite from the National Gallery of Australia's collection comprised 22 canvases celebrating Emily's spiritual connection to her country. Emily took two days to complete the 3-by-8-metre Big Yam Dreaming, which was on loan from the National Gallery of Victoria.
The exhibition's curator, Margo Neale, said, 'The staging of the exhibition in Japan and Australia is both symbolic and pragmatic. It not only acknowledges Emily and her achievements, but it also recognises the contribution that all Indigenous artists have made, and are making, to Australia's place in the international art world'.
National travelling exhibitions
Engaging national audiences, as outlined in the Strategic Plan 2007–10, has been an important priority for the Museum. Travelling exhibitions are one way of achieving this goal. The Museum aims to tour exhibitions to all Australian states and territories within a two-year period. In 2008–09, 10 exhibitions travelled to a total of 31 venues across New South Wales, Victoria, Queensland, South Australia and Western Australia. Of these venues, nine were in metropolitan venues, 17 in regional areas and five in rural areas, attracting more than 344,500 visitors. During 2008–09, the Museum has strengthened relationships with Northern Territory venues, successfully securing venues to host touring exhibitions in the 2009–10 schedule.
The following exhibitions toured in 2008–09:
In Search of the Birdsville Track: An Artist in the Outback
This exhibition drew upon young English artist Noelle Sandwith's collection of illustrations from her solo outback journey along the Birdsville Track in the early 1950s. The exhibition completed touring in July 2008.
Ned Kelly: Fact and Fiction
The exhibition completed its three-year tour in January 2009. Regional venues used the exhibition to develop educational and public programs, with the result that the exhibition was well-attended by local schools. The exhibition was free to venues and was a cost-effective option for regional communities with limited funding. Designed to travel to non-traditional venues, Ned Kelly has been hosted in libraries and wineries, as well as in the more traditional galleries and museums.
Ned Kelly banner display
This banner display is based on the Ned Kelly: Fact and Fiction touring exhibition and commenced touring to community museums and schools in April 2009.
Between the Flags: 100 Years of Surf Lifesaving
Developed in collaboration with Surf Life Saving Australia, this exhibition celebrated the 2007 centenary of Australian surf lifesaving and examined the history of surf lifesaving, the lifesaver as an Australian icon, beach culture and stories of the people who patrol our beaches. The exhibition finished touring in February 2009 after travelling to eight venues across Australia. The exhibition was supported by Visions of Australia, an Australian Government program supporting touring exhibitions by providing funding assistance for the development and touring of cultural material across Australia.
Behind the Lines: The Year's Best Cartoons 2007 and Behind the Lines: The Year's Best Cartoons 2008
Behind the Lines is a popular annual exhibition featuring works by Australia's leading political cartoonists. The 2007 exhibition finished its tour at the State Library of Queensland, while Behind the Lines 2008 has visited Sydney, Melbourne and Perth after its display at the Museum in Canberra.
Still Steaming: Commemorating 130 Years of the Paddle Streamer Enterprise banner display
Launched in 1878, the PS Enterprise worked on the great rivers of south-eastern Australia for more than 100 years before becoming part of the collection at the National Museum of Australia. This exhibition examines the history of paddle steamers on the River Murray, highlighted through the story of PS Enterprise, and has visited venues in Victoria and South Australia.
League of Legends: 100 Years of Rugby League in Australia
This exhibition was developed in conjunction with the Centenary of Rugby League Committee to celebrate the centenary of rugby league in Australia. Throughout 2008–09 the exhibition has toured to Brisbane, Sydney, Townsville and Melbourne.
League of Legends banner display
The Museum created a banner display, based on the League of Legends exhibition, consisting of two curved display panels with images and text summarising key aspects of the history of rugby league. Two identical banner display sets were created, with one set managed by the Museum as part of its travelling exhibitions program, and the other used by the National Rugby League for display in Harvey Norman stores around Australia.
Papunya Painting: Out of the Desert
This exhibition explored the early history of the Western Desert art movement from the mid-1970s to the mid-1980s. It featured a unique selection of rarely seen canvases, boards and artefacts drawn from the Museum's collection.
Travelling exhibitions program
Exhibition and Visitation

Venue

Dates

In Search of the Birdsville Track: An Artist in the Outback

1843

Australian Fossil and Mineral Museum, Bathurst, NSW
30 May – 23 July 2008
Ned Kelly: Fact and Fiction
Parramatta Heritage Centre and Visitor Information Centre, NSW
3 May – 26 July 2008
22,901
Eden Killer Whale Museum, NSW
30 Aug – 16 Nov 2008
Bundaberg Arts Centre, Qld
10 Dec 2008 – 26 Jan 2009
Beechworth Museum, Vic
1–25 Aug 2008
Ned Kelly banner display
Newcastle Jail, NSW
3 Apr – 25 May 2009
634 (Newcastle Jail only)
Kyneton Museum, Vic
5 June – 16 Aug 2009
Between the Flags: 100 Years of Surf Lifesaving
Gold Coast City Art Gallery, Qld
23 May – 11 Aug 2008
21,249
Coffs Harbour Regional Museum, NSW
23 Aug – 9 Nov 2008
Eden Killer Whale Museum, NSW
27 Nov 2008 – 1 Feb 2009
Behind the Lines: The Year's Best Cartoons 2007
The Constitutional Centre of Western Australia, WA
8 July – 9 Sept 2008
14,948
Bega Valley Regional Gallery, NSW
16–21 Sept 2008
State Library of Queensland, Qld
15 Dec 2008 – 26 Jan 2009
Behind the Lines: The Year's Best Cartoons 2008
Riverside Theatres, Parramatta, NSW

13 Feb – 11 Mar 2009
11,537
City Museum, Vic
18 Mar – 17 May 2009
The Constitutional Centre of Western Australia, WA
29 June – 21 Aug 2009

Still Steaming: Commemorating 130 Years of the Paddle Steamer Enterprise
Morgan Museum, SA
15 Oct 2008 –
27 Jan 2009
22,791 (Morgan, Mildura and Swan Hill only)
Mildura Visitor Information Centre, Vic
30 Jan –
3 Mar 2009
Swan Hill Regional Library, Vic
5 Mar – 21 Apr 2009
Port of Echuca, Vic
23 Apr – 9 June 2009
Albury Library Museum, NSW
11 June – 4 Aug 2009
League of Legends: 100 Years of Rugby League in Australia
Queensland Museum, Qld
6 June – 10 Aug 2008
129,175
Powerhouse Museum, NSW
5 Sept – 23 Nov 2008
Museum of Tropical Queensland, Qld
18 Dec 2008 – 8 Mar 2009
National Sports Museum, Vic
4 April – 2 Aug 2009
League of Legends banner display
Armidale Folk Museum, NSW
19 June – 15 July 2008
42,650
Port Macquarie Library, NSW
17 July – 12 Aug 2008
Newcastle Panthers Rugby League Club, NSW
14 Aug – 9 Sept 2008
Bathurst Panthers Leagues Club, NSW
11 Sept – 7 Oct 2008
Parkes Shire Library, NSW
9 Oct – 4 Nov 2008
Goulburn Library, NSW
7 Nov – 2 Dec 2008
Monaro Library, Cooma, NSW
4 Dec 2008 – 20 Jan 2009

Papunya Painting:
Out of the Desert

18,254

Australian Museum, Sydney, NSW
5 July – 5 Nov 2008

Utopia: The Genius of Emily Kame Kngwarreye

58,248

National Art Center, Tokyo, Japan
28 May – 28 July 2008
Reaching a national schools audience
In 2008–09 the Museum continued to deliver a range of outreach programs to primary and secondary students around Australia. It also made a significant contribution to the development of the Australian Government's national curriculum initiative, especially in the subject area of history.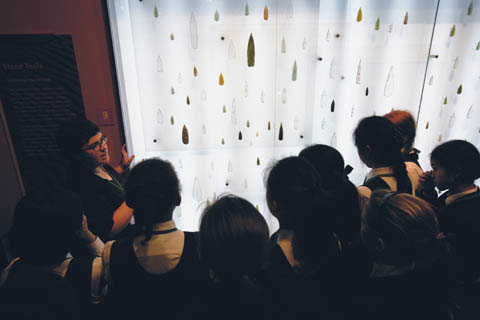 Contribution to the development of a national history curriculum
During 2008–09, the Australian Government proceeded with the development of comprehensive national curricula for Australian schools, beginning with mathematics, English, the sciences and history. The National Curriculum Board, which is tasked with organising and delivering the new curriculum, sought feedback from interested parties on each of the subsequent draft subject frameworks.
The Museum has played a leading role among cultural institutions in Australia in relation to the history framework, providing significant feedback to the National Curriculum Board under the auspices of the Museums Australia Education National Network.
The board has recently selected curriculum writers and advisory panel members to devise and review the detailed history curriculum, which is to be completed in 2010 for implementation in 2011. The Museum's Education Manager, David Arnold, was appointed an advisory panellist for history in April 2009. This will enable the Museum, and cultural institutions generally, to continue to have significant input into the shape and substance of the new national history curriculum.
Major curriculum resource developments
The Museum developed several significant curriculum resources for schools, continuing one of its major goals of being a provider of quality outreach materials for Australian classrooms.
First Australians: Plenty Stories Indigenous primary school series
Work continued on the Museum's major primary school curriculum resource, First Australians: Plenty Stories, a series produced in conjunction with leading Australian educational primary school publisher Pearson Education. This series, written by the Museum's Senior Indigenous Education Officer, Trish Albert, comprises 18 books, two poster packs and two teacher resource books. It explores Aboriginal and Torres Strait Islander cultures and histories through the Museum's collections, facilitated by new and existing relationships with Indigenous communities. Nine titles for years 3–4 and five titles for years 5–6 have now been published; the remaining four books for years 5–6 will be available in January 2010. The year 3–4 series has been nominated for best primary school resource in the 2009 Australian newspaper's Excellence in Education awards.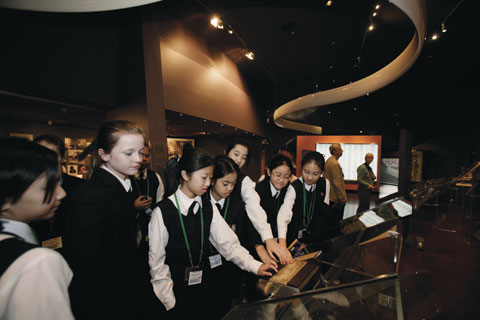 Australian History Mysteries 3
In 2008–09 the Museum completed the third of its successful Australian History Mysteries series, a partnership project with leading Melbourne-based education producer Ryebuck Media. The Australian History Mysteries 3 secondary school curriculum resource includes a DVD and print booklet featuring five case studies drawn from twentieth-century Australian history. Case studies include community life in the First World War, the Coniston Massacre of 1928, the Great Depression, the Snowy Mountains Hydro-Electric Scheme and the Vietnam War.
Since 2002 the Museum has produced 15 engaging inquiry-learning Australian history case studies. The series draws on Museum collections and themes for use in secondary school history classrooms. It is anticipated that many of these case studies will also be relevant to the new national history curriculum.
Studies of Society and Environment magazine
The Museum also produced three inquiry-learning units of work for the nationally distributed classroom curriculum magazine Studies of Society and Environment (distributed free of charge to all Australian secondary schools three times a year by Ryebuck Media). This year units covered themes relevant to the curriculum from the Museum's new Circa revolving theatre, the 2008 Behind the Lines political cartooning exhibition and the new Australian Journeys gallery. Each unit of work is also made available on the Education section of the Museum's website.
Web-based school projects and partnerships
In 2008–09 the delivery of teaching and learning programs and projects over the internet continued to be seen as a key strategic imperative for the Museum.
Working with regional and remote schools
The long-standing and successful Snapshots of Remote Communities web-based outreach program continued in the reporting period. Snapshots is an outreach program for regional and remote primary schools that encourages students to take photographs of their communities. The photographs are subsequently exhibited in the local community, at a state institution and on the Museum's website.
With the completion of a partnership with Country Arts Australia in 2008, which helped to coordinate the involvement of several primary schools from different regions in South Australia, the Museum's Snapshots website now contains an impressive photographic record of community life from a significant number of regional and remote primary schools throughout Australia.
Partnerships: The Le@rning Federation (TLF)
Managed by the Curriculum Corporation, TLF provides funding to increase online content for Australia's education systems. This year the Museum completed the development of content for 100 objects from its collection for the Scootle project, an online collaborative learning environment. These objects, each with extensive descriptive and contextual information linking them to state and territory curricula, can be accessed from the Museum's website through TLF's schools' portal.
Partnerships: Centre for Learning Innovation
The New South Wales Department of Education and Training, the Centre for Learning Innovation, produces learning resources and is a leader in the use of technology in education and training. In 2008–09 the Centre for Learning Innovation and the Museum agreed to produce a virtual tour and associated learning resources website in relation to the Museum's 'Resistance' module in the Gallery of First Australians. This resource will be completed by July 2009.
Number of paid versus teacher-guided student visits*, 2008–09
*Paid visits are facilitated by a Museum staff member. Teacher-guided visits are supervised by the accompanying teacher.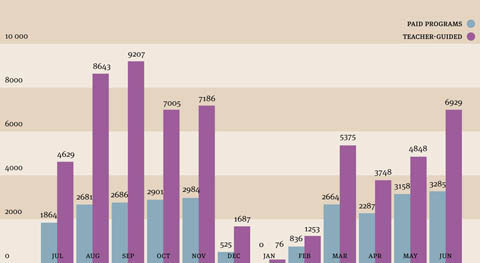 Number of primary versus secondary students, 2008–09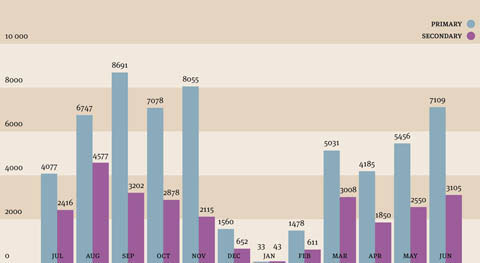 Number of schools visiting per state, 2008–09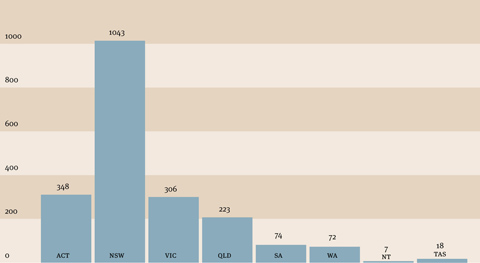 Percentage of school bookings per state, 2008–09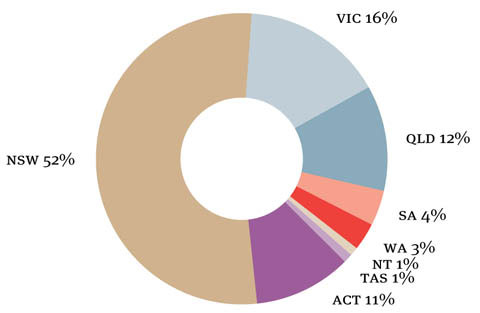 Comparison of student visitation numbers, 2002–08
| Financial year | Total visitation |
| --- | --- |
| 2002–03 | 81,737 |
| 2003–04 | 85,141 |
| 2004–05 | 82,765 |
| 2005–06 | 83,780 |
| 2006–07 | 86,444 |
| 2007–08 | 87,266 |
| 2008–09 | 86,457 |
National outreach competitions
National schools political cartooning competition
In association with its annual Behind the Lines political cartooning exhibition, the Museum ran a national cartooning competition for Australian schools. 'Drawing the Lines' attracted almost 700 entries from primary and secondary students from more than 60 schools, covering a range of issues including global warming and the environment, terrorism, the global financial crisis and international relations.
Prizes were awarded to the student cartoonists by the Hon Peter Garrett AM MP, Minister for the Environment, Heritage and the Arts, at a ceremony held at the Museum in December 2008. First prize in the primary school category was won by Kathleen Gleeson, Holy Name Primary School, Forster, New South Wales, and first prize in the secondary category was won by Brodi Grant, Castlemaine Secondary College, Castlemaine, Victoria. Awards were also presented to teachers Pauline Gattenhof of Gilmore Primary School, Australian Capital Territory, for the best primary school class project, and Fran Duggan, Ballajura Community College, Western Australia, for the best secondary school class project.
A highlight of the awards ceremony and exhibition opening was a videoconference about social issues and political cartooning featuring the Hon Peter Garrett AM MP, Minister for the Environment, Heritage and the Arts, cartoonist David Pope and students from Stromlo High School, in the Australian Capital Territory, and JJ Cahill Memorial High School, Mascot, New South Wales.
Supporting student history competition: National History Challenge
The Museum again contributed to the sponsorship of the History Teachers' Association of Australia annual history competition for primary and secondary students through its special category on museum displays. The theme of the 2008 competition was 'Australia meets the world', which was particularly relevant to the Museum's new permanent gallery, Australian Journeys. The winning display, by home-schooled student Annabelle Walker from New South Wales, was exhibited in the Museum's Hall throughout January 2009.
Professional development for teachers
Evaluation continues to indicate that efforts to provide teaching strategies and curriculum resources through a comprehensive teacher professional development program have a positive impact on teaching in Australian classrooms.
Professional development workshops for teachers, held at the Museum and at conferences around Australia, attracted more than 500 participants in 2008–09. Education staff delivered workshops and made presentations at a variety of conferences, including the Victorian, New South Wales and Australian history teacher conferences and the Primary English Teachers' Association annual conference. In addition, through the National Capital Educational Tourism Project's outreach program, the Museum presented at several regional and capital city professional development sessions for teachers.
The Museum also continued to explore the feasibility of using videoconferencing as an additional medium for delivering teacher professional development for teachers, with a view to enabling the participation of remote and regional school teachers who are not easily able to attend teacher conferences. Several teacher previews focusing on the Museum's temporary exhibitions program were also conducted, mainly with local teachers, helping to build a strong network of committed teachers across the Australian Capital Territory.