We are no longer updating this page and it is not optimised for mobile devices.
Accessioning objects
Accessioning is the process that formally registers an object into the Museum's permanent collection. During the year, members of the Museum's Registration team accessioned 3566 objects. Among the notable objects and collections accessioned this year were: 'Race to the gold diggings', a nineteenth-century board game; a wanparda shield from northern Western Australia; and a collection of more than 900 toy theatre items developed over 150 years by the Everitt and George families, including sets, a stage and play booklets.
The Museum's Archive Collection contains collections of paper and photographic material that support the interpretation of the National Historical Collection. Over the past year, 15 collections containing 11 audiovisual items, 540 photographic items and 210 paper items were accessioned.
Highlights from these collections include:
photographs and documents relating to the life and achievements of Joan Richmond, a successful racing car driver in the 1930s and 1940s
instructional manuals and ephemera acquired from people involved in the construction and maintenance of the Snowy Mountains Hydro-Electric Scheme.
No objects were de-accessioned from the National Historical Collection during 2008–09.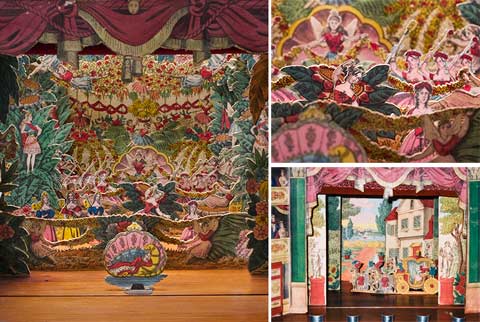 Documenting the collection
A key business activity for 2008–09, supporting the strategic priority 'Develop the National Historical Collection and improve collections storage', was the strengthening of collection information and access to it.
In December 2008, the accessions backlog project, which was established in 2006, came to an end. It made significant achievements in documenting long-outstanding material, including creating inventory-level information. Over the course of three years, the project team accessioned 6542 items in 90 previously unaccessioned collections. Further to this, 12,863 object accession records were added to Opal, the centralised collection information management system, and an additional 14,691 existing Opal records were reviewed and updated. A report outlined these achievements and also made recommendations for areas requiring targeted accessioning and documentation.
Examples of objects and collections either accessioned or transferred into Opal in the final stages of the project include:
the Burrell and MacKenzie collections of anatomical wet specimens from the Australian Institute of Anatomy
furniture and medical equipment from the North Head Quarantine Station collection
an office desk and club chair used by former prime minister Ben Chifley.
Online access improved
Online access to the Museum's collection database, an important tool for researchers, was significantly improved. A design with enhanced functions was released in September 2008, with 255,677 visitors recorded by the end of June 2009. In 2008–09, 10,742 records were made available online, increasing the total number available to 20,302. This collection data was included in federated searches available through Picture Australia and the Collections Australia Network, and is now fully searchable by Google.
Storing and moving the collection
Storage of objects is an ongoing challenge for the Museum. Fewer than 4 per cent of collection objects are on display at any one time. The remainder are stored at repositories in the northern Canberra suburb of Mitchell. Work to make better use of current storage space and improve storage for important collections, and planning for short- to long-term storage developments, continued this year.
Activities included:
consolidating and improving archival storage at 9–13 Vicars Street
continuing the rehousing of the Museum's collection of bark paintings into new custom-made cabinets
updating the current barcode and location systems to enhance better inventory and location control
completion of the reconfiguring of the former receipt and dispatch area to include an airlock for the loading-bay, a new object quarantine and receipting area and a new photographic studio
improving storage and access to exhibition componentry
attending to 560 movement requests, with 3188 objects moved between Museum sites for a variety of purposes, including access for research, conservation assessment or treatment, display documentation or permanent storage
reassessment of locked storage and safes at 9–13 Vicars Street
reviewing yard storage at McEachern Place and 90 Vicars Street for large object acquisitions.
Conserving the collection
Preserving the National Historical Collection for future generations is one of the Museum's key strategic priorities, supported by a conservation work plan. The Conservation section manages the preservation and maintenance of the collection, including the preparation and treatment of objects for exhibition. During the year, 2138 objects were treated and 3210 objects were condition-reported.
Conservation highlights for the year included:
treating, installing and de-installing 805 objects for the new Australian Journeys gallery
treating, installing and de-installing 484 objects for the Museum's temporary exhibitions program
installing and de-installing 708 objects for the Museum's travelling exhibitions program
travelling with, installing and de-installing the major travelling exhibition Utopia: The Genius of Emily Kame Kngwarreye when it moved from Japan to Australia
condition reporting and moving the Canning Stock Route collection from Perth to Canberra
completing a four-year restoration project on the MacDonnell Grubb telescope
running in and testing the engines and drive trains of Holden Prototype No. 1 and the Westwood 5CV Citroën at Oran Park, New South Wales
maintaining the PS Enterprise as a functioning steam vessel and preparing it for its anniversary celebrations (130 years of operation and 20 years as part of the Museum's collection)
using the Oriel Fade Testing System on collection materials and developing lighting guidelines
acquiring a portable X-ray fluorescence machine for identifying materials and training staff in its use.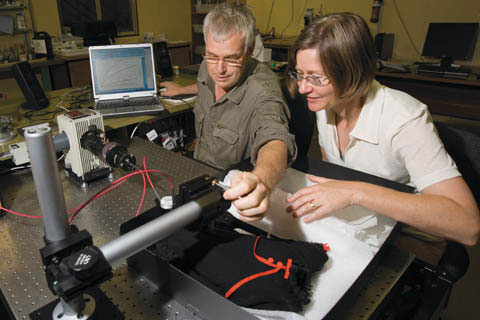 Conservation treatments, 2001–09
| Financial year | Number of conservation treatments |
| --- | --- |
| 2001–02 | 1100 |
| 2002–03 | 1200 |
| 2003–04 | 1500 |
| 2004–05 | 1600 |
| 2005–06 | 1770 |
| 2006–07 | 2175 |
| 2007–08 | 2289 |
| 2008–09 | 2138 |
Lending the collection
The Museum makes objects from the National Historical Collection available for loan to other cultural institutions, and borrows objects from around Australia and internationally for its own exhibitions. Loans from our collection this year included:
Trial by Fire, a painting by Tim Leura Tjapaltjarri; Saara, the Seagull Hero, a sculpture of a human figure; Older Apalach Brother, Younger Apalach Brother and The Crippled Boy of Thaa'puunt, three wooden sculptures, for the opening of the National Portrait Gallery at its new site in Canberra
four AE Smith musical instruments for rehearsal and performance for the Grainger Quartet's Farewell Concert held at the Albert Hall, Canberra
a poster, photograph and 'how to vote' card loaned to Senator Bob Brown for display at an event commemorating the 25th anniversary of the Franklin Dam protest in Tasmania.
A full list of outward loans is in Appendix 5.
Augmenting the collection
The Museum's permanent galleries and temporary and travelling exhibitions displayed 4953 objects of which 884 were loans from 231 lenders, comprising 84 institutions and 147 private individuals.
Interesting private and national objects loaned to the Museum included:
from the National Gallery of Australia, eight wayang golek puppets, a sword belt decorated with Arabic calligraphy, a talismanic disc for the sword belt and a dictionary of cabinetry terms, for display in the new Australian Journeys gallery
from the British Museum, a Pennington pocket chronometer used by Captain Robert FitzRoy, for display in Australian Journeys
from June Barker, an emu egg decorated with a portrait of William Ferguson, for the From Little Things Big Things Grow temporary and travelling exhibition.
Objects currently on loan to the Museum are listed in Appendix 4.
Providing public access
As well as exhibiting and lending objects from the National Historical Collection, the Museum provides special access to its collection repositories and responds to public enquiries. During the year, there were 49 visits to the repositories, and Museum staff responded to numerous requests for information. Visitors to the repositories included researchers, community members and groups, filmmakers, and donors and their families. Enquiries covered a diverse range of collection items, including Australian Aboriginal and Pacific Islander material, photographs and documents, large technology objects, and eighteenth-century ceramics.
Some memorable events involving special access to Museum objects included:
filming sections of the 50-metre-long Harvest of Endurance scroll for SBS television news features on Australia Day and Chinese New Year celebrations
a tour of collection repositories and an introduction to registration and conservation activities for the Friends of the Australian National Museum of Education, University of Canberra, and members of the Australian College of Educators.
The Hong Hai
Above image: Senior Conservator David Hallam shows Trang Le, the granddaughter of the Hong Hai's captain, the cabin where 30 people attempted to sleep.
The Hong Hai, a 17-metre fishing boat, arrived in Darwin in November 1978 carrying 38 refugees. The boat was among the first objects accessioned into the Museum's collection. When Trang Le, the granddaughter of the Hong Hai's captain, recently approached the Museum, a visit was arranged.
'All my life, I've wanted to see the boat and when my grandmother got sick it made me want to search for it even more', said Trang. According to curator Jennifer Wilson, 'The Hong Hai is an important part of the Museum's collection of migrant and refugee material history, not only because of the value of the vessel itself but also because of the ongoing relationship between the National Museum and the families that travelled to Australia in the boat'.
Too large to be on display in the Museum, the Hong Hai is permanently housed in the Museum's repository in the Canberra suburb of Mitchell. Senior Conservator David Hallam gave Trang a personal tour of the Hong Hai's wheelhouse and hull and explained some of the challenges conservators face in preserving the wooden boat.
Trang was able to identify some of her relatives in the archival photograph albums in the Museum's collection and shared some of her family stories. 'Looking into the cabin area, I wondered where 30 or so people managed to sleep during the trip', she said.
Development of collection management procedures
Further work was completed on the Door to Store manuals, which detail procedures for documenting the Museum's collections.
Door to Store Manual III ('Conservation procedures for material coming into the National Historical Collection') was finalised this year, and Door to Store Manual I ('Acquiring and accessing collections') was published on the Museum's intranet.
Centre for National Museum of Australia Collections
In accordance with its functions under the National Museum of Australia Act 1980 — to develop and maintain a national collection of historical material — an ongoing strategic priority for the Museum is to develop and plan for collection accommodation, management and preservation needs. This year, the Museum has continued its forward planning to address collection storage space issues. In the May 2009–10 Budget, the Museum was given approval to progress with a second-stage detailed business case proposal. The proposal will investigate three options: to build and own a new building, to extend existing leased premises, or to enter into a pre-commitment lease (in which accommodation is purpose-built for the Museum to lease).
The new building will demonstrate world's best practice in environmentally sustainable design for collection accommodation. Incorporated in the forward plan will be environmental impact studies to provide information as to what building materials are available, what can be done in terms of energy resources, how to manage waste, how to deal with chemicals used for conservation purposes, chemical off-gassing, identification of potential site-specific risks (such as run-off into waterways), storm water management systems, building orientation and computer modelling to test assumptions to ensure that the proposal will work. The Museum will also conduct research into international museums and other organisations that are planning or implementing related projects that demonstrate innovative, environmentally sustainable solutions.
Return to

Top