The Museum's people are at the heart of the organisation, caring for the collection and physical infrastructure and delivering quality programs and exhibitions for Australian and international audiences. The Museum attracts passionate, creative, highly qualified people with diverse skills and experience. It is a major task to develop and retain high-quality employees — a task to which the Museum is committed.
Delivering services for diverse audiences requires staff with similarly diverse backgrounds and perspectives, and the Museum works hard to maintain and encourage diversity in its workforce.
The value the Museum places on employee performance and diversity is highlighted in the Strategic Plan, with a commitment to continually reviewing the way business is conducted, operating in a way that utilises better practices and providing an environment to assist staff to undertake their work. The Museum's business priorities for the year included support for workforce diversity and skill retention, and implementing terms and conditions of employment negotiated for a new collective workplace agreement.
Museum staff members are employed under the Public Service Act 1999, and employment conditions are established under legislation applying to the Australian Public Service and, in particular, the Museum's Collective Agreement.
The staffing numbers over the past five years indicate the Museum's overall numbers have stabilised within the 280–300 range, with the gender split fairly constant every year. At 30 June 2009, the Museum employed 284 staff consisting of 229 ongoing and 55 non-ongoing employees, which represented a full-time equivalent number of 246.97.
Total staff numbers, 2004–09 (at 30 June each year)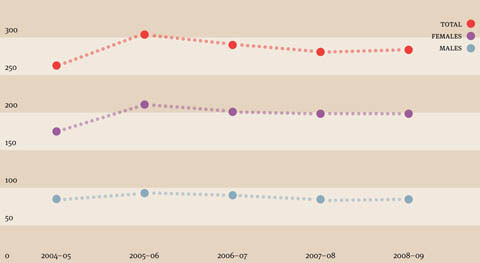 Staffing by employment status
| Status | Male | Female | Total |
| --- | --- | --- | --- |
| Ongoing full-time Principal Executive Officer (PEO) | 0 | 0 | 0 |
| Non-ongoing full-time PEO | 1 | 0 | 1 |
| Ongoing full-time Senior Executive Service (SES) | 1 | 2 | 3 |
| Ongoing full-time non-SES | 53 | 109 | 162 |
| Ongoing part-time SES | 0 | 0 | 0 |
| Ongoing part-time non-SES | 16 | 48 | 64 |
| Non-ongoing full-time SES | 0 | 0 | 0 |
| Non-ongoing full-time non-SES | 10 | 21 | 31 |
| Non-ongoing part-time SES | 0 | 0 | 0 |
| Non-ongoing part-time non-SES | 4 | 19 | 23 |
| TOTAL | 85 | 199 | 284 |
Staffing by division
| Division | Ongoing | Non-going | Total |
| --- | --- | --- | --- |
| Directorate | 25 | 12 | 37 |
| Operations | 47 | 3 | 50 |
| Collections and Content | 68 | 17 | 85 |
| Audience and Programs | 89 | 23 | 112 |
| TOTAL | 229 | 55 | 284 |
Staffing by APS level
Status
Male
Female
Total
PEO
1
0
1
SESB2
0
0
0
SESB1
1
2
3
Executive Level 2
11
13
24
Executive
Level 1
11
21
32
APS6
14
36
50
APS5
11
24
35
APS4
11
41
52
APS3
6
21
27
APS2
18
40
58
APS1
0
0
0
Cadet
1
1
2
TOTAL
85
199
284
Impact and features of workplace agreements
As an Australian Public Service agency, the Museum employs people within a regulatory framework that includes federal workplace relations and related legislation, the Public Service Act 1999 and common law employment contracts.
In a rapidly evolving workplace relations and public sector management environment, a range of instruments regulate the Museum's terms and conditions of employment. Agreements negotiated with employees and their representatives are at the heart of this framework. The Museum has maintained a high level of employee support for collectively negotiated arrangements over the last decade. This reflects a culture of consultation and trust.
The National Museum of Australia Workplace Agreement 2008–2011 commenced on 30 October 2008 and is the primary agreement covering most Museum employees. It is a three-year union collective agreement with the Community and Public Sector Union, and has a nominal expiry date of 30 October 2011. The Museum negotiated the agreement in the first half of 2008 and it was approved by 98.3 per cent of votes cast by eligible staff. It replaced the National Museum of Australia Workplace Agreement 2005–08.
The Museum also has a number of Australian Workplace Agreements (AWAs) made under the Workplace Relations Act 1996. These include comprehensive agreements with Senior Executive Service employees and individual AWAs covering a small number of non-SES employees. Under the Transition to Forward with Fairness legislation and the Fair Work Act 2009, AWAs will continue to operate until they are terminated or the relevant employment ceases, but no new AWAs may be made.
The 2008–11 workplace agreement introduced a number of significant changes to the term and conditions of employment to generate productivity improvement and support the Museum's strategic and business priorities. The changes focus on family-friendly employment practices, encouraging Indigenous employment and cultural engagement, retaining valued mature-aged employees, individual employment flexibility, and the introduction of casual and intermittent employment arrangements.
The workplace agreement provides a competitive but not excessive pay outcome of 4.25 per cent from commencement of the agreement, with annual increases of 3.5 per cent plus an additional 0.5 per cent per annum, conditional on global achievement of individual performance management targets.
There is a new provision for individual employees to negotiate pay and conditions enhancements through Individual Flexibility Agreements, including encouragement to negotiate flexible arrangements to suit employees' caring responsibilities as they change over time. The workplace agreement also increases the maternity leave entitlement by one week, to 14 weeks, and enables better management of excess leave accrued by employees, including provision to cash-out up to two weeks of annual leave per year (as allowed under the legislation).
The workplace agreement introduces new provisions to encourage employment and retention of Aboriginal and Torres Strait Islander peoples, through consultation with Indigenous employees and other practical initiatives to support Indigenous cultural awareness, Indigenous language training and mentoring activities, skills training for Indigenous employees, and guidelines on flexible work provisions for Indigenous cultural and community purposes.
Other initiatives in the agreement include:
commitment to develop and implement sustainable environment initiatives
upgrading of subsidies for spectacles needed for using screen-based equipment to cover any lenses, including contact lenses, required for visually demanding work
consideration, during the period of the agreement, of averaging of shift penalties
continuation and ongoing enhancement of the Workplace Conversations individual performance management framework
continued support for corporate training.
Attracting the right people and doing it better
The Museum competes for high-quality employees with public sector agencies, other museums and cultural institutions, academic institutions and private enterprise. Longer-term demographic trends in the Australian population, including the ageing of the Australian working population and the retirement of the 'baby boomer' generation, is leading to increased competition for highly qualified, experienced and skilled people. In addition, the crisis in the global and Australian financial environments leads to increasing uncertainty in labour markets.
Through efficient, effective and timely recruitment processes, the Museum seeks to define, attract, select and secure the best candidates, and minimise recruitment timeframes and costs. The Australian Public Service Commission recommends a target of 45 days from the identification of the recruitment need to the new starter commencing for a typical, non-SES recruitment exercise. Consistent with that target, the Museum continued to work successfully during the year towards reducing the time involved in recruitment activity.
The Museum has successfully reduced recruitment timeframes by adopting a project planning approach to recruitment exercises and working with managers and selection committees to adopt better and more flexible practices for recruitment activities available within the legislative and policy framework. The Museum's new online recruitment functionality has also allowed it to better capture applicant information and disseminate that information more efficiently.
Induction and orientation processes have also been improved, to help make new employees feel welcome and valued and to enable them to become fully productive as quickly as possible. The Museum's induction and orientation includes personalised day-one induction by the recruitment officer, periodic 'new starter' training sessions on the Workplace Conversations performance management framework, an online induction package, and a regular Orientation Day program. The online induction package allows new employees to work through detailed information in their own time and has enabled the Museum to successfully reduce the Orientation Day program from two days to one, while maintaining a focus on meeting Executive and other key staff. The Orientation Day also includes an introduction to the Library and tours of the collection storage and conservation facilities at Mitchell.
'The best of both worlds'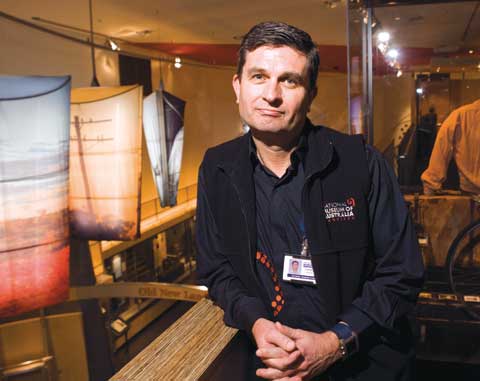 In January 2009, Simon Goode joined the Museum's Visitor Services and Volunteers team through the Australian Public Service Commission's Indigenous Entry Level Recruitment Program. Recruits receive valuable on-the-job training and support combined with Australian Public Service Commission training, mentoring and the opportunity to study towards a Certificate III in governance.
On completing the program, trainees may continue working with the Museum or move into other roles within the Australian Public Service. 'I'm finding it a great way to learn about the public service as well as learning about the Museum; I've got the best of both worlds', said Simon, explaining that he feels immense support from his colleagues at the Museum.
Simon, from Darug country in western Sydney, said he was particularly drawn to the Museum for the opportunity to learn more about his Indigenous culture. 'Our culture has disappeared so quickly and it's a long road to learn about these things. We don't have anyone who speaks the Darug language any more, which is really quite sad.' Simon plans to share some of the knowledge he has gained during his time at the Museum with other Darug people when he returns for a corroboree later this year.
One of the highlights of the job, according to Simon, is the opportunity to engage with visitors from a range of backgrounds, and share stories with them about objects in the Museum's collection. The Open Collections area in the Museum's Gallery of First Australians provides an opportunity for visitors to catch a glimpse of what they can expect to see 'behind the scenes'. Simon loves taking visitors into this unique space to interpret very special objects that represent the material culture of Australia's long Indigenous history.
Supporting and maintaining a strong individual performance management culture
The Museum's staff performance management framework, Workplace Conversations, is a key productivity initiative. The intent of Workplace Conversations remains the same as in previous years: that is, a 'guided conversation' approach. Workplace Conversations continues to use Museum specific work-level standards to clarify job roles and expectations, and Museum-specific capability profiles to identify and reinforce work behaviours that support the Museum's objectives.
Workplace Conversations requires staff members to have regular performance discussions with their manager. These formal guided discussions cover the scope and deliverables of a staff member's position, the support required to deliver them, and a documented agreement on relevant learning and development opportunities. Links are made between a staff member's work and the overall strategic and business priorities of the Museum, as well as the specific capabilities the person will concentrate on in the conduct of their position. Aggregate learning and development data assists in the development of overall corporate training activities.
Mid-cycle team conversations encourage discussions on team performance and complement the regular individual focus characteristic of Workplace Conversations. The Museum considers it important for teams to review and celebrate their successes.
Workplace Conversations training was provided across the Museum, particularly in introducing new staff to the performance management framework and helping existing staff to enhance their communication, negotiation, conciliation, work planning, leadership and management capabilities.
The external human resources consultant, Interaction Consulting Group, continued to provide performance management training, evaluation and support services to Museum staff.
Enhancing our capability through learning and development
The Museum's corporate training program is driven largely by individual development needs identified through Workplace Conversations, and the Museum's strategic and business priorities. It is further informed by learning activity evaluation.
In 2008–09 the Museum's corporate training program focused on: building capability in cultural awareness, leadership, recruitment and staff selection, writing, performance management; and application of the Australian Public Service (APS) Values and Code of Conduct. There was also an emphasis on revising induction and orientation processes, and the associated learning experience.
The goals of the program are aligned with the Museum's Capability Profile, which has 10 elements: thinking and acting strategically, focusing on the customer, building knowledge and capability, leading and managing, communicating with skill, creating and innovating, getting results, being self-aware and acting professionally, working well with others and together, and knowing and understanding the business.
As in previous years, in 2008–09 a number of staff members presented papers at conferences and seminars, undertook research and attended technical and professional workshops. A list of these activities is reported in Appendix 7.
In addition, one employee took part in the 2008 Cultural Management Development Program (CMDP), with another enrolled in the 2009 CMDP. Two employees completed the Advanced Workplace Skills Program (AWSP) during 2008, with another two enrolled in the 2009 AWSP. Both the CMDP and AWSP are collaborative development programs, run in conjunction with other cultural institutions in Canberra.
In recognition of the Museum's role in telling the stories of a diverse Australian population, the Museum developed and implemented cultural competency awareness sessions for staff. These sessions were designed to build on the cultural awareness program introduced in 2007 that focused on Aboriginal and Torres Strait Islander cultures.
The workplace agreement also enabled employees to access Museum-sponsored study leave, with special provisions for staff to learn languages other than English. It specifically introduced some additional support for staff to undertake approved external Indigenous cultural awareness or language training or mentoring activities, and established a funding pool of $5000 to support bridging and other enabling studies and skills training for Indigenous employees.
Other staff training focused on core behaviours, skills and knowledge required by people across the Museum, and included:
refresher training for the Museum's Equity and Diversity Contact Officer on harassment and bullying in the workplace
seminars on mental health in the workplace, with a particular emphasis on resilience and managing change
seminars on occupational health and safety (OHS) for all staff, through induction presentations, as well as focused OHS presentations for visitor services teams
manual handling training
refresher courses for first aid officers, wardens and section health and safety representatives
regular and comprehensive orientation programs for all new Museum employees.
Maintaining a consultative culture
The workplace agreement updated the Museum's staff consultation arrangements, with provision to better engage with staff through formal and informal consultation and the redesignation and refocusing of the former Workplace Development Committee as the Workplace Consultative Committee (WCC). The WCC is the forum for broad consultation on operational matters.
The framework also provides for the continuation of a biannual Museum Consultative Forum in which the Director and Executive group engage with staff representatives on higher level strategic issues for the Museum.
Supporting and making workplace diversity a priority
The Museum's Workplace Diversity Plan seeks to create an environment that is supportive of people's diversity by building knowledge and capabilities from many backgrounds within the Museum, having business processes that support diversity, and developing diverse ways to work. In implementing the plan, the Museum continued to encourage a staffing profile that reflects Australia's cultural diversity. This was done through measures such as recruitment strategies; promoting Australian Public Service values relating to diversity; maintaining a network of equity and diversity contacts; and continuing to raise awareness on ways to prevent bullying and harassment in the workplace. The plan expired during the year and a replacement plan was developed.
Aware of the ongoing decrease in the number of Indigenous people employed across the Australian Public Service, the Museum continued to take particular measures during the year to provide and support employment opportunities for Indigenous people. These included continuing a dedicated role in the Visitor Services and Volunteer team to promote, facilitate and support the employment of several Indigenous people; the provision of cultural awareness training for staff; and the continued employment of three people under the Indigenous Cadet Program. This program supports the cadets in completing their post-secondary education and in gaining valuable on-the-job work experience, along with ongoing employment upon successful completion of the program. In 2009 the Museum offered two places as visitor services hosts through the Indigenous Entry Level Recruitment Program (IELRP) coordinated by the Australian Public Service Commission. This program provides entry level staff with the opportunity to obtain a Certificate IV qualification.
Additionally, in 2008 the Aboriginal and Torres Strait Islander Program team employed a 12-month non-ongoing identified position at the APS 4 curator level and the Visitor Services and Volunteers team supported a summer work placement for another Indigenous visitor services host.
The Museum participated in the Access and Equity Report 2006–08 coordinated by the Department of Immigration and Citizenship and presented to Parliament on 18 March 2009. The Australian Journeys gallery was featured in the report.
The Museum received financial assistance from the Workplace Modification Scheme for two staff from JobAccess, a government initiative to assist with workplace solutions for the employment of people with disabilities.
Recognising people
Staff recognition at the Museum is usually expressed formally between those most directly involved in individual performance management. This is a critical level of recognition, stressing the importance of having constructive Workplace Conversations, aligned with strategic and business priorities, throughout the year.
To provide wider recognition of significant contributions and achievements by its staff, the Director presented Australia Day Achievement Medallions to 54 employees, including two volunteers, who had made noteworthy contributions to the work of the Museum during the past year or over a number of years.
Internal communications and staff news are regularly communicated through the Museum's active intranet and the internal newsletter, the Loop, which is produced by the Public Affairs team.
Post-separation employment
There were no applications for post-separation employment during the year.