The Museum recognises the importance of the Disability Discrimination Act 1992. Compliance with the Act helps to identify and remove barriers that might prevent people with disabilities from accessing Museum programs, services and employment opportunities. The Museum meets its obligations under the Act by implementing the Commonwealth Disability Strategy and the Museum's Disability Action Plan. Details of the Museum's performance during the year in implementing the Commonwealth Disability Strategy are set out in Appendix 10.
As at 30 June 2009, the number of Museum staff members who identified themselves as belonging to specific groups was:
Museum staff who report as belonging to specific groups
| Group | No. | % total staff |
| --- | --- | --- |
| Aboriginal and Torres Strait Islander peoples | 13 | 4.6 |
| People with disabilities | 8 | 2.8 |
| Culturally and linguistically diverse backgrounds | 36 | 12.7 |
| Females | 199 | 70 |
Cases of injury or dangerous occurrences, 2005–09
Category and number of reported incidents, 2005–09
Category of person injured or involved in dangerous occurrences,
2008–09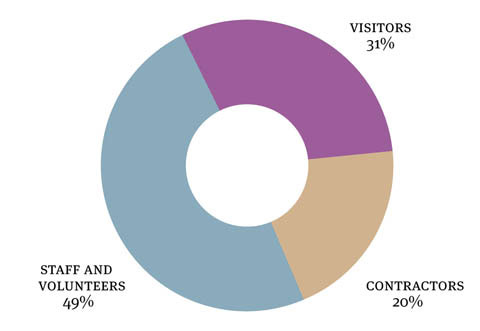 Educational and developmental opportunities
The Museum continued to be a sought-after venue for secondary and tertiary students seeking work experience, with 20 students undertaking work experience placements across different areas of the Museum during the year. The Education section hosted 17 undergraduates from the University of Canberra, who are completing a Professional Community Day as part of their teaching program.
Interns from The Australian National University's Museums and Collections program, which is coordinated jointly between the Museum's Centre for Historical Research and the university, were also hosted at the Museum.
Promoting a healthy and safe workplace
During the year the Museum continued to manage occupational health and safety (OHS) for all staff, volunteers, contractors and visitors. It achieved this through its well-established framework for OHS management. This framework includes:
a dedicated Safety and Risk Manager
the OHS Committee, which met four times during the year
five designated work groups for OHS management in different areas of the Museum
health and safety representatives and deputies elected by employees in each of the five designated work groups
regular training for staff
targeted safety improvements
incident reporting and investigation
provision of timely information to employees via a dedicated intranet website.
The Safety and Risk Manager continues to represent the Museum at various forums, including the Commonwealth Safety Management Forum and the Cultural Institutions OHS Group.
During the year, the Museum's Health and Safety Management Arrangements (HSMA) and OHS Strategic Plan 2008–2010 were developed and implemented.
The Museum recognises that training plays a key role in achieving and maintaining a high standard of workplace safety. Training provided during 2008–09 included:
the introduction of an online OHS training course for all new employees
training courses focusing on the OHS obligations of managers and supervisors
customised manual handling training for collections management staff
manual handling training for staff who work in Facilities, the Museum Shop, Multimedia and Public Programs
training for staff members to gain licences for forklift and other plant operation, where required.
Ongoing recruitment and training of wardens, first aid officers, and health and safety representatives also took place to replace staff members who have vacated those positions. To further promote staff awareness of OHS and the Museum's OHS website, Museum staff were also invited to undertake an OHS quiz during the year, to further educate staff about their OHS responsibilities and general health and safety issues.
Because of its extensive use of contractors, the Museum continues to focus on ensuring that all contractors working on Museum sites receive a site induction prior to commencing work to make them aware of their OHS obligations.
The Museum continued its approach of identifying, assessing and rectifying safety hazards in a functional and practical way, which also takes environmental aspects into consideration. Some key improvements made during 2008–09 included:
ongoing installation of safety film for glass in galleries to reduce the risk of glass fragmenting
OHS input into exhibition creation and gallery development, from the design to installation phases.
In April 2009, the Museum's Pandemic Response Plan was activated in response to the increased threat of the H1N1 Influenza 09 (Human Swine Influenza), with appropriate information, focusing on preventing the spread of illness, disseminated to employees.
As part of increasing staff awareness of their own health and wellbeing, flu vaccines and voluntary health assessments were made available for all staff and volunteers.
Staff, visitors or contractors reported a total of 91 injuries during the year. There were three dangerous occurrences, and these were reported to Comcare in accordance with Section 68 of the Occupational Health and Safety Act 1991.
The statistics show an increase in the number of reported OHS incidents compared with the previous year, with the number increasing from 68 to 94. The increase occurred mainly in the category of minor injuries. The statistics appear to reflect an increased awareness of OHS across the Museum, which has led to staff being more diligent in filing incident reports.
There were no fatalities or provisional improvement notices recorded during the period. Minor injuries are those that require no medical treatment, or only first aid treatment. Serious injuries require emergency medical attention by a doctor, in a hospital or in an ambulance. Dangerous occurrences are incidents that could have, but did not, result in serious injury or death.
Indemnities and insurance
In accordance with Section 16 of the Commonwealth Authorities and Companies (Report of Operations) Orders 2008, which requires reporting on indemnities and insurance premiums for officers, the Museum confirms that it has:
director's and officers' liability insurance cover through Comcover, the Commonwealth self-managed fund
not entered into any deeds of indemnity in relation to director's and officers' liability.
As part of its annual insurance renewal process, the Museum reviewed its insurance coverage to ensure that it remained appropriate for its operations.
The Comcover Risk Management Benchmarking program recognised the ongoing positive impact of the Museum's risk management strategies and activities by awarding the Museum a $21,000 discount on its 2008–09 insurance premium.