The National Museum of Australia guides the delivery of its outputs through its corporate governance framework. This framework comprises the Museum's enabling legislation and other legislative instruments, managerial and organisational structures, corporate policies and strategies, and resource management practices.
Legislation
The National Museum of Australia Act 1980 defines the broad functions and activities of the Museum. This Act established the Museum as a Commonwealth statutory authority and, along with the National Museum of Australia Regulations 2000, defines the Museum's role, functions and powers. (For the functions and powers of the Museum, see Appendix 2). The Commonwealth Authorities and Companies Act 1997 provides a single set of core reporting, auditing and accountability requirements for directors of Commonwealth authorities. It also deals with other matters such as banking and investment and the conduct of officers, and states that directors are responsible for the preparation and content of the report of operations in accordance with the Commonwealth Authorities and Companies (Report of Operations) Orders 2008. The Public Service Act 1999 covers the powers of the Director of the National Museum of Australia in relation to the management of human resources.
The National Museum of Australia is a statutory authority within the portfolio of the Environment, Water, Heritage and the Arts.
Governance model
Accountability
Controls
Parliament
Government
Minister
Council
Other stakeholders
Legislation
Delegations
Values
Codes of conduct
Ethics
Certified Agreement
Staff circulars
Strategy
Performance

Vision and mission
Performance management
framework
* plans, policies and procedures
* strategic and business plans
Personal performance plans
Organisational structure
Risk management
Committees
Culture

Internal conformance
and reporting
External conformance
and reporting
Council and committees
The Council of the National Museum of Australia is responsible for the overall performance of the organisation, including setting the strategic direction and establishing goals for management. The Council works with senior management in developing, executing, monitoring and adjusting the appropriate strategies, and its members are appointed under Section 13(2) of the National Museum of Australia Act 1980.
The National Museum of Australia Act 1980 provides for a Council consisting of a Chair, the Director of the Museum and neither fewer than seven nor more than 10 other members. All members are appointed by the Governor-General and, apart from the Director, are part-time appointees for terms of up to three years, although terms of appointment can be extended. The Director can hold office for a period not exceeding seven years.
The current membership of the Council provides a mix of skills and experience in the areas of history, law, education, the arts, tourism, business, financial and strategic management, museum management, government policy and administration. The Commonwealth Remuneration Tribunal determines remuneration for non-executive members.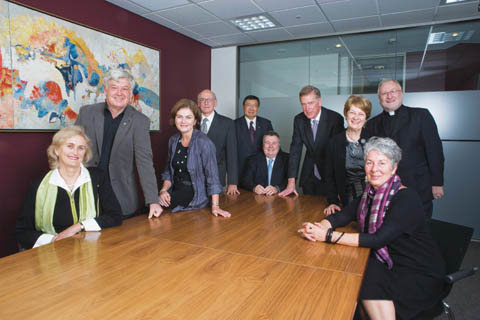 The terms of Council members the Hon. Tony Staley AO (Chair), Mr Christopher Pearson and Mr Benjamin Chow AO lapsed during 2008–09. At 30 June 2009, the Council comprised the following members:
Mr Daniel Gilbert AM (Chair) has many years of experience as a commercial lawyer and company director. Since the mid-1970s he has had extensive involvement with social justice issues through work with community legal centres and public organisations and the arts. In 1992 he established the Gilbert+Tobin Pro Bono practice, which has a strong emphasis on Indigenous issues.
Dr John Hirst (Deputy Chair) is a scholar emeritus in the History Program at La Trobe University. His interests include Australian social and political history, democracy and civic culture, and he has published extensively in the field. He was a member of the Prime Minister's Republic Advisory Committee in 1993 and is currently Chair of the Commonwealth Civics Education Group and a member of the Film Australia Board.
Dr John Fleming is an internationally renowned bioethicist and widely published author. He served as Director of the Southern Cross Bioethics Institute in Adelaide and is a lecturer in Bioethics at the Institute. He is currently President of Campion College, New South Wales. Dr Fleming has hosted a popular Adelaide talkback radio program for over 30 years.
Ms Marian Gibney is an experienced lawyer who has held a number of high-profile private and public positions, including her current role as General Counsel, ACMI Investments. Her government sector board appointments include membership of the Queensland Art Gallery Foundation Board.
Ms Sally Anne Hasluck has been associated with museum work since 1974 when she was appointed as the inaugural curator of the newly established Claremont Museum in Western Australia. In 1994 she left Claremont to establish a museum consultancy and to commence a seven-year term on the Western Australian Museum Board.
Mr John Morse AM is advisor on tourism and Indigenous tourism to the Director of Parks Australia, the owner of John Morse Art, and Chair of the Mutitjulu Foundation. He was Managing Director of the Australian Tourism Commission for nearly 20 years, during which time he oversaw the development of Brand Australia and drove the highly successful international campaign to encourage people to visit Australia during the 2000 Olympics.
Dr Barbara Piscitelli AM is a freelance consultant and researcher in education and the arts. Her research explores cultural policy and childhood, children's learning in museums, and early childhood visual arts education. Dr Piscitelli is a member of the Board of Directors of the Collections Council of Australia and of the Queensland Museum.
Professor Andrea Hull AO has held senior roles at international, federal and state levels in cultural, heritage and education areas. She was Director and Dean of the Faculty of the Victorian College of the Arts at the University of Melbourne for 14 years, and is a member of the Council of Trustees of the National Gallery of Victoria.
Mr Craddock Morton (Executive Member) see Executive Management group.
The Council held four meetings during 2008–09. An executive officer from the Department of the Environment, Water, Heritage and the Arts attended the meetings as an observer.
The Museum provides Council members with information on government changes to corporate governance responsibilities as it becomes available, including Australian National Audit Office documents and guidelines.
The Council has policy and procedures for the disclosure and resolution of any matter for its consideration that may result in a conflict of interest. Members are required to make the nature of that interest known at the commencement of a Council meeting, and details of such disclosures are recorded in the minutes of the meeting.
The Council has three committees that assist in the execution of its responsibilities:
the Audit and Finance Committee
the Collections Committee
the Sponsorship and Development Committee.
Details of Council committees are listed in Appendix 1.
Executive Management group
The Executive Management group, comprising the Director and three General Managers, provides strategic and operational leadership to the Museum.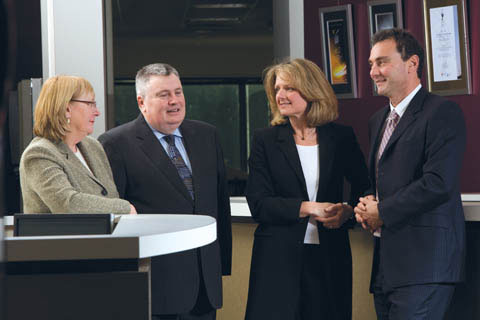 Craddock Morton, Director
Until 1986 Craddock Morton held various positions in the departments of the Senate and Prime Minister and Cabinet before working in a number of ministerial staff positions. In 1994 he left the position of Senior Adviser to Prime Minister the Hon PJ Keating to become Director of the Australian Foundation for Culture and Humanities.
From 1995 Mr Morton held various positions in the Department of Communications, Information Technology and the Arts, including Chief General Manager on the Acton Peninsula Project (National Museum construction) and Director of Old Parliament House. After acting as Director of the National Museum from December 2003, Mr Morton was appointed to the position in June 2004. He is currently Chair of the National Cultural Heritage Committee, President of ICOM Australia, a member of the Executive of Museums Australia and the Council of Australasian Museum Directors, and a Director of Art Exhibitions Australia.
Louise Douglas, General Manager, Audience and Programs
Louise Douglas has had a successful career in cultural heritage management that spans 20 years, working at senior and executive management levels at the Powerhouse Museum and the National Museum of Australia.
Ms Douglas has been active in Museums Australia for many years and was National Vice President from 1998 to 2000. She has been a member of the Canberra Museum and Gallery Advisory Committee since 1996 and is currently a member of the Fulbright Commission's Australian Capital Territory Selection Committee.
Mathew Trinca, General Manager, Collections and Content
Prior to joining the National Museum as a senior curator in 2003 Mathew Trinca worked as a curator of history at the Western Australian Museum and as a consultant historian on film, conservation and public history projects.
With research interests in cultural history and museum practice, Mr Trinca co-edited Country, a collection of essays on Western Australia's environmental history, and Under Suspicion, a collection devoted to studies of internment in Australia during the Second World War.
Lisa Wilmot, Acting General Manager, Operations
Having worked with the Museum for over six years, Lisa Wilmot commenced as Acting General Manager, Operations in April 2009. Prior to taking on this role, she successfully led and managed the Museum's human resources and workplace relations functions.
During her Australian Public Service career of over 20 years, she has managed various corporate-related functions in the employment, education and training portfolios including finance, complex tendering processes, employment services and employment programs delivery, and an 18-month term in the Office of the Minister for Education.
Accountability chain as at 30 June 2009

National Museum of Australia organisation chart as at 30 June 2009
Director
Craddock Morton

Audience and Programs Division
General Manager
Louise Douglas

Collections and Content Division General Manager
Mathew Trinca

Operations Division
General Manager
Lisa Wilmot (Acting)

Directorate

Audience Development and Public Programs
Rachael Coghlan

Education
David Arnold

Print and Digital Media

Multimedia and Web
Tikka Wilson

Copyright and Production Services
Denis French


Print Publishing
Julie Ogden


Marketing and Sponsorship
Trish Kirkland

Visitor Services and Volunteers
Meredith Sack


Friends of NMA
Sharon Casey

Registration
Poppy Wenham

Conservation
Nicki Smith (Acting)

Curatorial

Collections Development
Guy Hansen

Old New Land/Eternity
Matthew Higgins

Aboriginal and Torres Strait Islander Program
Michael Pickering

Creating a Country
Martha Sear

Australian Journeys
Michelle Hetherington
(Acting)

Collection Information and Digitisation/Opal
Helen Ludellen

Facilities and Risk Management
John Ryan

Employee Relations and People Development
Philip Graetz (Acting)

Information Technology and Services
Chris Gill

Venue and Media Services
Brian Ellwood

Design and Accommodation
Greer Gehrt

Exhibitions and Gallery Development
Rebecca Coronel

Executive Officer
Trevor Fowler

Strategic Development and Policy
Roger Garland

Public Affairs
Dennis Grant

Indigenous Matters
Margo Neale

Legal Services
Fiona Dalton/ Belinda Carman

Finance and Retail
Kylie Noonan

Centre for Historical Research
Peter Stanley
Performance Management Framework
The Museum's organisational Performance Management Framework provides the structure for delivering outputs and outcomes through planning, policy and procedural work. Performance is guided by the Museum's strategic and business plans as well as its vision and mission statements. Performance is tracked through quantitative measures, project management practices and qualitative reports.
Strategic Plan
The current Strategic Plan 2007–10 came into effect on 1 July 2007. Its key priorities and a summary of progress against its business priorities for 2008–09 are provided in Part One, Executive summary, of this report.
Business planning
Business planning and performance reporting are central to the Museum's delivery of outcomes and outputs for its stakeholders. Museum divisions and their business units implement annual business plans linked to the Museum's strategic and annual business priorities. Business planning identifies key risks for the delivery of the Museum's priorities, and includes risk mitigation.
Performance Management Framework overview
Project management
The Museum's project management methodology continued to be deployed, with Primavera computer software underpinning this methodology. Primavera is a collaborative, web-enabled project management tool supporting:
project managers to plan, schedule and manage projects
team members to view and update project activities for which they are accountable
managers and executives to view the performance of a portfolio of projects.
Application of the methodology, software and project support will continue to evolve throughout 2009–10.
Policies and plans
The Museum has a comprehensive suite of policies and plans. These are monitored and reviewed at regular intervals and made publicly available on the Museum's website.
Performance Management Framework overview