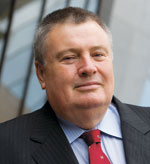 Last year saw a period of considerable success for the Museum, as we continued to provide a wide range of programs and activities that foster a better understanding of Australian history for the Australian public, and enhanced our profile through a range of national and international partnerships and activities.
VISITATION
The Museum's exhibitions and programs were visited by an estimated 941,400 people nationally and internationally (compared with 1,007,900 in the previous year). This continues the Museum's average visitation of 965,000 over the last three years. Travelling exhibitions performed particularly well. There was a reduction in the number of visitors to the permanent exhibitions and in venue hire, possibly due to the economic downturn and the overall decline in domestic and national tourism.
Web visitation increased, growing from 1,522,000 last year to 2,533,100. This growth is a result of the addition of new content and the release of an upgraded version of the Museum's collection database. Total visitation to our website, exhibitions and programs was 3,474,500: the highest total since opening in 2001.
TEMPORARY AND PERMANENT EXHIBITIONS
The second stage of the Museum Enhancement Program was completed with the opening of the new permanent gallery, Australian Journeys, in December 2008. Audience response has been positive, particularly regarding the diversity and quality of the National Historical Collection objects on display. The third stage of the program — delivery of the Creating a Country gallery — was progressed with the completion of detailed content and conceptual design. The gallery is expected to open by early 2011.
Major temporary exhibitions at the Museum focused on Charles Darwin (an exhibition from the American Museum of Natural History in New York) and Emily Kame Kngwarreye (an exhibition developed by the Museum for the Australian Government). These, along with smaller exhibitions developed for our Focus galleries and the Hall, were popular with visitors.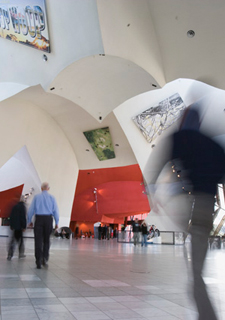 NATIONAL AND INTERNATIONAL OUTREACH
Engaging national audiences continued to be a priority this year with 10 exhibitions travelling to a total of 31 venues across the country. We entered into a significant partnership with FORM, an independent cultural organisation based in Western Australia, to develop a major travelling exhibition on Indigenous and non-Indigenous interpretations of the Canning Stock Route.
The international tour of Utopia: The Genius of Emily Kame Kngwarreye to Japan concluded at Tokyo's National Art Center at the end of July, having appeared at the National Museum of Art in Osaka in the previous financial year. Following this success, additional resources were allocated to extend our international exhibition profile through partnerships with other producers of world-class touring exhibitions.
Our capacity to deliver a dynamic program of national travelling exhibitions will be increased through access to the new National Cultural Institutions Touring and Outreach Program, announced in the 2009–10 Budget. Outreach via the Museum's website was increased with the addition of collection information, 69 audio-on-demand programs and 100 online learning resources.
COLLECTION DEVELOPMENT AND STORAGE
The Museum spent a total of $3.851 million on acquisitions for the National Historical Collection this year, including $1.1 million from a special acquisitions fund provided by the Australian Government. Significant acquisitions included a major collection of convict tokens dating from the eighteenth and nineteenth centuries; 113 artworks known as the Canning Stock Route collection; a handwritten illuminated address on paper to the Victorian Premier, Sir Graham Berry, signed and marked by Aboriginal leader William Barak and 15 other residents of Coranderrk, Victoria; and a painting of Queen Elizabeth II, by Australian artist Sir William Dargie, completed in the year of her first visit to Australia in 1954.
Storage of our collection remains a major concern and in the announcement of the 2009–10 Budget the Museum received approval to progress the development of a business case for three collection storage options. This work is being funded from within our own budget, and project planning commenced in June 2009. The business case and options are expected to be considered in the context of future budgets.
RESEARCH AND SCHOLARSHIP
The Museum's research program, which focused on collections, exhibitions and audiences, continued to build momentum. Staff in the Centre for Historical Research worked on research projects devoted to environmental history, the material culture of Australia and Indigenous studies. The Museum's symposium on collections, held in March, has become a significant annual event for the academic and museum community. The publication of our well-regarded e-journal reCollections, and the participation of staff in forums and conferences around the world, further enhanced our international research profile.
PEOPLE AND CULTURE
In October 2008 we entered the first year of a new three-year agreement with our staff and relevant unions governing salary and conditions.
This agreement ensures the Museum continues to be a highly attractive employer, which was demonstrated by high numbers of applications for positions throughout the year. The staff turnover rate has decreased from 19 per cent in 2007–08 to 11.2 per cent this year. Indigenous employees make up 4.6 per cent of our workforce, well above the public service average of 2 per cent.
CHALLENGES AHEAD
Our primary concern remains the limitations of the exhibition space available to us. While we recognise that it is possible to exhibit only a small percentage of the Museum's collection at any one time, we are nonetheless aware that our available exhibition area is small by Australian, let alone world, museum standards. Our capacity to achieve international standing will depend upon significant increase in exhibition space.
The Museum's Council endorsed a Property Plan in July 2008 that outlined how spaces within the existing Museum footprint could be reconfigured to maximise space for exhibition galleries. The Museum is seeking approval to use its funds to extend its current administration wing to provide accommodation for staff currently occupying potential exhibition space.
LEADERSHIP AND GOVERNANCE
I acknowledge the government's support for the Museum and thank the outgoing Chair of Council, the Hon Tony Staley AO, who provided strong leadership from September 1999 to October 2008. I also thank longstanding Council members Mr Benjamin Chow AO and Mr Christopher Pearson, who departed during the year. I welcome the new Chair, Mr Daniel Gilbert AM, whose appointment commenced in March 2009, and I would also like to welcome new Council members Dr Barbara Piscitelli AM, Mr John Morse AM and Professor Andrea Hull AO. We will introduce a revised reporting framework this year, with new performance criteria.
I am pleased to report that, although the Museum had budgeted for an operating loss, the 2008–09 year ended with a small operating surplus, primarily due to higher than expected returns from investments and retail operations.
Finally, the Museum's achievements reflect the continuing dedication of our people, the commitment of the Friends of the National Museum of Australia and our many volunteers who give up their time to assist us. I also wish to thank and congratulate every staff member for their commitment and contributions this year.
Craddock Morton
August 2009