We are no longer updating this page and it is not optimised for mobile devices.
The Museum enhances the public's awareness and understanding of Australian history and culture (one of its PBS outcomes) through a broad range of public and schools programs for visitors to the Museum.
These programs explore subjects related to the content of permanent and temporary exhibitions, to the Museum's themes, collections and research, and to historic and contemporary issues. In 2007–08, the Museum attracted 33,297 participants to its public programs and had its most successful year yet for school visits, with approximately 87,266 students attending from over 1500 schools.
The Museum develops these programs to ensure they are accessible to a wide range of audiences and to represent the diversity of the Australian community. Specific examples include the third Latin America Film Festival, held in association with Latin American embassies, and programs targeting people with disabilities, created to accompany the Papunya Painting exhibition.
For families and children
School holiday programs were linked to temporary and permanent exhibitions, and to regular events such as NAIDOC Week (celebrating Aboriginal and Torres Strait Islander culture through storytelling, workshops and the third annual didjeridu competition). The Museum also supported important community events, such as Children's Week, recognising that children and families are core audiences for the Museum.
A major event for families was the Celebrating Indigenous Arts and Culture Family Festival Day held on 26 January 2008. An estimated 3230 visitors participated in the Festival Day, which was designed for families with children up to 12 years old. As with previous Australia Day festivals, the activities reflected the themes of the temporary gallery exhibition, Papunya Painting, as well as the Museum's Gallery of First Australians.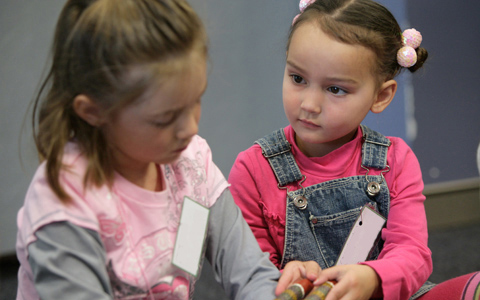 In the context of the redevelopment of the permanent galleries, preliminary planning was also undertaken to reinvigorate programming for families with children, and to enhance their experience of the permanent galleries. New programs in development include interpretive backpacks, in-gallery facilitated workshops, a school holiday discovery space, and a family trail throughout the permanent galleries highlighting particular objects of interest to children.
Australia Day attendance
| | | |
| --- | --- | --- |
| Year | Event | Attendance |
| 2005 | A Day in the Extremes | 4105 |
| 2006 | Captivating and Curious Carnival Day | 3822 |
| 2007 | Between the Flags Family Festival | 5207 |
| 2008 | Celebrating Indigenous Arts and Culture Family Festival | 3230 |
For adults and young people
The Museum presented forums and panel discussions interpreting the Museum's collections, highlighting significant aspects of Australian social history and relating to temporary and permanent exhibitions. These were:
Who you Callin' Urban? forum, held in conjunction with the 70% Urban exhibition (July 2007)
a panel discussion analysing the November 2007 federal election, held in conjunction with the Behind the Lines exhibition (December 2007)
the Eternity series, featuring public conversations with Jenny Kee (August 2007) and Lindy Chamberlain-Creighton (October 2007).
The Museum's partnership with The Australian National University saw a dynamic program of lectures, forums and conferences including:
Indigenous Biography and Autobiography (July 2007)
Poverty Dynamics and Service Delivery to the People in South Asia (September 2007)
The State of Environmental Assessment: A National Conference (May 2008).
The Museum's strong association with students and staff of the Canberra Institute of Technology and The Australian National University continued, with the Museum hosting events showcasing student work in the fields of film and television, and fashion and new media. Some film events were programmed especially for a young adult audience, including short::seasons, Lights! Canberra! Action! and the Canberra Short Film Festival.
The Museum again made extensive use of performance as a form of interpretation for all audiences:
As part of Canberra's International Music Festival, a concert featuring musical instruments from the Museum's AE Smith collection played by the Grainger Quartet — Natsuko Yoshimoto (violin), James Cuddeford (violin), Jeremy Williams (viola) and Patrick Murphy (cello) — was held on 14 May 2008 at the Australian Centre for Christianity and Culture, Barton.
A cabaret program by John Shortis and Moya Simpson interpreted the political events of the year, accompanying the annual political cartoon exhibition Behind the Lines: The Year's Best Cartoons 2007.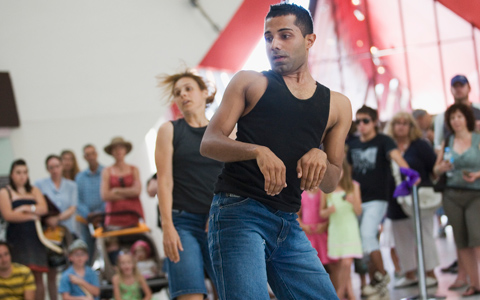 Programs for school students
In addition to the Museum's core set of school programs and activities, visiting school groups also had access to:
new programs for years 5–12 students, including 'Springboard into Australian history' and '21,000 years of history: Museum site study'
'Sustaining our environment' and 'EnviroQuiz', two new programs about the Australian environment
enhanced versions of two preschool to year 4 programs, 'Then and now' and 'Australian icons'
additional pre- and post-visit support materials for teachers provided on the Museum's website.
With substantial numbers of school visitors drawn from local schools, the Museum continued to work to ensure school programs were relevant to the new Australian Capital Territory curriculum. The Museum also focused on enhancing visitation by the national school community, for example, through its partnership with the National Capital Educational Tourism Project. For details of other educational outreach activities see Outreach programs – Reaching a national schools audience.
Collaborative educational projects
Collaborative educational projects — such as the January 2008 Australian History Teachers' Summer School — provided important opportunities to expand the role and increase the awareness of the Museum. This program, one of the Australian Government's five national teacher professional development summer school programs, was a significant educational event involving 120 teachers of Australian history from all states and territories. The Museum, The Australian National University and four other national institutions won the tender to produce and deliver the program in Canberra. The Museum's contribution to the 10-day program included devising and facilitating two afternoon workshops (focused on Australia's Aboriginal and Torres Strait Islander history) and assisting more than 20 teachers with their individual research projects.
The Museum continued to support the teaching and learning of history in schools through the sponsorship of the Australian History Teachers' Association's National History Challenge, which enables students to create museum displays, or write analytical pieces about museum representations of history, on a specified history topic. In June 2008, the Museum hosted and participated in the National Civics and Citizenship forum organised by the Department of Education, Employment and Workplace Relations and the Australian Curriculum Studies Association.
Continuing its educational relationship with South Korea, the Museum worked with the Seoul-based 'MIZY' (Myongdong Info Zone for Youth) organisation to produce a program for senior Korean secondary school students visiting Canberra as part of a 'cultural experiences' tour. The program was conducted in February 2008 and was part of a collaborative effort with several other national cultural institutions.
Other professional development for teachers
The Museum's evaluation process continues to indicate that the Museum's efforts to provide teaching strategies and curriculum resources through its teacher professional development program have a positive impact on teaching in Australian classrooms.
Professional development workshops for teachers, held at the Museum and at conferences around Australia, attracted more than 680 participants in 2007–08. Education staff delivered workshops and made presentations at a variety of conferences, including the Victorian, New South Wales and Australian history teacher conferences and the Primary English Teachers' Association annual conference. In addition, through the National Capital Educational Tourism Project's outreach program, the Museum presented at several regional and capital city professional development sessions for teachers. The Museum also explored the feasibility of using videoconferences as an additional medium for delivering teacher professional development, with a view to enabling the participation of remote and regional school teachers who are not easily able to attend teacher conferences.
Several teacher previews focusing on the Museum's temporary exhibition program were conducted, mainly with local teachers, helping to build a strong network of committed teachers across the Australian Capital Territory.
Return to

Top