The Museum continued to enhance its national and international profile through delivering a diverse range of outreach programs.
National travelling exhibitions
Engaging national audiences, as outlined in the Strategic Plan 2007–10, has been an important priority for the Museum. Travelling exhibitions are one way of achieving this goal. The Museum aims to tour exhibitions to all Australian states and territories within a two-year period. In 2007–08, nine exhibitions travelled to a total of 26 venues across New South Wales, Victoria, Tasmania, Queensland, South Australia and Western Australia. Of these venues, 11 were in metropolitan venues, 18 in regional areas and one in a remote area of the country. The Museum continues to work with the Northern Territory to identify suitable venues for exhibitions.
Number of exhibitions at venues, 2001–08
| | |
| --- | --- |
| Financial year | Number of exhibitions |
| 2001–02 | 1 at 4 venues |
| 2002–03 | 5 at 6 venues |
| 2003–04 | 6 at 9 venues |
| 2004–05 | 5 at 9 venues |
| 2005–06 | 8 at 28 venues |
| 2006–07 | 9 at 28 venues |
| 2007–08 | 9 at 26 venues |
The following exhibitions toured in 2007–08.
Ned Kelly: Fact and Fiction
This exhibition tells Ned Kelly's story through the places and people that shaped the man and the legend. Objects include Kelly's death mask, a helmet worn by Mick Jagger in the 1970 Kelly film, and pages from the Hanlon transcript of the Jerilderie letter.
Designed to travel to non-traditional venues, Ned Kelly has been hosted in libraries and wineries, as well as in the more traditional galleries and museums. It is fully booked until January 2009. Regional venues use the exhibition to develop school and public programs, and it is well-attended by many local schools. The exhibition is free to venues, and is therefore a cost-effective option for regional communities with limited funding.
Miss Australia: A Nation's Quest
This exhibition explored the splendour, romance and glamour of one of the nation's most successful charity endeavours, the Miss Australia Quest, and traces the quest's history from humble beginnings in 1908 through to its final year in 2000. Gowns, trophies and sceptres, along with the personal stories of titleholders, volunteers, fundraisers and sponsors, are features of the exhibition.
In Search of the Birdsville Track: An Artist in the Outback
The Museum developed this exhibition drawing upon young English artist Noelle Sandwith's collection of illustrations from her outback journey along the Birdsville Track.
Behind the Lines: The Year's Best Cartoons 2006 and 2007
Behind the Lines is a popular annual exhibition featuring works by Australia's leading cartoonists. The 2006 exhibition finished its tour in Perth and Wollongong, while Behind the Lines 2007 visited Melbourne and Hobart, after its display at the National Museum.
Between the Flags: 100 Years of Surf Lifesaving
Developed in collaboration with Surf Life Saving Australia, this exhibition celebrates the 2007 centenary of surf lifesaving, and examines the history of surf lifesaving, the lifesaver as an Australian icon, beach culture and stories of the people who patrol our beaches.
This exhibition is supported by Visions of Australia, an Australian Government program supporting touring exhibitions by providing funding assistance for the development and touring of cultural material across Australia.
All Aboard! 150 Years of Railways in Australia
Developed in partnership with the Powerhouse Museum and the University of New England, this graphic exhibition celebrated the 150th anniversary of the start of rail in Australia.
League of Legends: 100 Years of Rugby League in Australia
This exhibition was developed in conjunction with the Centenary of Rugby League Committee to celebrate the 100th anniversary of rugby league in Australia and commenced its eastern state tour in Brisbane.
League of Legends banner display
The Museum created a banner display, based on the larger exhibition, consisting of two curved display panels with images and text summarising key aspects of the history of rugby league. Two identical banner display sets were created, with one set managed by the Museum as part of its travelling exhibitions program, and the other organised by the National Rugby League for display in a series of Harvey Norman stores around Australia.
League of Legends on tour
Taking it to the people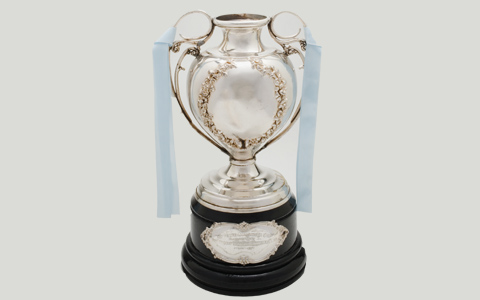 While the major exhibition League of Legends: 100 Years of Rugby League in Australia opened in Canberra and then moved on to other capital cities, a 'banner' version of the rugby league story began its tour of regional centres. The League of Legends banner display is designed for small spaces, and was quickly booked for years to come by venues as diverse as Cairns, Armidale and Parkes.
Curator Guy Hansen is pleased that elements of the major League of Legends exhibition are now reaching an even wider audience through the banner displays. As well as appearing in communities and venues where the major exhibition could not go, the banners create an opportunity for local celebrations along its route. In particular, venue organisers supplement the banner display with their own material, placing their local club's story and local heroes against the broader historical backdrop.
The lightweight display panels are designed with a folding frame for easy transportation and re-installation. Each banner is approximately 3 metres wide, and the graphics are simply attached to the frame by magnetic strips and clips.
National travelling exhibitions program
Exhibition/Visitation
Venues

Dates

Ned Kelly: Fact and Fiction
33,811
< Bathurst, Museum, Mineral and Fossil Australian>
Until 22 July 2007
Macquarie Regional Library, NSW
28 July – 23 Sept 2007
Morgan Museum, SA
11 Oct – 29 Jan 2008
Jerilderie Shire Council, NSW
2 Feb – 31 Mar 2008
Parramatta Heritage and Visitors Centre, NSW
3 May – 26 July 2008
Miss Australia: A Nation's Quest
91,582
Melbourne Museum, Vic
10 Oct 2007 – 6 Apr 2008
In Search of the Birdsville Track: An Artist in the Outback
2060
Australian Fossil and Mineral Museum, Bathurst, NSW
30 May – 21 July 2008
Behind the Lines: The Year's Best Cartoons 2006
24,365
Constitutional Centre of Western Australia, WA
1 July – 31 Aug 2007
Wollongong City Gallery, NSW
3 Oct 2007 – 3 Feb 2008
Behind the Lines: The Year's Best Cartoons 2007
5338
City Museum, Melbourne, Vic
19 Mar – 6 May 2008
State Library of Tasmania, Tas
28 May – 28 June 2008
Between the Flags:
100 Years of Surf Lifesaving
111,861
Queensland Museum, Qld
Until 12 Aug 2007
South Australia Maritime Museum, SA
13 Sept – 8 Nov 2007
Western Australian Maritime Museum, WA
6 Dec 2007 – 24 Mar 2008
Gold Coast City Art Gallery, Qld
24 May – 3 Aug 2008
All Aboard! 150 Years of Railways in Australia
Cobdogla Steam and Irrigation Museum, SA
7–29 July 2007
Tasmanian Transport Museum, Tas
14 Sept – 5 Oct 2007
Birregurra Railway Station, Vic
10 Oct – 7 Nov 2007
Sydney Exhibition Centre, AusRail Conference, NSW
3–7 Dec 2007
Port Macquarie–Hastings Library, NSW
1–29 Feb 2008
George Hanna Memorial Museum, Botany Bay, NSW
14 Mar – 9 May 2008
League of Legends: 100 Years of Rugby League in Australia
33,625
Queensland Museum, Qld
5 June – 17 Aug 2008
League of Legends
banner display
Ipswich Jets Rugby League Club, Qld
31 Mar – 22 April 2008
Gold Coast Seagulls Rugby League Club, Qld
24 April – 26 May 2008
Southern Cross University Library, NSW
27 May – 17 June 2008
Armidale Folk Museum, NSW
19 June – 15 July 2008
International touring exhibition: Utopia: The Genius of Emily Kame Kngwarreye
This year saw the Museum reach out to an international audience with the display of Utopia: The Genius of Emily Kame Kngwarreye at the National Museum of Art in Osaka (25 February – 13 April 2008) and at Tokyo's National Art Center (28 May – 28 July 2008). The exhibition cemented Emily Kame Kngwarreye's international reputation and signified the Museum's status as a producer of world-class touring exhibitions.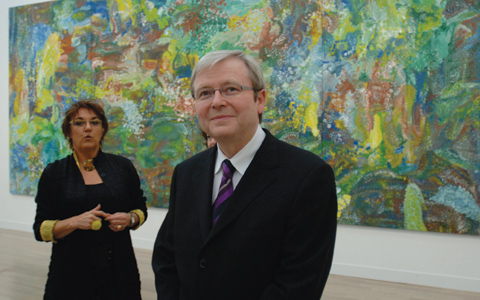 The Museum accepted a ministerial invitation to deliver this exhibition in partnership with the Japanese media organisation The Yomiuri Shimbun. Developed by Margo Neale, the Principal Advisor on Indigenous Matters to the Director, the exhibition focused on the work and culture of Indigenous artist Emily Kame Kngwarreye (about 1910–96). Emily was a senior Anmatyerre custodian and artist who lived and painted in Utopia, Northern Territory, in relative isolation from the art world that sought her work. After decades of mark-making on the body and in the sand, her cultural narratives found expression in the batik medium from 1977 to 1988, followed by painting on canvas. Over a period of eight years she executed more than 3000 paintings on canvas — testimony to how much Emily had to say about her reason for being, and also her genius as a contemporary Australian artist.
The exhibition brought together the largest collection of works by a single Australian artist to travel outside Australia, and included 120 works from 65 national and international collections valued at more than $30 million. Lenders included the National Gallery of Victoria, Sir Elton John and the Holmes à Court collection. Staff from the Museum's Registration and Conservation teams travelled with the artworks to ensure safe delivery to the Japanese venues.
Princess Takamado Hidenka opened the exhibition in Tokyo, and it received substantial coverage in the Japanese press. A total of 65,380 people visited the exhibition at its two Japanese venues.
Ronin Films is producing a documentary film that covers the two to three years of the exhibition's journey from the development process to the overwhelming Japanese response to the exhibition. The documentary will be distributed nationally and internationally.
Utopia: The Genius of Emily Kame Kngwarreye was supported by the Australian Government through the Department of Foreign Affairs and Trade and the Australia–Japan Foundation. Substantial support also came from The Yomiuri Shimbun and Woodside Energy Limited. It is scheduled for display at the Museum from 22 August to 10 October 2008.
Emily in Japan
A team effort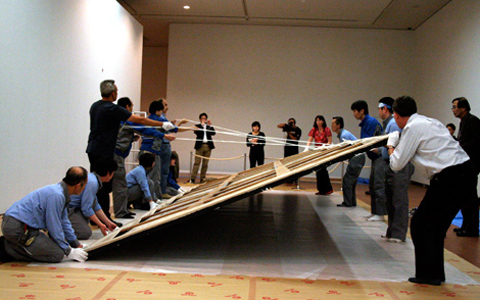 Behind the huge success of Utopia: The Genius of Emily Kame Kngwarreye in Osaka and Tokyo stands an equally huge achievement in successful teamwork. A project as complex as a major international exhibition only succeeds if the right combination of business and diplomatic interests, curatorial and research expertise, and registration and conservation skills come together.
For institutions, companies and private owners in particular, the exhibition required a huge leap of faith: why would they relinquish their cherished paintings for nearly one year to travel overseas in the hands of strangers? Only a conviction that the Museum team would be employing the highest professional standards, and that the end result would be worth the sacrifice, could have persuaded them.
However, gathering the works themselves was just the start. Helping to make the whole thing happen was Margo Neale, Principal Advisor on Indigenous Matters to the Director, who brought together a small specialist team. Soon joining them in the mix was a bewildering variety of organisations and individuals across two hemispheres, including the Japanese media organisation The Yomiuri Shimbun, the two major venues in Tokyo and Osaka, the Australian Embassy in Tokyo, and the Australian Government's Department of Foreign Affairs and Trade and the then Department of Communications, Information Technology and the Arts.
During the planning phase, the team became particularly aware of cultural differences between the Australian and Japanese exhibition teams, which needed to be bridged. They found it worthwhile taking the time to learn from the Japanese. They well knew that this was not just about planning an exhibition but about pioneering a cultural exchange. 'Emily' may be just the start.
Reaching a national schools audience
In 2007–08 the Museum continued to deliver a range of outreach programs to primary and secondary students around Australia.
First Australians: Plenty Stories Indigenous primary school series
Work continued on the First Australians: Plenty Stories series, a primary school curriculum resource written by the Museum's Senior Indigenous Education Officer Trish Albert. The series comprises 18 books, a CD, two poster packs and two teacher resource books, and explores Aboriginal and Torres Strait Islander cultures and histories through the Museum's collections and new and existing relationships with Indigenous communities. The project is the second major collaboration between the Museum and Rigby publishers (Pearson Education), a leading Australian educational primary school publisher. Nine titles for years 3–4 will be available for purchase in September 2008 and a further nine books for years 5–6 in January 2010.
Talkback Classroom
Talkback Classroom is a regular forum, produced in partnership with ER Productions, in which senior high school students interview politicians, public figures and community leaders. It was recorded in front of a live audience in the Museum's broadcast studio, and watched by other students through videoconference and web streaming. The Museum also posted edited extracts on its website. In 2007–08, Film Australia partnered with the Museum to produce a new Talkback Classroom website, which features a comprehensive set of video clips of both the individual forums and student research investigations. A highlight of the year was a second international forum with students from Korea, who examined the issue of global warming with their Australian counterparts.
This year almost 400 students from the Australian Capital Territory and regional New South Wales participated as audiences in Talkback Classroom, with student panellists selected from the Australian Capital Territory and Victoria. A further 250 students watched the program via videoconference and web streaming. Four forums enabled students to interview the following major decision-makers and commentators:
The Hon Alexander Downer MP, The Minister for Foreign Affairs, 8 August 2007 (Australia–Korea forum)
John Safran and David Pope, political satirists, 14 November 2007
The Hon Kate Ellis MP, Minister for Sport and Youth, 28 May 2008
Steve Cannane, ABC Radio National presenter (formerly of Triple J), and Jenny Buckland, CEO, Australian Children's Television Foundation, 25 June 2008
Snapshots of Remote Communities
Snapshots of Remote Communities is an outreach program for regional and remote school communities, in which students photograph their community, with the photos subsequently exhibited in the local community, at a state institution and on the Museum's website. It continued to be a success again this year. State partners included the Geelong Art Gallery in Victoria. An enhanced Snapshots of Remote Communities website, which is easier to navigate and includes additional student material, was completed in 2007–08.
Snapshots of Remote Communities
A chance to shine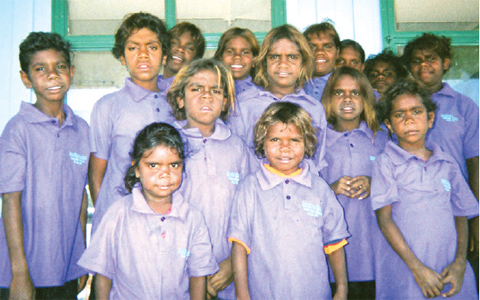 The Snapshots of Remote Communities program has been building web content since 2003 and, more importantly, building relationships between the Museum, the participating schools and various partner organisations in the states and territories. The project aims to give students in remote areas a chance to showcase the special features of their community to the world.
Project officer Colleen Fitzgerald has travelled widely in the course of the Snapshots project, and recalls Apungalindum with particular fondness. This community is situated about 240 kilometres north-east of Alice Springs and is one of 15 homelands on Utopia station, an Aboriginal-owned cattle station. Apungalindum has a population of approximately 50, and it has a school, four community houses, a solar/satellite pay phone, two public ablution blocks, a workshop and a satellite dish. The school building was opened in 2000 — before that, school was conducted under a bower shelter.
Among the snapshots that the children of Apungalindum contributed to their web page was this one, a portrait of the whole school. Not pictured is their teacher Alison Ross, who is also a member of the community and returned to teach there after completing her training.
For Colleen, working with remote area schools has given her a completely different understanding of what life can be like for Australian school students. Take the weather, for example: it is not usually factored into Museum projects, but a cyclone or a flood can suddenly dispense with matters like outputs, schedules and deadlines. Remote community schools have learned to be flexible about their timetables, and so has the Museum.
Studies of Society and Environment magazine
The Museum produced three enquiry-learning units of work for Studies of Society and Environment, a classroom curriculum magazine (distributed free of charge to all Australian secondary schools three times a year by education writers and producers Ryebuck Media). This year units covered the Collaborating for Indigenous Rights website, the Behind the Lines 2007 political cartooning exhibition and the Museum's new Circa audiovisual presentation.
Australian History Mysteries 3
In 2007–08 the Museum began work on the third of its successful Australian History Mysteries series, a partnership project with Ryebuck Media. The Australian History Mysteries 3 secondary school curriculum resource will include a DVD and print booklet featuring five case studies drawn from twentieth-century Australian history, including aspects of the First World War, the Great Depression and the Snowy Mountains Scheme. It will be available for purchase in the second half of 2008.
Web-based projects and new partnerships
Increasingly, the delivery of teaching and learning programs and projects over the internet is seen as a key strategic imperative for the Museum. Two important partnerships were put in place in 2007–08 to support this priority.
i) Centre for Learning Innovation (CLI): Part of the New South Wales Department of Education and Training, CLI produces learning resources and is a leader in the use of technology in education and training. A partnership with the CLI will give it access to the Museum's online education resources for promotion and distribution to schools and produce online teaching and learning materials to support future Museum content.
ii) The Le@rning Federation (TLF): Managed by the Curriculum Corporation, TLF provides funding to increase online content for Australia's education systems. This year the Museum received funding to develop content for 100 objects from its collection.
Number of paid versus teacher-guided student visits, 2007–08
Number of primary versus secondary students, 2007–08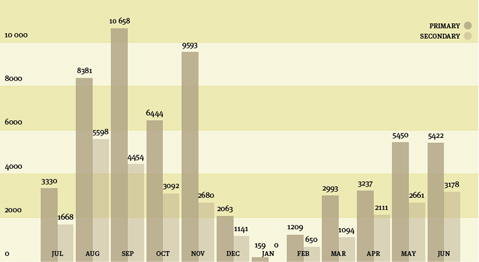 Number of schools visiting per state, 2007–08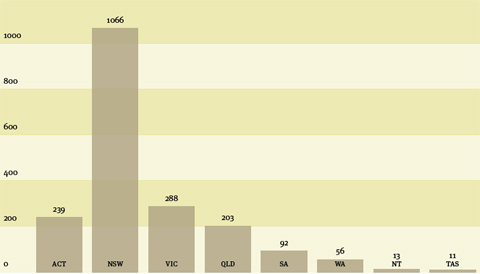 Percentage of school bookings per state, 2007–08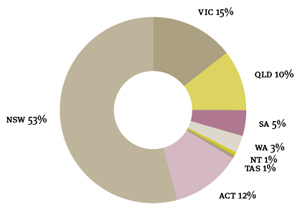 Comparison of student visitation numbers, 2002–08
| | |
| --- | --- |
| Financial year | Total visitation |
| 2002–03 | 81,737 |
| 2003–04 | 85,141 |
| 2004–05 | 82,765 |
| 2005–06 | 83,780 |
| 2006–07 | 86,444 |
| 2007–08 | 87,266 |
Curatorial and conservation outreach
During the year, the Australian Journeys and Creating a Country curatorial staff travelled to many communities around Australia. Both of these galleries focus strongly on Australian places: Australian Journeys explores connections between places in Australia and overseas; and Creating a Country examines 10 key themes in Australia's past, through detailed studies of people in particular places.
Curators visited communities across all the states and territories of Australia, including Esperance, Rottnest Island, Mount Tom Price, Carnamah and Derby in Western Australia; Tarcoola and Keith in South Australia; Jilkminggan and Mataranka in the Northern Territory; Muttaburra, Brisbane and Townsville in Queensland; Walgett, Wagga Wagga, Port Macquarie and Castlecrag in New South Wales; Longford in Tasmania; Fishermen's Bend, Flemington and Bendigo in Victoria; and Canberra and Tidbinbilla in the Australian Capital Territory.
During these visits, curators met with representatives of community groups and the staff of local and regional museums to introduce the Museum's two new galleries, to explore possibilities for the sharing of collections and information, and to discuss how places should be represented in the new galleries. It is anticipated that these relationships will develop as outreach programs during the life of the two galleries.
Curators in the Aboriginal and Torres Strait Islander Program also travelled extensively. Senior curator Dr Michael Pickering opened the Flinders Ranges Through Our Eyes exhibition at the Fountain Gallery in Port Augusta, South Australia, on 15 March 2008. Curatorial staff also travelled to Perth, Alice Springs and Brisbane to work with Aboriginal and Torres Strait Islander people on the new Gallery of First Australians module on resistance to be opened in late 2008.
Museum conservators and curatorial staff strengthened the Museum's international profile by presenting papers at national and international conferences. Staff were represented at conferences in Amsterdam, Berlin, Sibiu (Romania), Hattingen (Germany), Paris, Leicester and Manchester.
Outreach table
Program
Place
State/Territory/Country
Snapshots of Remote Communities

Geelong
Eyre and Fleurieu peninsulas
Clare Valley
Murraylands
Port Augusta

Victoria
South Australia
South Australia
South Australia
South Australia
Talkback Classroom
Brisbane
Rockhampton
Sydney
Darwin
Melbourne
Seoul
Queensland
Queensland
New South Wales
Northern Territory
Victoria
South Korea
Teaching History fellowships
Geelong
Melbourne
Perth
Victoria
Victoria
Western Australia
Teacher professional development
Sydney
Brisbane
Melbourne
New South Wales
Queensland
Victoria
First Australians: Plenty Stories consultations
Horn Island
Cairns
Hope Vale
Murray
Mildura
Wentworth
Forbes
Queensland
Queensland
Queensland
Queensland
Victoria
New South Wales
New South Wales
Repatriation staff consultations
Adelaide
Perth
Paris
Longreach
Bathurst and Melville islands
Camden/Appin
Torres Strait Islands
Fitzroy Crossing
South Australia
Western Australia
France
Queensland
Northern Territory
New South Wales
Queensland
Western Australia
Aboriginal and Torres Strait Islander Program staff consultations
Port Augusta
Paris
Brussels
Utrecht
Melbourne
Warrnambool
Framlingham
Sydney
Woorabinda
South Australia
France
Belgium
Netherlands
Victoria
Victoria
Victoria
New South Wales
Queensland
Delivering cultural programming to regional Australia
As part of its commitment to senior adults, the Museum developed The Dora Fay Davenport Show — How to Achieve Domestic Bliss, a theatre production using domestic objects of the 1950s to convey everyday life. It was initially presented at the Museum in 2006 and the Powerhouse Museum in April 2007.
Between 29 August and 15 September 2007 the Museum revived the show and toured it for a three-week season to regional New South Wales, attracting 1151 patrons to 26 shows.
The Dora Fay Davenport Show was presented in association with the Albury Performing Arts Centre, Albury, from 29 August to 2 September; at the Museum of the Riverina, Wagga Wagga, from 5 to 8 September; and at the Western Plains Cultural Centre, Dubbo, from 11 to 14 September. Well-received in all venues, the production sold out in Wagga Wagga and Dubbo (tickets were priced from $5 to $10). Evaluation indicated a strong future for touring the program, although external funds will be required for the Museum to do this.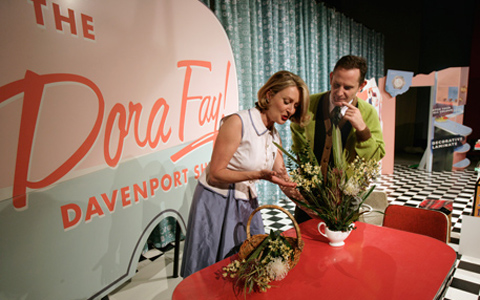 ICOM Australia Museum Partnerships Program
The Museum continued its partnership with the Australian National Committee of the International Council of Museums Incorporated (ICOM Australia) to coordinate the ICOM Australia Museum Partnerships Program. This program enables Australian not-for-profit and incorporated cultural organisations to provide skills and resources to governance and heritage projects in the Asia–Pacific region.
This year marks the third year of a three-year AusAID funding cycle, with activity focused on a partnership between Museum Victoria and the Fiji Museum's collections storage facility. A direct grant from the Museum also enabled the Solomon Islands National Museum to develop a field kit for the collection of intangible cultural heritage.
Australia and Pacific Museums conference
In partnership with Pacific museums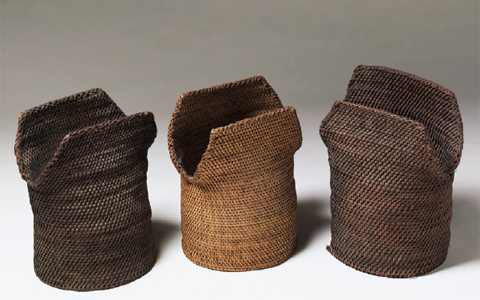 As part of the ICOM Australia Museum Partnerships Program, the Museum hosted a major conference for Pacific museums in November 2007. Delegates from 15 museums in the region discussed existing and future relationships between Australian museums and their Pacific counterparts. Participants included museum staff from New Caledonia, New Zealand, Palau, Papua New Guinea, Samoa, Solomon Islands, Timor Leste, Tonga and Vanuatu.
At an opening reception held in the Museum's Hall, visitors were greeted with an Indigenous welcome and a kava ceremony. Baskets symbolising the role of museums as preservers and interpreters of cultural and material heritage from the many cultures represented at the conference were presented to the Museum.
The Museum has recently taken a stronger interest in its Pacific collections, and a recent exchange of curatorial staff with the British Museum has enabled a visiting Polynesian expert to work with Museum staff to better document the Pacific holdings. The November conference enabled this conversation to continue with kindred museums in the region.
Speakers were often frank about the challenges that their museums face, ranging from chronic underfunding to climate change, civil unrest and even corruption. The most powerful moment in the workshop came when the delegate from the Solomon Islands — a country plagued by communal strife in recent years — described how he had slept in his museum to deter thieves and looters. The other attendees felt moved and humbled by his dedication.
Aboriginal and Torres Strait Islander News
Two issues of Aboriginal and Torres Strait Islander News were published in 2007–08. This free newsletter is produced by the Aboriginal and Torres Strait Islander Program and is sent to people who have registered to become 'Mates of the Gallery of First Australians'. Recent issues include exhibition reviews, collections stories, articles about events such as the Utopia exhibition in Japan and Museum news.
Support for volunteer museums
Museum staff presented at the Working Spaces for Museum Volunteers Conference held from 14 to 16 September 2007. Curator Pip McNaught talked about de-accessioning, senior curator Matthew Higgins focused on oral history, and volunteer Merrilyn Fahey spoke on volunteering in museums.