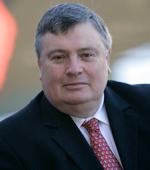 Last year saw a period of considerable success for the Museum, as we continued to provide a wide range of programs and activities that foster a better understanding of Australian history for the Australian public, and the opportunity for meaningful material history exploration through our Centre for Historical Research.
At the same time we have been engaged in a significant review of all our activities as we confront the challenge posed by the Government in its requirement for an increased efficiency dividend for the forthcoming financial year. We have used the opportunity to better match our resources to our highest priorities and are confident that the programs we are putting into place for 2008–09 and beyond will maintain our pre-eminent position among Australian museums. We have been able to achieve this without any forced redundancies, although a small number of people have accepted early retirement. The containment of staffing costs remains crucial for the Museum and will be an area that is kept under close review in 2008–09, particularly in regard to temporary employment.
Our primary concern remains the limitations of the exhibition space available to us. While we recognise that it is possible to show only a small percentage of the Museum's collection at any one time, we are nonetheless aware that our available exhibition area is small by Australian, let alone world, museum standards. We have therefore embarked on the planning for a major display and accommodation project, which aims to reconfigure space within the existing Museum footprint that is currently used for other purposes and convert it to new exhibition galleries. As the first part of this project, we would extend our current administration wing to provide accommodation for those staff displaced by the new exhibition space. Our intention is to fund this extension from within existing resources.
The new galleries will follow on from our current Museum Enhancement Program, which has proceeded successfully during 2007–08. Stage 1, the refurbishment of the Circa theatre, has been completed, with the theatre now providing an introduction to Australian history and the Museum galleries by highlighting objects held in our collection. The response to the Circa redevelopment has been overwhelmingly positive.
Stage 2, the development of a new gallery, Australian Journeys, will be available for public viewing before the end of 2008. Detailed content planning is underway for another new gallery, Creating a Country. This is Stage 3 of the project, which is currently planned for delivery by 2010 although it may be slightly later if we expand into the reconfigured space referred to above.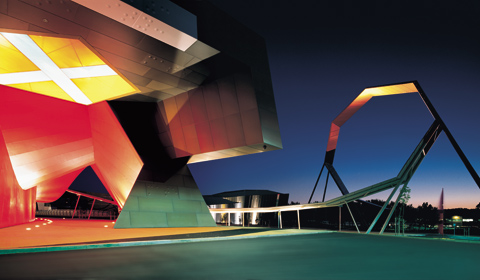 A record 1,007,856 people visited the Museum's exhibitions nationally and internationally this year, with travelling exhibitions and temporary exhibitions performing extremely well. The touring of Utopia: The Genius of Emily Kame Kngwarreye at the National Museum of Art in Osaka and at Tokyo's National Art Centre this year not only cemented Emily Kame Kngwarreye's international reputation but signified the Museum's status as a producer of world-class touring exhibitions. Our exhibition program for the next five years shows a strong mix of international buy-ins and in-house productions. I am confident that some of the latter will attract interest from overseas venues, and all will tour within Australia, although some will require modification to fit the venues that seek to host them.
This year the Museum's website also achieved record visitation, increasing from 797,368 visits last year to 1,521,926 visits this year. This increase in website visits was largely due to the addition of three comprehensive online exhibitions and ongoing use of online education resources. Unfortunately the production of new website content is one area where we will feel the effect of the increased efficiency dividend. There will be a reduction in such material until we can reallocate greater resources than are currently available for this activity.
The Museum spent a total of $2.762 million on acquisitions for the National Historical Collection this year, including $1.064 million from a special acquisitions fund provided by the Australian Government. Significant acquisitions included Banks' Florilegium, a book comprising botanical line engravings that record the plants collected by Sir Joseph Banks and Dr Daniel Carl Solander when they accompanied Captain James Cook on his first voyage across the Pacific; and an eighteenth-century French neo-classical bust of Captain James Cook attributed to the circle of Augustin Pajou.
Storage of our collection remains a major concern. While we have taken steps to improve conditions in our existing leased premises, our failure to secure government support for a new purpose-built facility will now require us to seek to extend our existing leases and we might need to undertake further remedial work to these facilities.
In the first full year of operation of the Centre for Historical Research, staff numbers grew from three to 12 and included five senior research fellows and five research fellows. Highlights were the staging of successful conferences on matters as diverse as historical skills for amateur historians and Pacific museums collection issues. Research fellows at the centre authored several books and journal articles. The Museum's research profile was further enhanced with the publication of our well-regarded journal reCollections.
We have also negotiated a three-year agreement with our staff and relevant unions to govern salary and conditions from October 2008. We anticipate that there will be a strong positive vote for the agreement in early 2008–09. This agreement will help keep the Museum strongly competitive in the collecting institutions market.
I acknowledge the government's support for the Museum and am also grateful for the continuing support and assistance of the Chairman of Council, the Hon Tony Staley, and of other Council members.
The Museum's achievements reflect the continuing dedication of our people, the commitment of the Friends of the National Museum of Australia and our many volunteers who give up their time to assist us. I also wish to thank and congratulate every staff member for their commitment and contributions this year.
Craddock Morton
August 2008