We are no longer updating this page and it is not optimised for mobile devices.
In its sixth year of operation the Museum's national visitation reached a record number, although there were fluctuations within categories. Travelling exhibitions did particularly well and temporary exhibitions also performed substantially above estimates. Visitor satisfaction levels remained high with 94 per cent indicating they were 'satisfied' or 'very satisfied' with their Museum experience.
Visitation to the Museum in Canberra was also influenced by seasonal fluctuations that brought peaks in school holiday months and downturns in-between, especially during the winter months.
National visitation numbers, 2001–07

Financial year

Total visitation

2001-02
903,400
2002-03
825,000
2003-04
820,200
2004-05
666,200
2005-06
771,000
2006-07
945,210
The year's visitation was marked by:
a slight decline in visitors to the permanent exhibitions
substantially higher visitation than anticipated to both temporary and travelling exhibitions
a steady increase in schools visitation, with numbers above those of previous years
slightly reduced attendance at public programs due to a decreased level of activity
a small decrease in numbers attending after hours functions.
Visitation numbers, 2005-07

Location

2005-06

2006-07

Permanent exhibitions

428,123

418,790

Temporary exhibitions

91,101

105,710

Travelling exhibitions

63,762

248,641

Public programs/events

69,601

53,097

Schools

83,780

86,444

Functions/venue hire

34,234

32,528

Total

770,601

945,210
Travelling exhibitions visitation, 2006–07

Hickory Dickory Dock

32,802

Miss Australia

44,146

Ned Kelly

26,994

In Search of the Birdsville Track

1,984

Our Community

5,698

Pooaraar

29,444

Between the Flags

99,334

Behind the Lines 2006

7,489

All Aboard! 150 Years of Rail

750

Total

248,641
Monthly visitation numbers to permanent exhibitions, 2006–07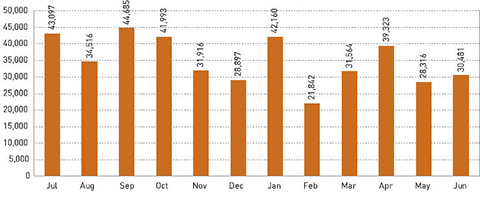 Monthly visitation numbers to temporary exhibitions, 2006–07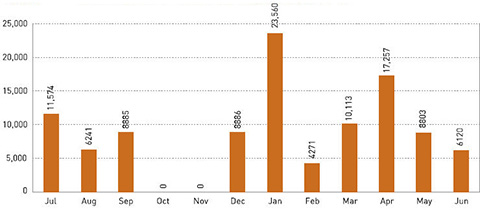 Monthly visitation numbers to travelling exhibitions, 2006–07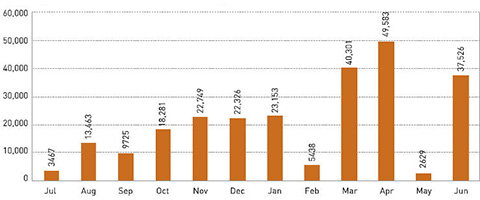 Monthly participation in public programs, 2006–07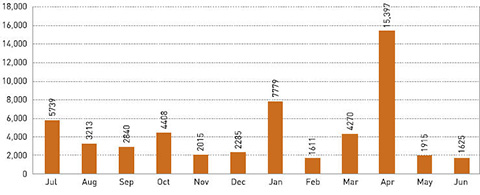 Monthly participation in externally organised functions/venue hire,
2006–07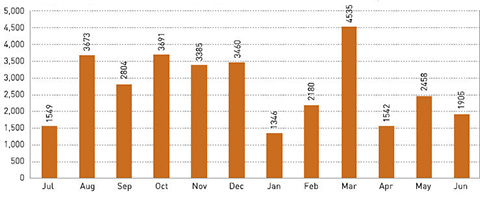 Breakdown of total 2006–07 Museum visitation by visitor category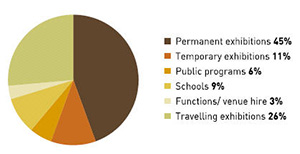 Visitor feedback
The Museum actively seeks visitor comment by conducting exit interviews, commissioning audience research and inviting visitors to provide written feedback through Museum feedback forms. Informal comment is also noted by visitor sevices hosts and public programs staff. Data collected from visitor interviews is entered into a database that enables the analysis of visitor demographics, attitudes and behaviour over time.
Age groups most strongly represented were 55–59 years and 40–44 years (both 11 per cent). Thirty-two per cent of visitors were from Canberra or its close neighbour Queanbeyan, 58 per cent were from elsewhere in Australia, in particular Sydney and regional New South Wales, and 10 per cent were from overseas. The proportion of repeat visitors was 44 per cent overall. Twenty-six per cent of visitors interviewed during the year had visited the Museum three or more times.
Museum visitors have continued to demonstrate high satisfaction levels. Of 1200 visitors interviewed during the year, 94 per cent said they were 'satisfied' or 'very satisfied' with their experience. When invited to comment on what they liked most about the Museum, visitors mentioned overall layout, quality and the building or architecture (both 18 per cent) and the focus on Australian subjects (15 per cent). Eighty-one per cent of visitors agreed that they had learned something interesting about Australian history during their visit. The positive visitor response is also demonstrated by answers to questions such as, 'Which of the following words best describe your visit to the National Museum today?' Visitors tended to select 'stimulating' or 'engaging' (each 28 per cent), or 'contemporary' (25 per cent).
The only aspect of the Museum to elicit substantial negative comment was 'confusing layout and flow' (11 per cent). Ongoing improvements to signage, availability of maps and further work on exhibition labelling continue to address this problem.
Return to

Top