The Friends continued its role of maintaining and enhancing community support for the Museum throughout 2006–07. Friends provided a range of benefits to members in the ACT and beyond, including more than 50 Friends events, which were attended by more than 2300 people.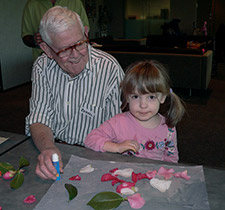 Highlights included:
the popular series Playlunch with Friends and Get Messy with Grandma
the Women's Voices series, now in its fourth year
curator-led previews of all Museum exhibitions
a new series of talks featuring Museum curators presenting their research into key collection objects linked to the Museum Enhancement Program
a new series, Museums of the World, featuring embassy representatives speaking about museums in their country
the Inaugural Furniture History symposium, presented in partnership with the Furniture History Society
a concert by the Band of the Royal Military College Duntroon, to celebrate the Friends' 18th birthday.
A number of events were presented in partnership with other organisations, including the Australian Federation of Friends of Museums, the National Trust, the Australiana Fund, the ACT Branch of Museums Australia, the Australian Open Gardens Scheme and the Furniture History Society of Australasia.
In June 2007, there were 1218 Friends memberships comprising 3211 people.
A significant number of Friends members joined as families (approximately 40 per cent) while 39 per cent joined as individuals. Approximately 20 per cent of Friends live outside a 150-kilometre radius of Canberra.
The Friends quarterly magazine, published in July, September, March and June, continued to showcase the activities of the Museum and the Friends. The magazine is also distributed widely to parliamentarians, libraries and museums in Australia and to Australia's diplomatic missions overseas.
The Friends gratefully acknowledge the following organisations and individuals for their invaluable support during the year:
sponsors the Hyatt Hotel and Rosemount Wines
Pauline Hore, auditor
Duesburys Nexia, Hugo Ellwood
Hopscotch Films for movie passes provided for Friends members.
The Museum continued to provide invaluable financial and in-kind support, enabling the Friends to develop and manage membership programs and services.