We are no longer updating this page and it is not optimised for mobile devices.
Fostering an understanding and appreciation of Australia's history, cultures and environment among preschool, primary and secondary students is one of the Museum's core priorities. Each year the Museum's Education section produces a wide range of interactive, student-centred and curriculum-based programs for schools visiting the Museum and, through its Education Outreach Plan, for students and teachers unable to experience the Museum firsthand.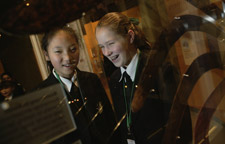 This year was the most successful yet for school visits, with about 86,500 students attending from over 1500 schools. Performance targets in Output group 1.2 of the PBS require that 80 per cent of visiting schools are satisfied that the programs offered meet core curriculum requirements. Evaluation this year showed that the Museum again exceeded the PBS target, with 98 per cent of school visits (including both students and teachers) indicating satisfaction that schools programs met core curriculum requirements.
As in previous years, approximately two-thirds of student visitors were from years 5 or 6 and nearly 60 per cent came from New South Wales.
Numbers of primary versus secondary students, 2006–07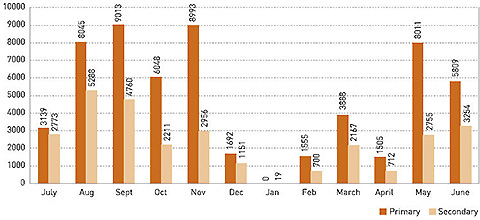 Percentage of school bookings per state, 2006–07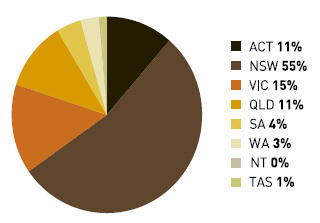 Numbers of schools visiting per state, 2006–07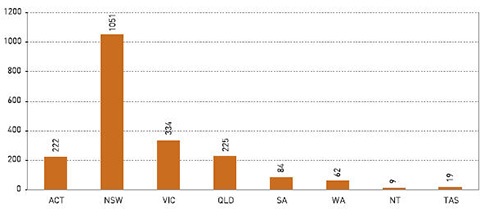 Number of paid versus teacher-guided student visits, 2006–07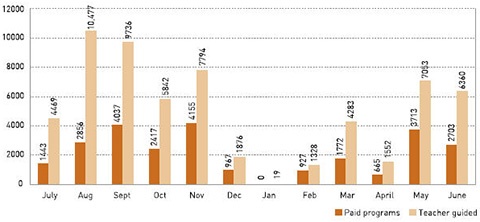 Schools programs and activities at the Museum
In addition to the core set of programs and activities provided each year, in 2006–07 the Museum offered visiting school groups:
new programs for years 5–12 students, including 'Springboard into migration stories' and 'Discovering Australian identities'
a revised and enhanced version of the most popular primary school program, 'Creating a nation'
a new Highlights program including an audiovisual component
additional pre- and post-visit support materials for teachers, posted on the Museum's website
a special drama/musical performance-based program devised and performed by students from Narrabundah College in the ACT and based on the Miss Australia exhibition
a special end-of-year full-day program of activities based on the Between the Flags exhibition
the annual schools cartooning competition, held in conjunction with the Museum's temporary exhibition on political cartooning, Behind the Lines
further activity-based programs to complement other temporary exhibitions.
Comparison of student visitation numbers, 2002–07

Financial year

Total visitation

2002-03
81,737
2003-04
85,141
2004-05
82,765
2005-06
83,780
2006-07
86,444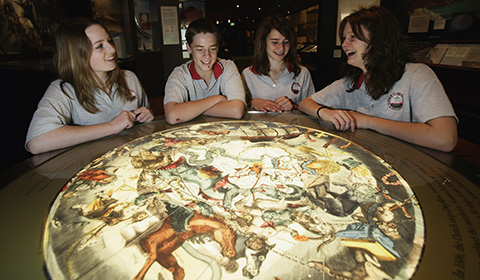 The Museum revised the format of its education excursion brochure, which is sent to all schools in Australia, by placing its school visits activities under more explicit curriculum headings. This enables teachers to choose the most relevant activity for their students. Education programs were marketed to schools, and bus and tour companies, through:
a mail-out of the new schools programs brochure to all schools in Australia
paid and free advertisements in education journals and major school excursion planners published by commercial operators.
In addition, programs were advertised in the marketing materials produced by the National Capital Educational Tourism Project.

Celebrating a milestone
500,000th schoolchild visits the Museum
In the same week as the Museum was named Best Major Tourist Attraction at the 2006 Australian Tourism Awards in Sydney, it also marked the visit to Acton of the 500,000th school student.
The half-a-million mark was cause for celebration in the Hall on 28 February. Charlotte Thompson and her classmates from Hartwell Primary School in Victoria were invited to take part in a special ceremony to mark the occasion. Charlotte, who happened to be celebrating her birthday on the day, helped to cut the cake and received a Museum showbag, along with her fellow students. Charlotte's school received a suite of National Museum Press publications for its library.
During the ceremony Education manager David Arnold asked the students what they thought they might find at the Museum. 'Everything,' one boy responded, and Audience and Programs General Manager Louise Douglas told him he wasn't far from wrong: 'We've got almost everything about our land, our nation and our people, so you're close.'
Volunteers (from left to right) Brian Buckley, Ron Kerr and Stella Smith with David Arnold, Manager, Education, and Charlotte Thompson, the 500,000th school student to visit the Museum.
Reaching a national school audience
Implementing an education outreach plan was a business priority for 2006–07. The following activities were undertaken to support this priority:
Australian History Mysteries Youth Challenge program
In May 2007 the Museum staged a second National Youth Challenge program in collaboration with educational consultants Ryebuck Media. The program, 'Investigating history mysteries in your community', took place in all capital cities. It was designed to promote the processes, skills and motivation students need to explore history in their own local communities, and highlight the role of museums in telling Australian history. Ninety-three schools attended the program, including 775 students and 102 teachers. Student and teacher evaluations indicated a very high level of satisfaction with the program.
Plenty Stories Indigenous primary school series
Work continued on the Plenty Stories series, a primary school curriculum resource, written by the Museum's Indigenous Education Officer Trish Albert. The series comprises 18 books and teacher support materials. It explores Aboriginal and Torres Strait Islander cultures and histories through the Museum's collections and new and existing relationships with Indigenous communities. Nine titles for years 3–4 have been written and are due for publication next year. A further nine books for years 5–6 are planned for publication in March 2008. The project is the second major collaboration between the Museum and Rigby, a leading Australian educational primary school publisher. It is anticipated that a major promotional and professional development program will be implemented following the release of the years 5–6 titles.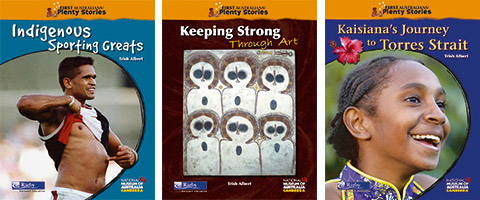 Talkback Classroom
Talkback Classroom is a regular forum in which senior high school students interview politicians, public figures and community leaders. It is recorded in front of a live audience in the Museum's broadcast studio and edited extracts are posted on the website.
This year almost 1000 students from the ACT and regional New South Wales participated as audiences in Talkback Classroom with student panellists selected from all states and territories. Nine forums were held during the reporting period, enabling students to interview the following major decision-makers:
Professor Moon Chung-in, Yonsei University, South Korea
Dr Jane Goodall, international environmentalist
Dr Peter Shergold, Secretary of the Department of the Prime Minister and Cabinet
Mr Bill Shorten, National Secretary of the Australian Workers Union
Ms Julia Gillard, MP, then Shadow Minister for Health and Manager of Opposition Business
Chris Taylor, ABC-TV's The Chaser program
the Hon Mal Brough, MP, Minister for Families, Community Services and Indigenous Affairs
the Hon Julie Bishop, MP, Minister for Education, Science and Training
the Hon Malcolm Turnbull, MP, Minister for the Environment and Water Resources
Highlights included an international Talkback Classroom forum, conducted in partnership with the Australia–Korea Foundation. The forum took place in the Educational Broadcasting System television studios in Seoul and explored the prospects for peace and reunification on the Korean peninsula. Preparations are underway for a second Australia–Korea forum in August 2007 on the theme of energy and energy security.
Snapshots of remote communities
Snapshots is an outreach program for regional and remote school communities, which enables students to document their community through photographs. These are subsequently exhibited in the local community, at a state institution and on the Museum's website. The program continued to be a success, supported by state partners including the Geelong Art Gallery in Victoria.
Studies of Society and Environment magazine
The Museum continued to produce three enquiry-learning units of work based on permanent and temporary exhibitions for Studies of Society and Environment, a classroom curriculum magazine (distributed free of charge to all Australian secondary schools three times a year), which explores current and historical events and issues. This year the units covered pastoral settlement in the nineteenth century, the Miss Australia quest and the centenary of surf lifesaving in Australia.
Collaborative educational projects
The Primary Teacher History Fellowship program was once again run in association with the History Teachers' Association of Victoria and several cultural institutions in the ACT. This program introduces experienced primary school teachers to the full range of the Museum's educational programs, including its expanding offerings on the Museum's website. Discussions are underway with other history teacher associations — NSW and Queensland in particular — to run similar outreach programs for primary teachers in these states.
The teaching and learning of history in schools was supported through the sponsorship of the Australian History Teachers' Association's National History Challenge, which enables students to create museum displays, or write analytical pieces about museum representations of history, on a specified history topic. In May 2007, the Museum hosted the National Civics and Citizenship forum organised by the Department of Education, Science and Training and the Australian Curriculum Studies Association. Museum staff made presentations at this important conference. In addition, the Museum was invited to attend the National Values in Education forum held in Melbourne, also in May.
Professional development for teachers
Evaluation indicates that the Museum's efforts to provide teaching strategies and curriculum resources through its teacher professional development program have a positive impact on teaching in Australian classrooms.
Professional development workshops for teachers, held at the Museum and at conferences around Australia, attracted more than 1000 participants. Education staff presented workshops and made presentations at a variety of teacher conferences including the Victorian, NSW and Queensland history teacher conferences, an Australian Teachers of Media forum and the Primary English Teachers' Association annual conference. In addition, through the National Capital Educational Tourism Project's outreach program, the Museum presented at several regional and capital city professional development sessions for teachers. As part of its Australian History Mysteries Youth Challenge program, the Museum was also able to run specific professional development sessions for teachers at each of the eight programs throughout Australia.
Several teacher previews focusing on the Museum's temporary exhibitions program were conducted, mainly with local ACT teachers, helping to build a strong network of committed teachers.
Return to

Top