The Museum provides advice and assistance on the repatriation of Indigenous human remains and sacred objects to federal, state and territory cultural heritage institutions, Indigenous communities and representatives, and to the media and general public.
The management of human remains and secret/sacred objects is strictly controlled by the Repatriation section, to ensure that material is cared for in a culturally sensitive and appropriate manner.
The Museum has not actively sought to acquire human remains or sacred objects. However, as a prescribed authority under the Aboriginal and Torres Strait Islander Heritage Protection Act 1984, the Museum is the repository for unprovenanced remains referred to by the Australian Government Minister under the Act. To date, no remains have been deposited with the Museum under this Act.
The Museum also holds human remains and sacred objects transferred from the Australian Institute of Anatomy collections in 1985. These have been deaccessioned and do not form part of the National Historical Collection.
During 2006–07, the Museum transferred the remains of 14 individuals to Aboriginal communities in South Australia, Western Australia and New South Wales. In addition, community representatives from the Torres Strait have asked that the Museum hold some remains on their behalf until further notice. The Museum also transferred 38 sacred objects to traditional custodians in the Northern Territory and was asked to continue holding a further 18 objects.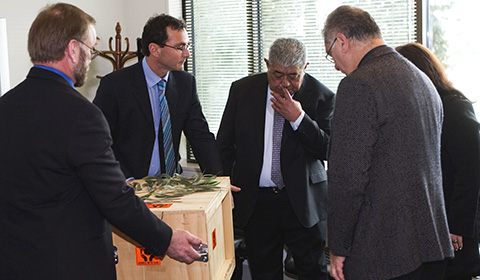 For the first time, the Museum was also involved in the repatriation of remains from Australia to Indigenous communities overseas. In May 2007, the Museum worked with colleagues at the Museum of New Zealand/Te Papa Tongarewa to return the remains of Maori and Moriori individuals to New Zealand.
The Museum also assisted the Department of Families, Community Services and Indigenous Affairs in the storage and repatriation of remains and objects from the United Kingdom and the United States of America.
Repatriation activities were supported by funding from the Museum and the 'Return of Indigenous Cultural Property Program' — an initiative of the Cultural Ministers Council and administered by the Department of Communications, Information Technology and the Arts.