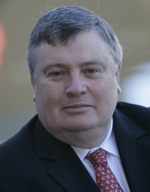 In all its activities, the Museum is committed to encouraging meaningful public engagement with Australian history and culture. As we conclude the final year of our 2004–07 Strategic Plan, the Museum is celebrating a period of high achievement in honouring this commitment.
A record number of people visited Museum exhibitions nationally this year, and our website also attracted record visitation. We believe this reflects the public's ongoing interest in Australia's history and, as our research confirms, a high level of satisfaction with the Museum's exhibitions and programs. And for the second time in three years, the Museum was named Best Major Tourist Attraction in the Australian Tourism Awards, a significant acknowledgement for a public institution.
The year's exhibitions program continued to present compelling collections and diverse topics that attracted a range of audiences. The major international exhibition Cook's Pacific Encounters showcased, for the first time in the Southern Hemisphere, the world's largest identifiable collection of artefacts from Captain James Cook's Pacific voyages. Between the Flags: 100 Years of Surf Lifesaving, developed in collaboration with Surf Life Saving Australia, celebrated the centenary of surf lifesaving in 2007. Miss Australia: A Nation's Quest relived the splendour, romance and glamour of one of the nation's most successful charity endeavours. Other exhibitions focused on the year's best political cartoons, the growth of dynamic urban Indigenous cultures across Australia, the development of Australia's rail network, and the 40th anniversary of the 1967 Referendum. The Museum presented seven temporary exhibitions, toured nine travelling exhibitions to 28 venues throughout Australia and collaborated on a major exhibition for an international venue.
The Centre for Historical Research was established and key staff appointed including a new director and a number of research fellows. The centre's work will enhance our research capacity and enable us to engage more broadly in scholarly discourse on Australian history. National Museum of Australia Press continued to be an important vehicle for disseminating the Museum's research, publishing two new editions of the scholarly journal reCollections and nine books, including two that were shortlisted for literary and publishing industry awards.
The acquisitions program gained considerable momentum through the purchase of significant objects such as the Leichhardt nameplate — which solved part of the mystery of explorer Ludwig Leichhardt's disappearance in 1848. Other important acquisitions were Captain James Cook artefacts, including a magnifier and surveyor's plane table frame used to assist in accurate coastal mapping, a medal struck in association with a French expedition to Australia in 1800 led by Nicolas Baudin, and a carved boomerang and two mulga plaques made by the renowned Aboriginal artist Albert Namatjira.
Implementation of the four-year Collections and Gallery Development Plan continued, with substantial progress made towards redeveloping the Circa theatre and two exciting new permanent galleries, Australian Journeys and Creating a Country, which will open in 2008 and 2009 respectively.
The Museum's international activities included ongoing support for the International Council of Museums (Australia) Museum Partnerships program, which enables Australian museums to share their expertise with our Asia–Pacific neighbours, and partnerships in research and exhibitions programs. Key international collaborations that will have continuing benefits in coming years included a staff exchange with the British Museum, and exhibitions development with museums in the United States and Japan.
Business planning and financial management were strongly aligned across all program areas and a substantial emphasis was placed on building the organisation's business operations skills and developing staff.
The Museum's business continuity plan was put into action in December when a major storm brought down part of the administration wing's ceiling. The plan proved to be robust and our staff's implementation of it ensured that the Museum was closed for only one day while damage was assessed.
The new Strategic Plan for 2007–10 will continue our focus on developing the collections, broadening our research base, presenting compelling exhibitions and reaching out to audiences, to encourage awareness and understanding of Australian history and culture.
As reported last year, collection storage remains a crucial issue for the Museum. Our failure to gain government support for relocation to a new consolidated site has required us to make contingency plans to continue our highly compacted multi-venue storage facility. This is unsatisfactory, not least because it prevents the Museum from being able to provide full access for researchers to our non-displayed collections. Similarly, our lack of exhibition space in the Acton facility restricts our capacity to exhibit many significant objects from the National Historical Collection. Additional exhibition space would, for example, allow us to provide a more comprehensive interpretation of the rich, deep and ancient history of this land and people's interaction with it; or to explore Australia's role in the Asia–Pacific region.
I wish to acknowledge the government's support for the Museum and in particular the support of our portfolio ministers throughout the year — Senator the Hon Helen Coonan, Senator the Hon Rod Kemp and Senator the Hon George Brandis. I am also grateful for the continuing support and assistance of the Chairman of Council, the Hon Tony Staley, and of other Council members.
I would also like to acknowledge the highly active Friends of the National Museum of Australia for their ongoing support and commitment to the organisation and our many volunteers who give up their time to assist us.
The Museum's achievements reflect the continuing dedication of our people. I wish to thank and congratulate every staff member for their commitment and contributions this year.
Craddock Morton
Director
August 2007