The Museum was responsible for delivering on a number of outputs relating to exhibitions, programs and services. The following table indicates how the Museum delivered on Output 1.2 in 2005–06:
| | |
| --- | --- |
| Target | Actual |
| Quality | |
| 70% of all visitors satisfied or better | 93% |
| 80% of school visits satisfied that education programs met core curriculum requirements | 98% |
| Quantity | |
| 600,000 visitors or users of programs | 771,000 |
| 400,000 unique visits to the website | 467,000 |
| Price | |
| $34.525m ($57.54 per visitor/user) | $39.048m ($50.71 per user) |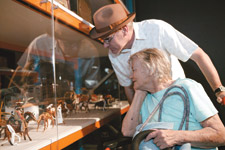 The Museum's exhibitions and programs aim to create awareness and understanding of Australia's history and cultures, stimulate thought and encourage informed discussion about broader issues of historical significance. They employ high-level educational and communication techniques and reflect the highest standards of historical accuracy and scholarship. They also aim to cater for diverse audiences with different learning styles, needs and interests.
The Museum continued to deliver a rich and varied exhibition program, within the Museum and to venues throughout Australia.
Developing the galleries
A key focus of the Museum's Collections and Gallery Development Plan is the staged redevelopment of the Circa theatre and two galleries, Nation and Horizons. Project planning for the redevelopment of these galleries has commenced and new project teams have started work on a detailed content development program for both galleries. Exhibition briefs have been created for the redevelopment of these two galleries and are now available on the Museum's website.
Circa, positioned at the entrance to the permanent galleries, is a rotating theatre that introduces visitors to the Museum. It shows a 12-minute multimedia program exploring the Museum's three main themes of land, nation and people. The Collections and Gallery Development Plan identified a need to refurbish Circa. This year work progressed on developing a draft script treatment for the new 16-minute program. Work has also progressed on project planning and procurement planning with full-scale production scheduled for 2006–07.
In addition to the gallery development work, the Museum continued its program of object changeover within all of the permanent galleries. These changeovers allow the Museum to update exhibits to display recently acquired items and to remove objects from display for preservation as part of the Museum's National Historical Collection management strategy.
Gallery objects removed and installed

Gallery

Objects removed

Objects installed

Old New Land

31

64

Nation

389

244

Horizons

158

148

Eternity

24

12

First Australians

189

51

Total

791

519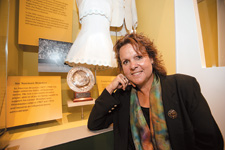 Nation: Symbols of Australia
The Nation gallery explores Australian history and culture through the lens of national symbols, both official and popular. Three new displays were commissioned in the gallery and a range of object-for-object changeovers were undertaken in the course of the year.
The exhibit 'Sport: A national obsession?' documents key sporting moments and figures that have been incorporated into the nation's history. It includes one of the Museum's highly treasured objects, Phar Lap's heart, in an environment specially designed to protect its condition over the course of the display.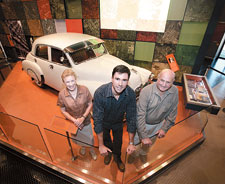 At the centre of the gallery, the display 'Australia's own car' documents the development of the Holden motor car in the post-war era. The display looks at how the Holden has become a national symbol and a key feature of Australia's suburban landscape. The third exhibit, 'Rocks to riches', traces the contribution of mining to national prosperity and showcases objects from the Museum's geological collections. Other changeover objects installed in the gallery this year include the flag from the 1968 Nauru independence ceremony, a pair of Dame Edna Everage's spectacles, and materials related to Australia's peacekeeping mission in Bougainville.

Horizons: The Peopling of Australia since 1788
The Horizons gallery explores the reasons why people came to Australia, from the convict period through to the present day. It includes materials related to the administration of the nation's migration programs, and the personal mementos and effects of migrants who have come to these shores.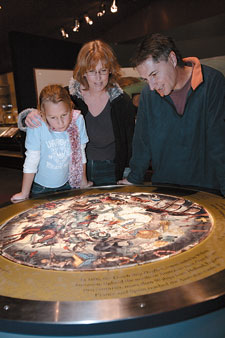 A new exhibit detailing the history of European exploration and settlement of the Australian continent, 'Encounters', was opened in the Horizons gallery in 2005. 'Encounters' includes material related to Dutch wrecks on the west coast of the continent, Captain James Cook's charting of the east coast, and the subsequent colonial settlement at Sydney Cove in 1788. Another display, 'Settlers and settling in', features material drawn from the Museum's recently acquired Springfield gift. The Faithfull Family and Springfield Merino Stud collections, which detail the life of a pastoral property near Goulburn, New South Wales, have provided a range of materials related to the early colonial period for this exhibit. Among the objects on display are a beautiful silk Empire-line dress, which dates from about 1813, and surveying instruments used in the area during the nineteenth century. Other object changeovers in the course of the year have refreshed the gallery and enriched its representation of more than two centuries of Australian settlement and migration.
Eternity: Stories from the Emotional Heart of Australia
The Eternity gallery examines the lives of 50 Australians, famous and not famous, living and dead. The gallery uses these stories to highlight larger moments, movements, events and themes in Australian history. The themes of the gallery are based on the emotions joy, hope, passion, mystery, thrill, loneliness, fear, devotion, separation and chance.
Since opening in 2001 this gallery has maintained a dynamic program of object changeovers, ensuring that visitors are presented with a variety of new stories in each theme. This year new stories in the gallery included:
Peter Porter, expatriate Australian poet now living in London
Mary McConnel, Scottish immigrant and founder of the Hospital for Sick Children in Brisbane
William Saville-Kent, marine biologist, naturalist, photographer and author known for his pioneering work with Australian fisheries between the 1880s and early 1900s
Annette Kellermann, swimming and diving champion, vaudeville performer and Hollywood star.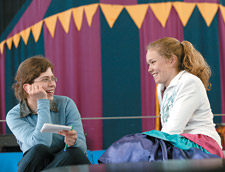 Many of the stories in the Eternity gallery are made possible by the generous loans from the people featured in the stories. Bree Le Cornu, a highly skilled member of the Flying Fruit Fly Circus, has been added to the theme of thrill. The Flying Fruit Fly Circus, founded in 1979, is Australia's most prominent youth circus school and group, and has loaned a well-loved trapeze for the display. Another new story in Eternity features a great white shark jaw on loan from the private collection of Rodney Fox, who in 1963 was savagely attacked by a great white shark off Aldinga Beach, south of Adelaide. He is now regarded as one of the world's foremost authorities on the great white shark.
The gallery's 'Your story' video booths, in which visitors can contribute a story of their own lives to the exhibition, continued to capture moving stories from visitors throughout the year.
Old New Land: Australia's People and Environment
The Old New Land (formerly Tangled Destinies) gallery presents an environmental history of Australia. It entwines the stories of Indigenous and non-Indigenous attitudes to environments, and the adaptation of non-Indigenous people, plants and animals. The gallery also explores the personal and emotional attachments of people to the diversity of Australian landscapes and places.
New objects installed during the year relate to a range of themes and stories represented in the gallery and include:
Prime Minister Ben Chifley's gardening hat, an Akubra made from rabbit skins
a platypus skin rug dating from the late 1800s or early 1900s
a selection from the extensive wet specimen collection of Australian native animals created by Sir Colin MacKenzie, ranging from platypus nestlings to a young crocodile.
In the 'Cover stories' section, a new exhibit focusing on the Museum's Acton site through time was installed, featuring Aboriginal stone tools found on the site, maps from 1829 and 1927, and aerial photographs from the 1960s to 2003.
First Australians: Gallery of Aboriginal and Torres Strait Islander Peoples
Several significant changes and additions to the First Australians gallery took place this year, including the completion of a new exhibit, 'Goolarri: The sounds of Broome'. This media-rich exhibit examines the role of Indigenous broadcasting in contemporary Indigenous and non-Indigenous society and includes a recreation of the Goolarri radio studio, which enables visitors to experience the pressure and complexity of being an announcer in a small studio.
A new exhibit called 'Dhari a Krar', which means 'headdresses and masks' in Kala Lagaw Ya, the language of the Western Islands of the Torres Strait, was developed to replace the 'Paipa' exhibit after a successful three-and-a-half year season. 'Dhari a Krar', to be installed in July 2006, showcases the Museum's significant collection of masks and headdresses from the Torres Strait, exploring their historical and contemporary roles and revealing their continuing source of cultural identity and pride for Torres Strait Islander people.
Temporary and travelling exhibitions
The Museum continued to consolidate its temporary and travelling exhibitions, displaying 12 temporary exhibitions and touring eight travelling exhibitions.
Temporary exhibitions
The Museum has three temporary exhibition areas, which featured a wide range of exhibitions this year.
Temporary exhibitions* 2001-2006

Financial year

Number of exhibitions

2001–02

3

2002–03

4

2003–04

4

2004–05

5

2005–06

12

* Opened in the Focus Galleries and Temporary Exhibition Gallery during the year.
Extremes: Survival in the Great Deserts of the Southern Hemisphere (December 2004–August 2005)
This major exhibition showcased the human and environmental histories of Australia's Red Centre, the Namib and Kalahari deserts in southern Africa and the Atacama Desert in South America. Following the Tropic of Capricorn, Extremes took visitors on a journey through the archaeology and landscapes of these hard, dry lands and provided a strong comparative perspective on the Australian experience.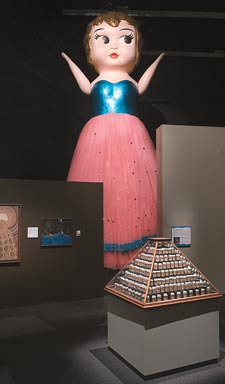 Captivating and Curious: Celebrating the Amazing and Diverse Collection of the National Museum of Australia (December 2005–March 2006)
This exhibition showcased the Museum's unique and historically significant objects collected over the last 25 years. It proved to be the Museum's most successful exhibition and attracted record-breaking visitor numbers totalling 81,709. Gary Humphries, Senator for the Australian Capital Territory, and Mr Justin Murphy, host, Collectors program, ABC TV, opened Captivating and Curious on 13 December 2005.
Exiles and Emigrants: Epic Journeys in the Victorian Era (April–June 2006)
This art exhibition from the National Gallery of Victoria consisted of 55 paintings and 20 objects and told the story of the unprecedented exodus of almost 15 million people from Britain between 1837 and 1901. The exhibition traced the reasons why people left their homeland, the difficult voyages they undertook and the struggles they endured to adjust to the Australian environment. The Rt Hon. Helen Liddell, British High Commissioner, opened the exhibition on 21 April 2006.
Cook's Pacific Encounters: The Cook–Forster Collection of the Georg-August University of Göttingen (June–September 2006)
This major international exhibition was launched on 30 June by the German Ambassador, Martin Lutz, and Brigitta
Hauser-Schäublin, Director, Institute of Ethnology, University of Göttingen. It showcased the world's largest identifiable collection of artefacts collected on Captain James Cook's Pacific voyages. The exhibition comprised 350 ritual and everyday items, which were collected between 1768 and 1779 from islands including Tonga, Tahiti, New Zealand and Hawai'i and are now held by the Georg-August University of Göttingen in Germany.
In Search of the Birdsville Track: An Artist in the Outback (June–October 2005)
In the summer of 1952–1953, a young English artist, Noelle Sandwith, undertook one of Australia's best-known journeys: along the Birdsville Track from Birdsville to Marree. Noelle sketched, photographed and wrote about the people she met and the scenes she encountered. The exhibition drew upon the Museum's collection of her sketches and writings, and captured the unique environment, characters and lifestyles of this quintessentially Australian experience.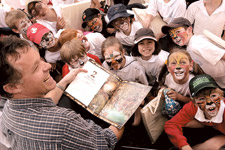 The Waterhole (October 2005–February 2006)
This exhibition featured the original artwork and friezes from Graeme Base's children's book, The Waterhole. The exhibition looked at the issues addressed in the book in regard to the important role water plays in the survival of the world's ecosystems. It covered each continent and encouraged children to identify animals from around the world. The Waterhole was presented by OzLink Entertainment in partnership with the Melbourne Museum.
A Summer of Cricket (March–June 2006)
This exhibition from the Post Master Gallery in Victoria was a comprehensive display of the art and design of Australian stamps featuring cricket from the National Philatelic Collection. It included cricket stamps of the world from Australia Post's Universal Postal Union collection as well as rare philatelic cricket items.
Life in the Pacific (June–September 2006)
This photographic display complemented the major exhibition, Cook's Pacific Encounters. Life in the Pacific, developed by the Honolulu Academy of Arts, comprised contemporary images of key places and cultural rituals in
the Pacific areas that Cook visited during
his voyages.
Pooaraar: The Great Forgetting and Our Community: A Great Place to Be (June–October 2005)
Pooaraar featured 22 framed works in black-and-white ink wash by Noongar artist Pooaraar (Bevan Hayward). These works were commissioned to illustrate the poetry of Geoff Page for the book The Great Forgetting, which looked at 200 years of interaction between Aboriginal and non-Aboriginal people in Australia.
Our Community: A Great Place to Be explored the distinctive cultural and social diversity of communities in the north-west of New South Wales, predominately Walgett, Brewarrina, Lightning Ridge and Angledool.
These exhibitions were shown concurrently in the First Australians Focus Gallery, before their tour in October 2005 and continuing during 2006–07.
Colour Power (November 2005 – January 2006)
This exhibition, drawing upon the National Gallery of Victoria's Indigenous collection, focused on the evolution and use of colour in Aboriginal art and featured 75 works from 1984 to 2004.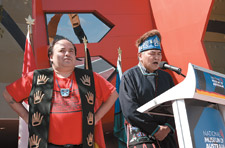 People of the Cedar: First Nations Art from the Northwest Coast of Canada (March–May 2006)
Developed in collaboration with the Canadian High Commission, People of the Cedar showcased contemporary and historic native art from British Columbia. It included carvings, masks, cedar bark weavings, ceremonial blankets, paintings and works on paper. The High Commissioner for Canada, His Excellency Mr Michael Leir, opened People of the Cedar on 2 March 2006.
Travelling exhibitions
Travelling exhibitions (in Australia) 2001-2006

Financial year

Number of exhibitions

2001–02

1 at 4 venues

2002–03

5 at 6 venues

2003–04

6 at 9 venues

2004–05

5 at 9 venues

2005–06

8 at 28 venues
This year the Museum focused on travelling exhibitions to more regional and remote venues throughout Australia. During 2005–06, eight exhibitions were displayed at 28 venues, including two capital cities, four metropolitan and 22 regional/rural locations. This compares with 2004–05 when five exhibitions travelled to nine venues. All states and territories (except the Northern Territory) received exhibitions during 2005–06.
The eight exhibitions, and the dates they toured in 2005–06, are listed on the following page.
Rare Trades: Making Things by Hand in the Digital Age
This exhibition celebrated the art of skilled manual work and ancient trades, and the enduring need for people to make things by hand. The exhibition toured to its last venue in Geelong, Victoria, from May to July 2005.
Hickory Dickory Dock: The Changing Face of Play School
Hickory Dickory Dock explored the changing face of ABC TV's Play School, one of Australia's longest-running and best-loved children's television shows. The exhibition looked behind the scenes and celebrated the toys, presenters and educational features of Play School. The exhibition toured throughout 2005–06 to Queensland, Tasmania, New South Wales, South Australia and Western Australia. Due to popular demand, it will travel to Queensland again and then close at its final venue, the ABC studios in Sydney, in late 2006.
Behind the Lines: The Year's Best Cartoons
Highlighting the year's best political cartoons, Behind the Lines completed its tour in Perth, Western Australia, in August 2005.
Ned Kelly: Fact and Fiction
This exhibition told Ned Kelly's story through the places and people that shaped the man and the legend. It included Kelly's death mask, a helmet worn by Mick Jagger in the 1970 Kelly film, and pages from the Hanlon transcript of the Jerilderie letter.
The exhibition was on show at the Ipswich Workshop Rail Museum in Queensland from February to May 2006 and also travelled to Wangaratta, Victoria, from July to August 2006.
In Search of the Birdsville Track: An Artist in the Outback
This exhibition toured to Albury, New South Wales, from March to May 2006.
Pooaraar: The Great Forgetting
This exhibition toured to Launceston, Tasmania, and Port Pirie, South Australia, from February to June 2006.
Our Community: A Great Place to Be
This exhibition toured around New South Wales to Parkes, Walgett and Bathurst from March to June 2006.
All Aboard: 150 Years of Rail
This graphics-based display toured widely in New South Wales to celebrate the 150th anniversary of rail. It opened at the Powerhouse Museum in September 2005 and then travelled to Tamworth, Valley Heights, Kurrajong, Bathurst, Mudgee, Parkes, Dubbo, Goulburn, Bulli, Maitland, Tenterfield, Broken Hill and Corowa. It will tour to South Australia during 2006–07.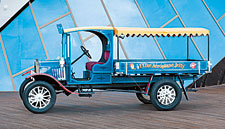 Short-term displays
The Museum also presented a number of short-term displays in the Hall including:
Miss Traill's Cup, in consultation with the National Trust
Phar Lap's heart and the Melbourne Cup
an Australian flag rescued from the World Trade Center, New York, in 2001
a reproduction of a Muttaburrasaurus and a small dinosaur display to coincide with the family theatre program, Gondwana
the Aeroplane Jelly Truck and the Lightburn Zeta car from the Museum's collection to coincide with the Captivating and Curious exhibition
an HIV/AIDS memorial quilt, unfurled as part of the International AIDS Candlelight Memorial Vigil.
Future temporary and travelling exhibitions
Development began on several exhibitions to be staged over the next five years. They include:
Between the Flags: 100 Years of Surf Lifesaving, which will open at the Museum in December 2006 and travel around Australia during the centenary of surf lifesaving in 2007
Miss Australia: A Nation's Quest, which will open at the Museum of Brisbane in October 2006 and then travel to the National Museum of Australia, Victoria, and Western Australia during 2007
Tracks, a travelling exhibition on adventurer Robyn Davidson's trip in 1977 across Central Australia — 2700 kilometres from Alice Springs to the Indian Ocean.
Scholarship and research
As specified in its Act, the Museum conducts and disseminates research about Australian history, consistent with the core thematic areas of Aboriginal and Torres Strait Islander history and culture, Australia's history and society since 1788, and the interaction of people with the environment.
The Museum also undertakes research related to the care and preservation of collection objects. Such projects are often collaborative ventures with other academic and cultural institutions. Other collaborative research projects focus on museological areas such as audience needs, evaluation, outreach and learning in museums.
During the year, the Museum undertook a number of initiatives to enhance its scholarship and research. A peer-reviewed, biannual scholarly journal, reCollections: Journal of the National Museum of Australia, was launched with a twin focus on museology (museum practice) and on material culture (the history and interpretation of objects).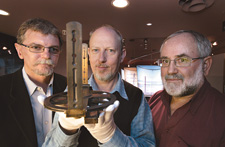 The Museum organised a symposium titled Collecting for a Nation: The History of the National Historical Collection and its Collectors in March 2006, which explored the evolution of the National Historical Collection, the shifting climate of collecting and the stories of collectors behind the collections. The symposium featured current and past curators, as well as Professor John Mulvaney and Mr Peter Pigott (authors of the 1975 Pigott Report), Professor Howard Morphy of the Cross-Cultural Research Centre at The Australian National University and Dr Don McMichael, the first Director of the Museum.
During the year, the Museum created a program of National Museum of Australia fellowships to bring established scholars and researchers into the Museum to carry out historical research. Two fellowships were awarded in 2006: to Mr Julian Holland (formerly of Macleay Museum, Sydney) and Dr Maria Nugent (Monash University, Melbourne). In partnership with the Australian Academy of Science, the Museum also sponsored a student essay prize for the best university research essay on the history of Australian science or Australian environmental history. The 2006 prize was shared by Sara Maroske from the University of Melbourne and Rachel Sanderson from James Cook University, Queensland.
To continue to build in-house capacity for research, the Museum maintains a staff research scholarship scheme (for collections and museological research) and a mentoring program to assist staff to write for publication. As part of this, the Museum's inaugural fellow, Julian Holland, presented a master class for curatorial, conservation and registration staff on identifying scientific instruments.
Australian Research Council grants
The Museum is currently an industry partner in eight research projects funded by the Australian Research Council (ARC) and has five further projects pending decision by the ARC for funding in 2006–07.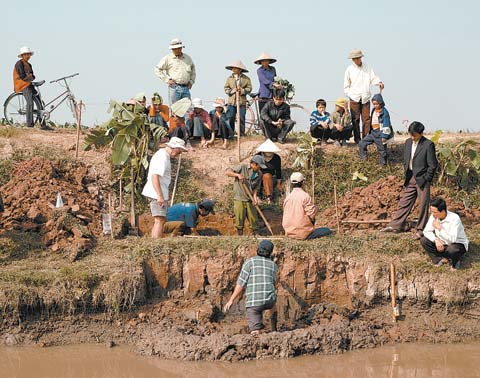 Two conservation-related ARC Linkage Grant projects: 'Bronze Age textiles from Dong Song coffins in Vietnam' and 'Studies in the degradation of dyes and pigments in ink on paper, in photographic media and on painted surfaces', progressed on schedule into their second year of activity. In September 2005 further treatment, documentation and analysis was carried out by a Museum conservator, The Australian National University and Vietnamese archaeologists, on the Vietnamese Bronze Age burial shroud that had been excavated the previous year. Museum conservators returned to Vietnam in March 2006 to conduct the three-day workshop, 'Conservation of archaeological textiles and organic material' with participants from Vietnam. Extra funding was obtained from UNESCO to allow regional and southern Vietnamese conservators and archaeologists to travel to the workshop. Conservation treatments on the archaeological material were finalised and the organic and wooden archaeological material was removed from its impregnation tanks to start the slow-drying process.
The dyes and pigments ARC project also had a series of successful outcomes. Methods were developed for:
characterising iron gall inks on parchment
non-destructive tracking of degradation
non-destructive acquisition of pigment spectra.
Other ARC Linkage Grant projects to which the Museum contributes include:
'Collaborating for Indigenous rights: A 50-year retrospective exploring the history of black and white Australian activism 1957–1972'
'Australian Indigenous collectors and collections'
'Increasing visitor frequency: An approach to understanding and forecasting how cultural-attraction visitors respond to various incentives to increase visitation rates'
'New literacy, new audiences: A model for Australian content generation and multiplatform publishing 2005–2007'
'Australian Dictionary of Biography online'
'Migration memories: An analysis of representations of Australian migration histories'.
In addition to ARC Linkage Grant projects, Museum staff were involved in several ARC Discovery Grant projects. These were:
'Unsettling history: Australian Indigenous modes of historical practice'
'Art and human rights in the Asia–Pacific: The limits of tolerance in the 21st century'
'Asia's first people: The role of East Asia in human evolution during the past half million years'.
Details of ARC grant projects are in Appendix 7.
Other research projects
During the year, Museum archaeologist Dr Mike Smith collaborated with Dr June Ross (University of New England) on archaeological excavations at three rock-shelters on the Watarrka plateau in Central Australia, and undertook fieldwork in the centre of the Simpson Desert at a remote site reported by South Australian Museum anthropologist Norman Tindale in 1962. This work forms part of a partnership between the Museum and the Centre for Resource and Environmental Studies (CRES), The Australian National University, to investigate climate change and prehistoric human–environment interactions in Australia. During the year, Dr Smith was appointed as Adjunct Professor in CRES to facilitate this collaboration.
The Museum's relationship with The Australian National University was also strengthened by the appointment of Margo Neale, Principal Advisor on Indigenous Matters, as Adjunct Professor at the Australian Centre for Indigenous History.
Research conducted by staff was presented in international forums; for example, Dr Mike Smith's keynote address, 'Reconstructing the human histories of drylands: A comparative perspective on the Southern Deserts', at the second Southern Deserts conference held in Areca, Chile, in October 2005, and Dr Michael Pickering's keynote address, 'Where to from here? Repatriation and "the Museum"', at the University of Leicester's The Museum: A World Forumconference in April 2006.
Significant visitor projects conducted include:
a disability study, in association with the Australian Museum in Sydney, that resulted in a joint publication, Many Voices Making Choices: Museum Audiences with Disabilities. This report brings together for the first time the vast range of resources available for audiences with disabilities
a study of factors that promote repeat visitation in different venues, in partnership with the University of Technology Sydney, the Powerhouse Museum, Museum Victoria, the Australian War Memorial, the Australian National Maritime Museum and the University of New South Wales
research into museum learning as experienced by adolescent school visitors, in partnership with the University of Technology, Sydney, the Australian Museum, Museum Victoria and Sovereign Hill.
An audience segmentation research project used to inform the Museum's audience development strategy and long-term planning of activities and programs was also undertaken this year.
Museum staff continued to publish widely in their fields, through National Museum of Australia Press and other publishers. Some highlights include:
James Northfield and the Art of Selling Australia (National Library of Australia), a book by Michelle Hetherington that celebrates Australia's commercial art heritage through an examination of the work of one of our best commercial artists
an entry on 'John Maxwell', by Matthew Higgins, in the Australian Dictionary of Biography
Wrapped in a Possum Skin Cloak: The Tooloyn Koortakay Collection in the National Museum of Australia (National Museum of Australia Press), a collection series book co-written by Amanda Reynolds, with D Couzens, V Couzens, L Darroch and T Hamm
'Deserts past: The archaeology and environmental history of the Australian deserts', a feature article by Dr Mike Smith for Year Book Australia no. 88 (2006) (Australian Bureau of Statistics).
For details on National Museum of Australia Press publications, see the Publishing section. For a full list of staff professional activities and publications, see Appendix 8.
Public programs and events
The Museum enhances awareness and understanding of Australia's history and culture through a broad range of public programs, events and educational activities delivered at the Museum and around Australia. As a result of a high level of activity across all programs, the Museum was successful in maintaining existing audiences and attracting new audiences to its onsite, offsite and website programs. For example, this year saw 69,601 participants in public programs and events, a significant increase on 46,731 participants in 2004–05.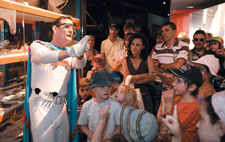 Programs and events at the Museum
For families and children
The Museum conducted regular school holiday programs linked to both the temporary and permanent exhibitions including:
Captivating and Curious:
- the Adventures of Captain Curious
– a family film festival
– night tours of the exhibition and the permanent galleries
– the Captivating and Curious Carnival held on Australia Day 2006.
The Waterhole:
– programs with musicians and storytellers from Africa and South America
– a Waterhole Safari tour led by Tim the Yowie Man and developed jointly with the National Zoo and Aquarium
– a special Waterhole-themed Christmas party for children aged under five.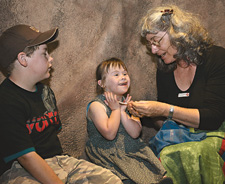 School holiday programs also included regular events such as NAIDOC Week, held in association with the Australian Institute of Aboriginal and Torres Strait Islander Studies, as well as the first annual didjeridu competition.
The regular Tim the Yowie Man 'Grossed-Out' and 'Mystery' tours continued to attract enthusiastic audiences, as did craft activities with Kewwi and Friends.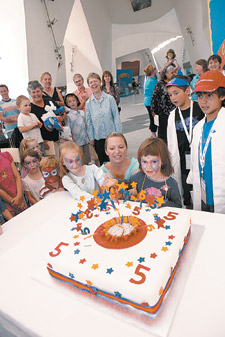 Several performances were presented at Floriade in September 2005, including storytelling by 'Robbie the Rat', the cockney rodent who came to Australia on a convict ship.
In April 2005 the Gyuto Monks of Tibet conducted workshops for families throughout the school holidays.
Storytelling and didjeridu-playing in the First Australians gallery continued to be popular throughout the year.
Music Mondays, a new program for children aged under five, was introduced this year and proved extremely popular, booking out months in advance.
A special birthday party was held for five-year-olds in March 2006 to celebrate the fifth anniversary of the Museum's opening on Acton Peninsula.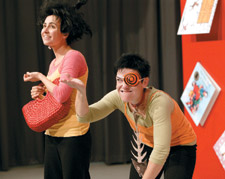 Special events included performances by the Theatre of the Deaf, and a family concert by the Sculthorpe Quartet and didjeridu player William Barton.
Visiting children's authors Emily Rodda, Alan Tucker and Nadia Wheatley presented popular programs.
For adults and young people
Forums linked to the Museum's exhibitions and themes included 'Singing the desert', with Shane Howard, lead singer of Goanna, and Arrernte man Warren H Williams. As part of the Captivating and Curious Carnival, 'The curiosity panel' enabled visitors to have their special antique, souvenir or collectable object discussed by Museum conservator, Robin Tait, ABC TV's James O'Loghlin (The New Inventors) and Gordon Brown (The Collectors).
Dr Elizabeth Kwan, author of the new book, Flag and Nation, which explores Australians' changing relationship with their national flag, delivered a public forum with Ralph Kelly from the Flag Association and Senior Curator Guy Hansen. A series of talks by the Canberra Skeptics included 'The eye sheds light on the Darwinian evolution' and 'The Da Vinci Code as junk history'. Public events delivered by Museum curators included 'Pass the salt', a forum on conservation in the Wagga district, and 'Life at the top' about meteorologist Clement Wragge's Kosciuszko weather station.
The Museum continued to present an extensive range of programs for adults interested in understanding, researching or discussing topics at an academic level. The Museum's association with The Australian National University resulted in a record program of 53 lectures, forums and conferences including the following conferences: Howard's Decade; Law, Religion and Social Change; Civil Society, Religion and Global Governance; and, Sustainable Water Management.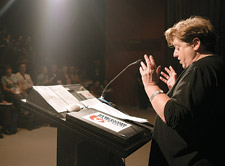 The Museum presented a number of significant conferences during the year including:
Extending Our Reach 2006: The Fourth Biennial International Museum Theatre Alliance Conference (October 2005), developed with the Australian War Memorial, Old Parliament House, the National Gallery of Australia, National Film and Sound Archive and Questacon: The National Science and Technology Centre. Keynote speakers included festival director and performer Robyn Archer and Professor Sam Ham from the University of Idaho
Strangers on the Shore (March 2006), in collaboration with the Australia on the Map 1606–2006 Initiative, the Australian Institute of Aboriginal and Torres Strait Islander Studies and the Centre for Cross-Cultural Research at The Australian National University. The conference explored the significance of early coastal contacts
Senses of Place (April 2006), in collaboration with the Place Research Network (hosted by the School of Philosophy, University of Tasmania) and the Mountain Festival. Held in Hobart, the conference explored concepts and expressions of place from a wide range of perspectives.
The Museum's strong association with students and staff from The Australian National University and the Canberra Institute of Technology continued, with several events showcasing student work in the fields of film and television, new media and fashion.
Performance, film and music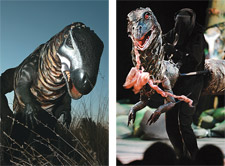 The Museum once again made extensive use of performance as a form of interpretation and maintained its position as a leader in this field by presenting:
Gondwana, a major production about Australian pre-history featuring large-scale inflatable plants, full-body dinosaur puppets and huge projections, held in October 2005 and attracting over 11,000 visitors in two weeks
a number of character actors associated with temporary exhibitions: Sandy De Parched, a thirsty French adventurer revealing the mysteries of the southern deserts for the Extremes exhibition, and Captain Curious, a conservator superhero interpreting objects and themes in the Captivating and Curious exhibition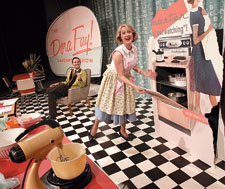 The Dora Fay Davenport Show, a piece of reminiscence theatre specifically designed for older Australians to evoke memories of the 1950s and encourage discussion about the past and how it has influenced the present. The production received considerable media coverage and toured to the Powerhouse Museum in Sydney as part of Seniors Week.
Music continued to enhance the visitor experience with youth bands, local choirs, instrumentalists and visiting musicians from both interstate and overseas performing regularly in the Hall and Amphitheatre. In conjunction with the National Folk Festival, the Museum sponsored lunchtime concerts including a festival fiddle rally.
A large number of film events were programmed especially for a young adult audience, including short::seasons, Lights! Canberra! Action!, the Canberra Short Film Festival, the Art of the Documentary, and film programs to accompany NAIDOC Week, the Captivating and Curious exhibition and
Science Week.
Culturally diverse programs
The Museum delivered a range of programs focusing on Indigenous culture throughout the year, including workshops, performances, talks and special events such as NAIDOC Week. Other programs designed to reflect Australia's cultural diversity included:
a Latin American Film Festival, held for the second consecutive year and again supported by the Latin American embassies in Canberra
two programs as part of Canberra's annual Multicultural Festival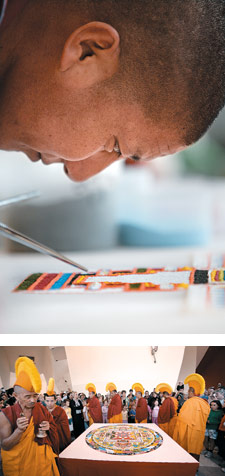 a nine-day program presented by the Gyuto Monks from Tibet including public talks, children's workshops, performances, meditation and the creation of a sand mandala and a prayer wheel, with over 7000 people attending.
Islamic culture was the focus of a film and panel discussion 'Swapping lives', which featured a young Australian girl who swapped lives for ten weeks with an Indonesian Muslim girl.
Outreach programs
Aligned with the Museum's strategic priority to engage audiences beyond Canberra, several outreach programs were presented, including:
the Murray–Darling Basin Bytes program, two community-based online exhibitions using digital photography and text created with residents of Toowoomba, Queensland, and Goolwa, South Australia, which focused on cultural heritage and natural resource management in the region
Stories of the Upper Murray, a multimedia project involving artists, communities and historians who worked collaboratively to present local stories triggered by significant historic objects. The resulting documentaries and objects were presented at the Wodonga Artspace and tour venues in the upper Murray region
All Aboard, a small two-dimensional exhibition celebrating 150 years of rail in Australia, together with a rail film festival, travelled throughout New South Wales to regional centres including Tenterfield, Mudgee, Maitland, Goulburn and Bathurst.
The Museum once again partnered with NOISE, an Australia Council youth arts initiative, to establish icollect, which enabled young Australian artists to create works focused on the importance of collecting. A selection of the works will be published on a number of platforms including online, television and in print.
The Museum is one of the few cultural institutions in the world to have a broadcast studio capable of producing broadcast-quality radio, television programs, videoconferences and webcasts. The Studio enabled the Museum's outreach activities this year to include broadcasts, such as the 'Invasive species' forum, which was developed in partnership with the Australian Science Festival and broadcast live on Radio National.
Significant steps were taken this year to enhance the Museum's commitments to outreach programs for Australia's Indigenous community. Three projects focused on the Northern Territory:
a three-year agreement with the Yothu Yindi Foundation and Charles Darwin University, Darwin, to provide education programs for the annual Garma festival in Arnhem Land
Museum-in-a-Case, a travelling exhibition and education kit based on the Museum's possum skin cloak exhibition, developed to travel to schools
A Frontier Conversation, a film produced with The Australian National University's Australian Centre for Indigenous History, documents how academic historians and Indigenous communities exchanged ideas about history during a research trip in September 2004 (to be launched in July 2006).
Connections between Australian Indigenous communities and Indigenous communities around the world were extended during the year. In March 2006 a forum, The Ancestors' Voices: Speaking Through the Object, was presented in conjunction with the High Commission of Canada and featured representatives from Canada's north-west Indigenous communities. In addition, work began on a major exhibition of Australian Indigenous art and culture, which will be shown in the first half of 2008 at Japan's two premiere national venues. This project is supported by the Department of Foreign Affairs, including the Australian Embassy in Tokyo, and Japan's largest newspaper, Ymiuri Shimbun.
Outreach Programs
Program

Place

State/Territory/Country

Australian History Mysteries National Youth Challenge

Ballarat

Victoria

Launceston

Tasmania

Brisbane

Queensland

Sydney

New South Wales

Darwin

Northern Territory

Perth

Western Australia

Adelaide

South Australia

Snapshots

Darwin

Northern Territory

Alice Springs

Northern Territory

Basin Bytes

Goolwa

South Australia

Toowoomba

Queensland

Talkback Classroom

New York

USA

Teaching History Fellowships

Newcastle

New South Wales

Griffith

New South Wales

Melbourne

Victoria

Launceston

Tasmania

Hobart

Tasmania

Professional development for teachers

Sydney

New South Wales

Wollongong

New South Wales

Campbelltown

New South Wales

Professional development for teachers (continued)

Adelaide

South Australia

Brisbane

Queensland

Toowoomba

Queensland

Melbourne

Victoria

Senses of Place conference

Hobart

Tasmania

Repatriation staff
visited

London

UK

Leicester

UK

Sydney

New South Wales

Young

New South Wales

Hillston

New South Wales

Appin

New South Wales

Brisbane

Queensland

Adelaide

South Australia

Darwin

Northern Territory

Alice Springs

Northern Territory

Lajamanu

Northern Territory

Tennant Creek

Northern Territory

Bathurst Island
(one of the
Tiwi Islands, Torres Strait)

Northern Territory

Repatriation staff consultative
involvement with groups in

Moreton Bay

Queensland

Cairns

Queensland

Torres Strait

Queensland

Western Victoria

Victoria

Bendigo

Victoria

Eucla

Western Australia

Port Augusta

South Ausralia

Renmark

South Australia

Mulka

South Australia

Appin

New South Wales

Armidale

New South Wales

Merriwa

New South Wales

Sussex Inlet

New South Wales

Hamilton

Victoria

Alice Springs

Nothern Territory

Mudgee

New South Wales

Repatriation staff consultative
involvement with
groups in (continued)

Dora Creek

New South Wales

Barham

New South Wales

Menindee

New South Wales

Dora Fay Davenport Theatre Program

Sydney

New South Wales

ATSIP

Darwin

Northern Territory

Broome

Western Australia

Walgett

New South Wales

Melbourne

Victoria

Sydney

New South Wales

Cairns

Queensland

Torres Strait

Queensland

Brisbane

Queensland

Bathurst Island

Northern Territory

Mungo National Park

New South Wales

Kosciuszko

New South Wales
Education programs
Understanding of Australia's history, cultures and environment by preschool, primary and secondary students is greatly enhanced by the wide range of interactive, student-centred and curriculum-based programs developed by the Museum.
School programs and activities at the Museum
In addition to the core set of programs and activities offered each year, in 2005–06 the Museum offered visiting school groups:
two new senior programs, 'Springboard into Museum exhibits' and 'Interpreting the Museum', both designed for year 11 and 12 students
a program based on the science of forensic archaeology held during National Science Week
the annual schools cartooning competition, held in conjunction with the Museum's temporary exhibition on political cartooning, Behind the Lines
activity-based programs to complement three of the Museum's temporary exhibitions, Captivating and Curious, People of the Cedar and Exiles and Emigrants.
Evaluation indicates 98 per cent of school visits (including both students and teachers) were satisfied that school programs met core curriculum requirements.
Approximately 84,000 students from over 1500 schools visited the Museum this year. The number of bookings received for education programs in the first half of 2006 was higher than for the corresponding period in 2005.
Two-thirds of student visitors were from years 5 or 6 and nearly 60 per cent came from New South Wales. The following charts reflect the number of schools and paid student visits to the Museum — they do not include those who came as self-guided visitors.
The Museum marketed its education programs to schools and bus and tour companies through:
a mail-out of the new school programs brochure to all schools in Australia
paid and free advertisements in major school excursion planners published by commercial operators and other education journals.
In addition, programs were advertised in the marketing materials produced by the National Capital Educational Tourism Project (NCETP).
Collaborative educational projects
The Museum continued to run pre-service history fellowship programs in conjunction with the Australian War Memorial, NCETP and several other cultural institutions in Canberra. Four universities were involved in the project: Monash University (Melbourne), the University of Tasmania, Griffith University (Queensland) and Newcastle University (New South Wales). A total of 40 student teachers participated in the program. In January 2006, the second Primary Teacher History Fellowship Program was conducted in association with the History Teachers' Association of Victoria and cultural institutions in Canberra.
The teaching and learning of history in schools were supported through sponsorship of the Australian History Teachers' Association's National History Challenge, which enables students to create museum displays on a specified history topic.
In May 2006, two important national education forums (in association with the Department of Education, Science and Training and the Australian Curriculum Studies Association), were held at the Museum. Museum staff presented at both conferences.
Professional development for teachers
Professional development workshops for teachers, held at the Museum and at conferences around Australia, attracted more than 1000 participants. A particular highlight of the year was the delivery of a major address by the Museum to the annual New South Wales History Teachers' Association on the way history is constructed and expressed in a social history museum.
Evaluation indicates that the Museum's efforts to provide teaching strategies and resources to support a variety of curriculum areas have a positive impact on teaching in Australian classrooms.
Reaching a national school audience
Major outreach activities for schools this year included:
Australian History Mysteries Youth Challenge program
In August 2005, in collaboration with educational consultants Ryebuck Media, the Museum staged a National Youth Challenge program entitled 'Investigating history mysteries in your community'. This special outreach initiative took place in eight centres: Ballarat, Launceston, Brisbane, Sydney, Darwin, Perth, Adelaide and Canberra. The program, designed to promote the processes, skills and passion students need to explore history in their own local communities, was attended by 116 schools, 948 students and 139 teachers. More than 900 evaluations were received from students and teachers which indicated a high level of satisfaction with the program.
Plenty Stories Indigenous primary school series
Work began on Plenty Stories, a unique, nationally recognised Indigenous curriculum resource series comprising 18 books and a CD, which explores Aboriginal and Torres Strait Islander cultures and histories for primary schools. The Indigenous-authored series will utilise the Museum's collections and expertise, capitalising on existing relationships with Indigenous communities as well as forging new relationships. The project is the second collaboration between the Museum and Harcourt Education, a leading Australian educational publisher. The series will be published in September 2007 and March 2008.
Talkback Classroom
More than 1000 students from the Australian Capital Territory, regional New South Wales and Victoria participated as audiences in Talkback Classroom with student panellists selected from all states and territories.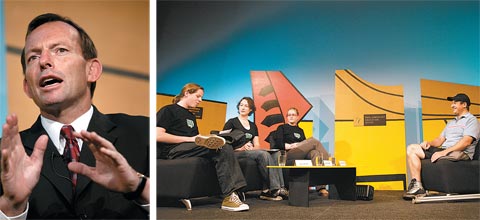 Nine Talkback Classroom forums were held during the year, which enabled senior secondary students to interview the following major decision-makers from politics and the wider community:
The Hon. Tony Abbott, Minister for Health and Ageing
Peter Garrett, Member for Kingsford Smith, Shadow Parliamentary Secretary for Reconciliation and the Arts
Senator Natasha Stott Despoja, Senator for South Australia
Shashi Tharoor, United Nations Under-Secretary-General for Communications and Public Information
Dr Ameer Ali, President of the Australian Federation of Islamic Councils
Michael Milton, Paralympic skier and mountain climber
Senator Barnaby Joyce, Senator for Queensland
Senator the Hon. Ian Campbell, Minister for the Environment and Heritage
His Excellency Mr Michael Leir, Canadian High Commissioner.
Selected forums were broadcast on ABC Radio National's Life Matters program and several were also broadcast on Satellite Community Television (New South Wales and the Australian Capital Territory).
Highlights included two international forums, one run in partnership with the United Nations in New York and the other in conjunction with the Australia–Korea Foundation that took place in the Educational Broadcasting System (EBS) television studios in Seoul. The latter saw two Australian students prepare for the EBS forum and travel to South Korea at the end of June 2006 (the forum was held on 3 July 2006). EBS is planning to broadcast a 70-minute documentary of the forum, including the preceding student activities, in Korea in August 2006.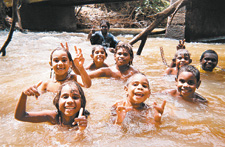 Snapshots of remote communities
The Museum continued Snapshots, a successful outreach program for regional and remote school communities, which enables students to document their community through photographs subsequently exhibited in the local community, at a state institution and on the Museum's website. State partners included the Queen Victoria Museum and Art Gallery, Launceston, and the Museum and Art Gallery of the Northern Territory.
Studies of Society and Environment magazine
The Museum continued to produce three inquiry-learning units of work based on permanent and temporary exhibitions for Studies of Society and Environment, a classroom curriculum magazine (distributed free of charge to all Australian secondary schools three times a year), which explores current and historical events and issues.
Online educational materials for schools
Additional classroom resources were made available on a wide range of issues and topics related to the Museum's themes. Planning has begun on the production of a series of new interactives for the Museum's Australian History Mysteries program.
Numbers of primary versus secondary students, 2005-06
Percentage of schools visiting per state, 2005-06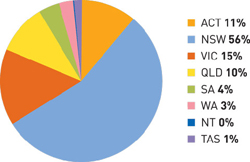 Numbers of schools visiting per state, 2005-06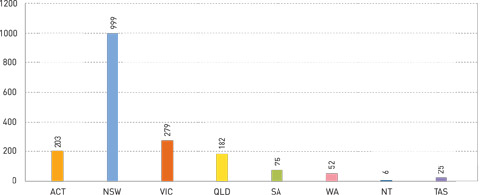 Numbers of paid vs self-guided student visits, 2005-06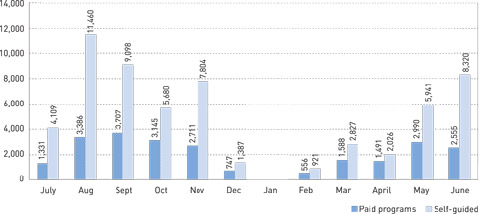 Comparison of student visitation numbers, 2001-06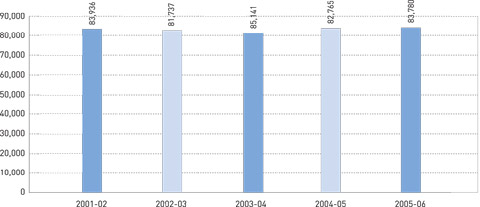 Visitation numbers and trends
Visitation numbers 2005–06
In our fifth year of operation the Museum's visitation showed strong signs of recovery following a downturn in 2004–05. The visitation increase may be attributed to a number of highly successful programs and temporary exhibitions as well as an increase in the number of travelling exhibitions. Visitor satisfaction levels remained high with 93 per cent indicating they were 'satisfied' or 'very satisfied' with their Museum experience.
Visitation was also influenced by seasonal fluctuations that brought peaks in school holiday months and downturns in between, especially during winter.
Visitation numbers 2001-2006

Financial year

Total visitation

2001–02

903,400

2002–03

825,000

2003–04

820,200

2004–05

666,200

2005–06

771,000
The year's visitation was marked by the following features:
schools visitation remained constant with numbers slightly above those of the previous year
temporary and travelling exhibitions experienced substantially higher visitation
attendance at public programs increased by 38 per cent. This can be attributed to a greater level of activity, as well as the scheduling of popular events such as the Gondwana family theatre performances, and a special Captivating and Curious Carnival on Australia Day 2006.
| | | |
| --- | --- | --- |
| Visitation numbers | | |
| Location | 2004–05 | 2005–06 |
| Permanent exhibitions | 398,063 | 428,123 |
| Temporary exhibitions | 19,978 | 91,101 |
| Travelling exhibitions | 87,693 | 63,762 |
| Public programs/events | 46,731 | 69,601 |
| Schools | 82,765 | 83,780 |
| Functions/venue hire | 30,943 | 34,234 |
| | 666,173 | 770,601 |
Travelling exhibitions visitation 2005-2006

Rare Trades

3,223

Hickory Dickory Dock

21,838

Behind the Lines

14,498

Ned Kelly

10,494

In Search of the Birdsville Track

1,089

Pooaraar

4,000

Our Community

4,870

All Aboard

2,350

Jakarta Embassy bombing display (DFAT foyer)

1,400

63,762
Visitor feedback
The Museum actively seeks visitor comment by conducting exit interviews, commissioning audience research and inviting visitors to provide written feedback through Museum feedback forms. Informal comment is also noted by hosts and public programs staff. Data collected from visitor interviews is entered into a database that enables the analysis of visitor demographics, attitudes and behaviour over time.
Museum visitors have continued to demonstrate high satisfaction levels. Of 1211 visitors interviewed during the year, 93 per cent said they were 'satisfied' or 'very satisfied' with their experience.
Age groups most strongly represented were 35–39 years (11 per cent), 40–45 years (10 per cent) and 45–49 years (10 per cent).
Thirty-one per cent of visitors were from Canberra or its close neighbour Queanbeyan, 57 per cent were from elsewhere in Australia, in particular Sydney and regional New South Wales, and 11 per cent were from overseas.
The proportion of repeat visitors rose to 73 per cent in May. Twenty-nine per cent of visitors interviewed during the year had previously visited the Museum three or more times.
When invited to comment on what they liked most about the Museum, visitors mentioned overall layout, quality and content (30 per cent), the building or architecture (12 per cent) and the focus on Australian subjects (12 per cent). Seventy-six per cent of visitors agreed that they had learned something interesting about Australian history during their visit.
The positive visitor response was also demonstrated by questions such as 'Would you recommend the National Museum to your friends?' with 84 per cent of visitors responding 'yes, definitely' and a further 11 per cent 'probably'. When asked 'Based on your visit to the National Museum today, which of the following words do you think best describes it?' visitors tended to select 'stimulating' (36 per cent), 'engaging' (24 per cent) or 'contemporary' (22 per cent).
The only aspect of the Museum to elicit substantial negative comment was 'confusing layout and flow' (15 per cent). Ongoing improvements to signage, availability of maps and further work on exhibition labelling continue to address this problem.
Monthly visitation numbers to permanent exhibitions
2005-06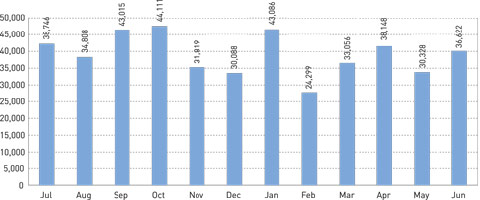 Monthly visitation numbers to temporary exhibitions
2005-06

Monthly visitation numbers to travelling exhibitions 2005-06

Monthly participation numbers in public programs 2005-06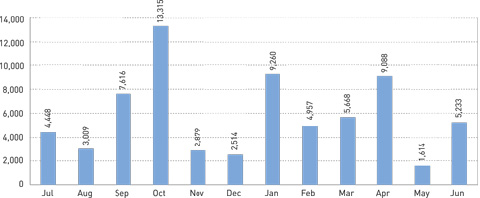 Monthly participation in externally organised functions/venue hire 2005-06
Breakdown of total 2005-06 Museum visitation by visitor category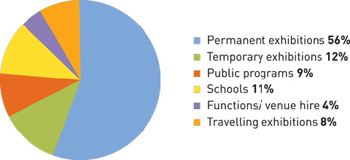 Communications and information management
Public Affairs
The Museum's Public Affairs section generated broad coverage of exhibitions, programs and the collection, informing audiences across Australia about new displays, acquisitions and services.
Media coverage of acquisitions to the National Historical Collection, and the care of these objects, continued to increase. Publicity campaigns on new conservation and storage techniques developed for the long-term care of Phar Lap's heart and the thylacine carcass were particularly successful. There was also widespread coverage of acquisitions including a colonial era snuffbox gifted to Lieutenant James King, Robert O'Hara Burke's water bottle and Evonne Goolagong Cawley's Wimbledon trophies.
Evonne Goolagong Cawley visited the Museum for a media launch coinciding with the opening of the new exhibit, 'Sport: A national obsession?' The launch resulted in coverage across Australia and helped to inform visitors about the Museum's continuing program of gallery refreshment and redevelopment.
Public Affairs strategies also resulted in widespread coverage of the Museum's exhibitions in Canberra and beyond. Captivating and Curious was particularly successful, with strong messages about the development and care of the collection reaching a national audience. This was reinforced by the establishment of a continuing relationship with ABC TV's Collectors program. Collectors publicised the Museum on a weekly basis and encouraged viewers to contribute news of their collections, with one to be exhibited at the Museum in early 2007.
A number of national media outlets visited the Museum, including ABC local radio's Coodabeen Champions and Channel Nine's Today Show. Other media representatives came to the Museum through visiting journalist programs organised by the Department of Foreign Affairs and Trade and the Australian Capital Tourism Corporation.
Regional media coverage was achieved by providing resources and assistance to venues that hosted travelling Museum exhibitions. All Aboard made headlines in centres including Dubbo and Tamworth; Hickory Dickory Dock was well-covered in Albury, Kalgoorlie and Mount Gambier; and Our Community was publicised in western New South Wales.
Good publicity was received for the Museum's evolving program of research and scholarship, including the launch of publications such as the scholarly journal, reCollections, and the Making Tracks children's collection.
Collaboration continued with other organisations to promote the Museum's programs. Public Affairs worked with colleagues from diverse groups, including Canberra Arts Marketing, the Canadian High Commission, Geoscience Australia, the Koorie Heritage Trust and the International Council of Museums, to publicise new exhibitions and events.
Marketing the Museum
The Museum hosted the Development Marketing Forum in May 2006, a biannual forum attended by representatives from regional, state and national cultural/arts institutions.
Audience segmentation and brand audit projects
Colmar Brunton Social Research was commissioned to conduct the following major research projects relating to the Museum's audience and brand:
Audience segmentation — research focused on both qualitative and quantitative interviews across Australia that generated a segmentation of our audiences based on their levels of interest in the Museum. The segmentation will contribute to the effective planning of Museum programs and activities
Brand audit — with the current brand campaign in place since 2003, the Museum conducted research that revealed that the campaign is highly effective: those who have seen the advertising are twice as likely as those who have not to state that they intend to visit the Museum in the next 12 months.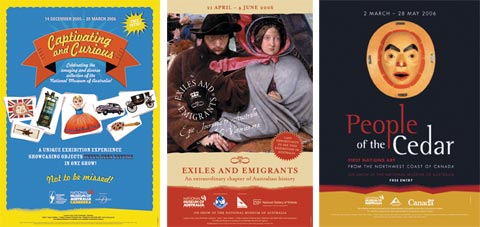 Marketing campaigns
Successful marketing campaigns were developed for the temporary exhibitions Captivating and Curious, Exiles and Emigrants and People of the Cedar.
The total number of visitors to Captivating and Curious was 81,709, with approximately 67 per cent of visitors to the permanent galleries opting to visit Captivating and Curious.
Marketing also supported the travelling exhibition program featuring Behind the Lines, In Search of the Birdsville Track, Ned Kelly, Hickory Dickory Dock, Our Community, Pooaraar and All Aboard.
Gondwana, an innovative family theatre program staged in the Museum's Temporary Exhibition Gallery, was successfully marketed to a family audience. Total attendance was 11,540 visitors, with over 39 performances — five of which were added due to popular demand.
Other highlights included:
the success of the Museum's Shop marketing strategy, which contributed to an increase in retail net profit
separate marketing campaigns for school programs, Museum tours and school holiday programs
development of tour packages for inbound tour operators and international markets.
The Museum continued to strengthen its collaborative relationships with tourism industry associations such as the Tourism Task Force, Canberra Convention Bureau, the Australian Tourist Commission and the Australian Capital Tourism Corporation.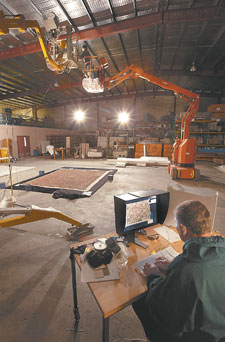 Photography
This year more than 250 photographic assignments were completed, producing approximately 2300 images to support the Museum's communications activities, and corporate and public events. High-quality photographic work was used in Museum publications such as the exhibition catalogue Captivating & Curious and the Making Tracks collection of children's books which included a multimedia component.
Feature projects this year were:
photography of approximately 500 children's paintings from Northern Territory communities including Bathurst Island
photography of the Papunya Tula collection, comprising approximately 100 paintings with some very large artworks that required an elaborate camera setup.
Copyright and reproductions
The Museum's Copyright and Reproductions section processed more than 3000 requests for images and copyright clearances for use in exhibitions, publications and websites as well as marketing and public affairs material. The number of external requests for the use of images owned by the Museum increased.
The Museum also continued to participate in an intellectual property education and networking group, Copyright in Cultural Institutions, comprising national cultural institutions in Canberra.

Print publishing
Print publications 2001-2006
| | |
| --- | --- |
| Financial year | Number of publications |
| 2001–02 | 4 |
| 2002–03 | 4 |
| 2003–04 | 9 |
| 2004–05 | 6 |
| 2005–06 | 8 |
National Museum of Australia Press publishes books, catalogues and journals as part of the Museum's research, exhibitions and outreach activities, which are designed to appeal to a wide range of readers, from academics to children. This year was particularly productive with eight books published.
Two significant exhibition catalogues were produced in 2005–06. Captivating & Curious: Celebrating the Collection of the National Museum of Australia provided for the first time a comprehensive account of the National Historical Collection. The second significant catalogue was produced for Cook's Pacific Encounters: The Cook–Forster Collection of the Georg-August University of Göttingen and featured reproductions of the 350 objects in the exhibition (see Exhibitions section for more details).
A Crowning Achievement: A Study in Australian Beauty, Business and Charitable Enterprise was a major research publication produced as a result of an Australian Research Council grant. Written by Professor Kay Saunders and Dr Julie Ustinoff from the University of Queensland, A Crowning Achievement explores the notion of the beauty contest as part of the social and cultural fabric of societies around the world. It focuses on the Miss Australia Quest — the longest running, most popular and most successful charitable event in the nation's history. A Crowning Achievement was launched in September 2005 at the Museum of Brisbane by Joan Stanbury, Miss Australia 1959.
As part of the celebrations of the Museum's fifth birthday, the first issue of the biannual scholarly journal, reCollections: Journal of the National Museum of Australia, was launched. An independent, peer-reviewed journal, reCollections is published both online and in hard copy, and focuses on museology (museum practice) and the history and interpretation of objects in Australia and the Asia–Pacific region.
During the year, another title was added to the National Museum of Australia Collection Series. The series focuses on single objects or collections from the National Historical Collection and aims to make Museum research accessible for non-specialised readers. Wrapped in a Possum Skin Cloak, released in October 2005, has proved to be a very popular title. This title, based on the Museum's Tooloyn Koortakay ('Squaring skins for rugs') display of Victorian Aboriginal possum skin cloaks, was launched at the Koorie Heritage Trust in Melbourne by Indigenous Elder Kerraie Wurrong and Uncle Ivan Couzens, father of co-author Debra Couzens.
Making Tracks, an important collection of books inspired by Museum objects and aimed at children from seven to ten years old, was published this year. The first release of this series features four books written by well-known Australian children's authors and illustrators who take young readers on a fictional journey through some fascinating Australian stories. The titles are complemented by educational support material on the Museum's website. Mark McLeod, President of the Children's Book Council of Australia, launched the collection in Sydney in May 2006. The Museum also collaborated with educational publisher, Jacaranda, to publish Signed, Sealed, Delivered: Our Textual Heritage. This resource, designed for secondary students, uses the Museum's collection to present a variety of text types, including letters, documents, posters, images, advertisements and print media.

Website publishing
In March 2006 the Museum added significant new functionality to the website as part of the final stage of the website architecture project. This release provided enhanced user access to collections and increased the Museum's ability to interact with audiences online, for example:
Collections Search allows users to access object records from the Museum's Opal database
History Browser provides a visual exploration of some of these objects and how they relate to people, places, events and topics in Australian history
My Museum allows registered users to participate in forums, upload stories, collect objects and create galleries
the virtual tour focuses on how a visitor might experience the Museum's architecture and the permanent galleries.
The Museum continues to develop its online content, particularly exhibition and collections material, education resources and research.
Online exhibition sites were developed to support the Museum's major temporary exhibitions, Captivating and Curious, Exiles and Emigrants and Cook's Pacific Encounters. Community-based online exhibitions were expanded with the addition of Goolwa/Toowoomba Basin Bytes, Many Rhymes, One Rhythm: Young Australian Hip-Hop from the Bush to the Plains and Snapshots, which focused on Northern Territory schools.
Collection-based content improved with the creation of the Collection Highlights section, showcasing around 70 significant objects from the National Historical Collection, including the Miss Australia crown and Evonne Goolagong Cawley's Wimbledon trophies.
Online interactives developed by the multimedia team contributed significant content to the website. This year major interactives included Making Tracks, Batmania, Oscar's Sketchbook and the completion of the Learning Federation web-based interactive resources project.
Overall visitation to the website continued to grow, with 1.3 million visits in 2005–06 (467,000 unique visits), reflecting a 60 per cent increase from the previous year (795,000 visits in 2004–05).
Multimedia
The Museum commissioned a range of video, interactive and multimedia projects for exhibitions and the Museum's website. Major projects for this year were seven audiovisual displays for the Captivating and Curious exhibition, including an interactive display enabling visitors to explore all 40 pages of Oscar's Sketchbook, an exercise book from the Museum's collection that features the drawings a young Aboriginal man used to record his life. This interactive was highly commended in the Multimedia section of the Museums Australia Publication and Design Awards for 2005.
Other projects included the Batmania online interactive exploring the people and events surrounding the foundation of Melbourne; and the Making Tracks interactives featuring Museum objects in the Making Tracks book series, including a Chevrolet truck from the 1940s and the ABC outside broadcast van used to televise the 1956 Olympic Games
in Melbourne.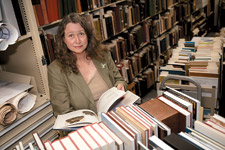 Library resources
The Museum's Library acts as a research service and information resource for Museum staff. It currently holds more than 35,000 books, journals and audiovisual items predominately in the areas of museum studies, conservation, Indigenous Australians, Australian history and the Australian environment. It is open to the public from Tuesday to Friday.
Work on cataloguing and organising donated materials, added to the special collections, continued to be a priority project this year. A further large donation, including valuable personal papers, expanded the Dr Bob Edwards special collection. The expansion in special collections required establishing an extra storage and workspace at Fyshwick.
Use of the Library by staff and public continues to increase. The launch of Libraries Australia, with growing numbers of reference queries and use of our resources, has contributed to this growth. A number of major bibliographies prepared in association with new exhibitions and programs were published electronically.
The new Library information system has been used by Library staff throughout the year and its WebOpac catalogue was launched in June 2006. The system offers improved internal and external access to the online Library collection, more end-user self-service options and improved functionality, to streamline Library services and operations.
Information technology
Work during the year continued to focus on raising the level of service provided to information technology users across the Museum, resulting in improved customer satisfaction and confidence.
The following information technology projects were concluded during the year:
A new standard operating environment for desktop hardware and software, which included comprehensive user training and support, was rolled out
The Museum's internal intranet project, Museum Central, was released, with responsibility for maintenance of relevant key procedural and support information devolved to staff
Stage one of Project Quartz, the Museum's new human resources system, featuring payroll and leave processing, was implemented. Configuration, development and testing of stage two to provide four elements of self-service functionality continued during the year. Stage two is expected to go live in July 2006.
Ongoing projects included the following:
The Museum's information technology Security Policy was further refined and supplemented by a number of related policies and procedures to be released in July 2006 for staff comment. Infrastructure improvements continue to enhance overall information technology security, including the installation of new firewall software.
Information technology staff continue to contribute to government information technology management development and collaboration through active participation in the Commonwealth Chief Information Officer Forum and the Cultural Management Facility/Information Technology group.
Following intensive testing of its technical aspects, the Museum's new website went live in March 2006. Work continued on the development and implementation of further enhancements for delivery in the first quarter of 2006–07.
Records management
Administrative files were reviewed using formal processes established by the National Archives of Australia. As a result, a number of older files were disposed of in accordance with Commonwealth recordkeeping requirements.
A project was established to enhance the Museum's recordkeeping practices using the Designing and Implementing Recordkeeping Systems methodology recommended by the National Archives of Australia. Step B, the Analysis of Business Activity, was completed in April 2006 and is currently with the National Archives of Australia for approval. Step C, the Identification of Recordkeeping Requirements, is due for completion in 2006–07.
The Museum's recordkeeping software, TRIM, was upgraded to the web interface version. This allows for easier and more meaningful reporting, and offers increased functionality that will allow the Museum to move to the initial stages of electronic recordkeeping later in 2006–07.
Volunteers
The Museum values the contribution of volunteers and recognises the wide range of skills and knowledge they bring to the Museum. By engaging volunteers the Museum is able to actively involve members of the community in its programs and promote a two-way transfer of skills and knowledge.
A new Volunteer Policy was developed in 2005–06 as a framework for best practice management of volunteers. The policy encourages an environment where volunteering is rewarding, interesting and enjoyable, and volunteers are regularly recognised for their commitment and contribution.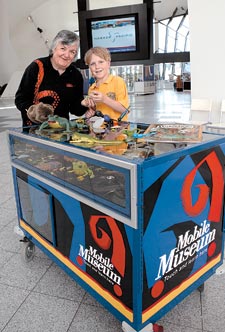 In 2005–06, the Museum involved 79 volunteers who contributed 8001 hours to the Museum — an increase of 740 hours from the previous year. Volunteers contributed to the following programs and activities:
Education programs — 30 volunteers contributed a total of 2401 hours: eight of these volunteers have worked with the Education section since 2001. A bi-monthly training plan was put in place for Education volunteers this year.
Public programs — during the Gondwana family theatre season, short-term volunteering was trialled with six senior high school students recruited from two local schools to perform backstage duties and contribute 420 hours in a four-week period, each averaging 70 hours. Volunteers continued to develop and operate touch trolleys allowing visitors, particularly children, to touch and explore objects. Two public programs volunteers were instrumental in the development of the popular 'Cabinet of curiosities' within the Captivatingand Curious temporary exhibition. In total, 13 volunteers contributed 1028 hours to various public programs in the Museum.
Museum Library — volunteers assisted with the cataloguing, repair, protection and security of the Library's collections. During the year, two volunteers contributed 293 hours to the Library's operations.
The Museum's most significant volunteer program is the PS Enterprise program whose crew — masters, engineers, galley hands and deckhands — is drawn entirely from volunteers, who fulfil different roles depending on their qualifications and experience. This is the longest running volunteer program in the Museum and existed prior to the opening of the Museum in 2001. In January 2006, five PS Enterprise volunteers were recognised for more than 15 years of service and awarded Australia Day Achievement Medals.
Thirty-four volunteers contributed 2671 hours to ensuring that the PS Enterprise operated one day of each weekend from September 2005 to May 2006. Visitor numbers remained stable at 4137. The Museum's Director appointed one new master, three leading deckhands and two new engineers, all of whom completed the requirements for these positions.
Friends of the National Museum of Australia
The Friends developed its membership base and profile during the year, providing programs to meet the needs and interests of its members, enhancing the quality of its membership services and strengthening its partnership with the Museum.
In May 2006, Friends membership comprised 3200 people. Approximately 25 per cent of members live outside a 150-kilometre radius of Canberra. Fifty per cent of members are families, 25 per cent individuals and 25 per cent organisations.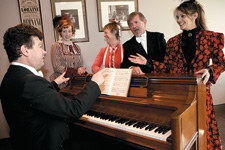 More than 2100 members attended Friends programs and events during the year, highlights of which included:
a winter gardening series
the Playlunch with Friends and Get Messy with Grandma series
the Women's Voices series
the Indigenous Autobiography series
a book launch for 49 Days to England on the PS Enterprise
a Springbank Island/PS Enterprise Picnic Day
a Japanese craft exhibition, Handcrafted Form: Traditions and Techniques
a Victorian high tea and parlour performance
curator-led previews of all Museum exhibitions
a day trip to the Springfield property in Goulburn.
The Friends organised activities for a number of groups including the Historic Houses Trust, Spouses of the Heads of the Diplomatic Missions, and the Women's International Club Arab Culture group.
The Friends undertook two tours in 2005: a cultural heritage tour to Lake Mungo and Willandra Lakes world heritage area led by Professor John Mulvaney, and an Explore Kakadu and Beyond tour with World Expeditions.
The Friends magazine continued to be well-received by members and is considered a major reason for ongoing membership. The magazine is distributed widely to parliamentarians, libraries and museums around Australia and Australia's diplomatic missions overseas.
Carolyn Forster, President of the Friends, was elected President of the Australian Federation of Friends of Museums (AFFM) in 2005 and was also appointed the Australian delegate to the World Federation of Friends of Museums (WFFM) in April 2006. The AFFM/WFFM provides valuable links with other organisations in Australia and internationally, focusing on the advocacy of cultural institutions.
The Friends acknowledge the following organisations and individuals for their invaluable support:
continuing sponsorship by Rosemount Wines and the Hyatt Hotel
continuing sponsorship by Pete's Toys, providing children's toys for the Friends Lounge
the appointment of Pauline Hore as Friends auditor on a pro bono basis
new partnerships and benefits for Friends members provided by Doma Hotels, Hopscotch films, Canberra Theatre, Berkelouw Books and Forrest Inn.
The Museum continued to provide financial support to assist with membership programs and services.