We are no longer updating this page and it is not optimised for mobile devices.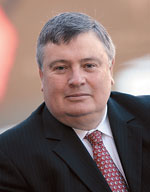 After five years of operation at Acton, the Museum is well-placed to build upon its achievements and learn from its experiences. This year we continued to focus on strengthening core activities and planning for the future — developing the collections, reviewing and improving exhibitions, expanding our research base, and refining operational processes.
Much of this work is central to the ongoing implementation of the four-year Collections and Gallery Development Plan, which guides the Museum's progress and addresses some issues raised in the Review of Exhibitions and Public Programs (2003). As a result of this plan, signage and navigational materials were improved to assist visitors in finding areas of interest within the Museum; new modules and displays were included in permanent galleries; and the Museum's Council approved a conceptual brief for the full redevelopment of two galleries: Creating a Country, and Australian Journeys (currently known as Nation and Horizons) — due for installation in 2008 and 2009.
Work also commenced on a new film production for the Circa theatre to be installed in 2007. Also developed and approved by Council was a new Collections Development Plan, which updates and integrates the former Collections Development Policy.
Significant acquisitions included the water bottle of Robert O'Hara Burke, the famed explorer who died tragically in 1861 at Cooper's Creek during an expedition to the Gulf of Carpentaria; a rare convict shirt, a punishment shoe and related materials from Tasmania; and a cricket stump from the 'Bodyline' series of 1932–1933 and a bat used by Sir Donald Bradman on the 1934 Australian tour of England. It was particularly pleasing that the Museum was able to put on permanent display the recently acquired 1955 FJ Holden in the new exhibit 'Australia's own car'.
Permanent, temporary and travelling exhibition activity was high this year, reflecting a greater focus on travelling exhibitions to regional and remote venues throughout Australia. Eight exhibitions travelled to 28 venues in 2005–06, compared to five exhibitions travelling to nine venues in 2004–05.
The Museum displayed 12 temporary exhibitions, seven of which were developed by the Museum during this year. Captivating and Curious: Celebrating the Amazing and Diverse Collection of the National Museum of Australia was the Museum's most successful temporary exhibition, and Cook's Pacific Encounters: The Cook–Forster Collection of the Georg-August University of Göttingen featured stunning objects not seen before in Australia.
All Museum exhibitions and collection development activities are underpinned by quality research. The Museum's in-house publisher, National Museum of Australia Press, is an important outlet for the scholarship of our research program and it produced eight publications in 2005–06. The first issue of reCollections, the Museum's peer-reviewed online scholarly journal, was launched in March 2006.
Business planning and financial management were strongly aligned across all program areas and a substantial emphasis was placed on building the organisation's business operations skills. The Museum's serious shortage of space for staff was addressed through the completion of the Acton Annexe extension (providing additional office space for 14 staff) and the development of a Strategic Accommodation Plan.
Collection storage remains a crucial issue for the Museum and considerable work has been done on developing a business case and plan for upgraded facilities. Similarly, as we develop our exhibitions in response to the Review of Exhibitions and Public Programs, there will be a growing need for additional permanent exhibition space.
After a decline in visitation in 2004–05 to 666,000, Museum numbers recovered in 2005–06 to reach 771,000. Research showed that visitor satisfaction remained high.
The Museum's international activities increased this year with support provided to the International Council of Museums Australia Museum Partnerships Program, which enables Australian museums to share their expertise with our Asia–Pacific neighbours. As an international extension of the successful domestic program, a Talkback Classroom forum was held in New York, USA, on 28 October 2005 and students prepared for a forum to be held in Seoul, Korea, on 3 July 2006.
As we strengthen our collections, research and business operations, we look to the future with great optimism and commitment to our vision.
I wish to acknowledge the government's support for the Museum and in particular the support of our portfolio ministers Senator the Hon. Helen Coonan and Senator the Hon. Rod Kemp. I am also grateful for the continuing support and assistance of the Chairman of Council, the Hon. Tony Staley, and of other Council members.
I would also like to acknowledge the highly active Friends of the National Museum of Australia for their ongoing support and commitment to the organisation.
Finally, I wish to congratulate and thank the Museum's staff and volunteers for their continuing dedication to the organisation and its visitors.

Craddock Morton
Director
August 2006
Return to

Top