We are no longer updating this page and it is not optimised for mobile devices.
National Museum of Australia organisation chart May 2005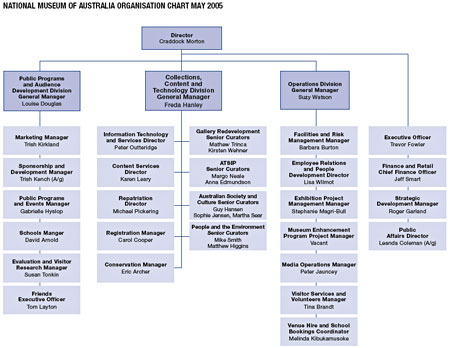 Accountability chain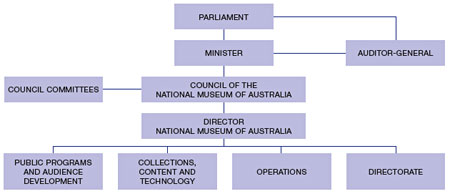 Performance management framework
The Museum's organisational Performance Management Framework continues to provide the structure for delivering outputs and outcomes through planning, policy and procedural work. Performance is guided by the Museum's Strategic Plan and its vision and mission statements and tracked through a set of quantitative measures and project management practices.
Performance management framework overview
Strategic plan
This has been the first year of implementation for the Museum's Strategic Plan 2004-2007. The key priorities are summarised on page 8. A summary of progress against the Strategic Plan's business priorities for 2004-2005 is provided in Part 1, Executive Summary.
Business planning
Business planning and performance reporting are central to the Museum's delivery of outcomes and outputs for its stakeholders. Museum business units implement annual business plans linked to the Museum's strategic priorities. Business planning identifies key risks for the delivery of the Museum's priorities and includes risk mitigation.
Project management
During the year, the Museum Project Management Methodology was developed, formalising and clarifying a range of existing practices. In support of the methodology, the pilot phase of a new project management software system was successfully completed. The methodology, software and project support will continue to evolve.
Policies and procedures
Supporting continuous improvement, the Museum completed the first year of a two-year review of its suite of policies and procedures. Sixteen high-level policies were reviewed or developed and approved by Council. These policies are available in the public domain via the Museum's website. In the coming year, remaining policies will be reviewed and the standardisation of procedures progressed.
Policies approved by Council during the year
Aboriginal and Torres Strait Islander human remains
Asset management
Audience development
Collections development
Communication
Cultural diversity
Exhibitions: Temporary and travelling
Interpretation
Investment
Occupational health and safety
Outreach
Publishing
Research and scholarship
Risk management
Security
Sponsorship and development.
Return to

Top