We are no longer updating this page and it is not optimised for mobile devices.
Sponsorship and development
Corporate sponsorship and partnerships are secured to support Museum programs and to extend and enhance activities such as marketing and technology. In 2004-2005, the Museum continued to develop new collaborations and to revise its Sponsorship and development policy and processes. Substantial support was provided by the History Channel, which promoted the Outlawed! and Extremes exhibitions and also broadcast other Museum advertising material in key markets.
The Museum's Corporate Circle Program continued to engage local business supporters and provided opportunities for members to increase their level of support for the Museum for example Acumen Alliance sponsoring Behind the Lines 2004. A key benefit provided for sponsors and Corporate Circle members was the annual networking forum Getting Down to Business held in February 2005. The event attracted more than 300 of Canberra's government and private sector decision-makers.
Merchandising and retail
Merchandising and retail operations enable the Museum to raise commercial revenues while at the same time enhancing visitor experiences through the provision of merchandise that is largely inspired by its exhibitions and its unique building.
Key achievements during 2004-2005 included:
a 20.4 per cent growth in average spend per Museum visitor
a 6.6 per cent growth in conversion rate (that is, the percentage of Museum visitors who purchase from the Shop during their visit).
Retail staff were also active members of the Australian Capital Territory cultural shops forum. This forum includes retail managers from the National Gallery of Australia, Questacon, Parliament House Shop, National Library of Australia, Old Parliament House and ScreenSound Australia.
Venue hire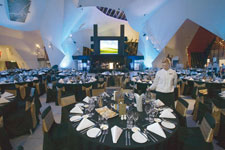 The Museum is a popular venue for a range of corporate events including conferences, meetings, product launches, gala dinners, awards presentations and cocktail receptions.
This year the Museum continued to focus on promoting the venue to the convention industry. Key relationships were developed within the industry to help promote the Museum as a venue to local, national and international markets. This resulted in participation in promotional events such as the AsiaPacific Incentives Meetings Expo and the Canberra Convention Bureau's 'Top Secret' events.
Return to

Top