The Museum values the contribution of volunteers and recognises the wide range of skills and knowledge they bring to the Museum. By engaging volunteers the Museum is able to actively involve members of the community in its programs and promote the two-way transfer of skills and knowledge.
This year, 67 volunteers contributed 7261 hours to the completion of Museum programs - an increase of 1528 hours over the previous year. The following provides an outline of some volunteer activities within the Museum.
Schools programs
Twenty-six volunteers contributed a total of 2152 hours to the Museum's schools programs this year. Volunteers helped present and deliver a variety of programs to groups of students from five to 18 years of age. In October, their work was recognised with an Australian Capital Territory Children's Week Award.
Public programs
Volunteers continued to assist with the development and operation of touch trolleys throughout the Museum, holiday programs, play lunch with Friends, performances and special events. During the year, 12 volunteers contributed a total of 1692 hours to assisting with public programs.
Paddle Steamer Enterprise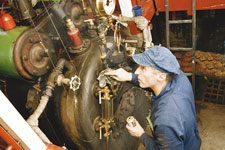 The 126-year-old PS Enterprise is the largest operational object of the NHC maintained by the Museum. The vessel is crewed entirely by volunteers who fulfil different roles on board depending on their qualifications and experience. The crew consists of masters, engineers, galley hands and deckhands. Two new masters were appointed during the year.
The PS Enterprise operated for a total of 42 days over eight months. Visitor numbers to PS Enterprise public inspection days increased by 73 per cent, with more than 4115 visitors. During the year, 34 volunteers contributed a total of 1495 hours to the PS Enterprise's operations and maintenance.
Museum Library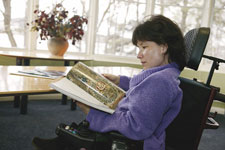 Five volunteers contributed 247 hours to the Library's operations, assisting with the cataloguing, repair, protection and security of the collections.
Photo (right): Volunteer Emma Burke in the reading room of the Library.