Four years after opening, the Museum's visitation numbers have stabilised at the anticipated long-term levels. The decline this year reflected the smaller number of temporary exhibitions and a general downturn in tourism to Canberra. Visitor satisfaction levels remained high with 91 per cent indicating they were 'satisfied' or 'very satisfied' with the Museum.
This year was marked by normal seasonal fluctuations, experienced by most Canberra venues with peaks in school holiday months and major downturns inbetween, especially in the winter.
The year's visitation was marked by the following features:
Schools visitation remained at about the same level
Travelling exhibitions and functions/venue hire experienced much quieter activity
Attendance at public programs and events increased a substantial 15 per cent. This can be attributed to an increased level of activity and the scheduling of a series of popular events including the highly successful A day in the extremes in February.
| | | |
| --- | --- | --- |
| Visitor Numbers | | |
| Location | 2003-2004 | 2004-2005 |
| Permanent exhibitions | 435,101 | 398,063 |
| Temporary exhibitions | 94,964 | 19,978 |
| Travelling exhibitions | 122,164 | 87,693 |
| Public programs and events | 40,593 | 46,731 |
| Schools | 85,141 | 82,765 |
| Functions/venue hire | 42,214 | 30,943 |
| Total | 820,177 | 666,173 |
Travelling Exhibition Visitor Services
Rare Trades
19,282
Outlawed!
21,114
Hickory Dickory Dock
24,580
Behind the Lines 2003
15,717
Behind the Lines 2004
7000
Total
87,693
Visitor Statistics 2004-2005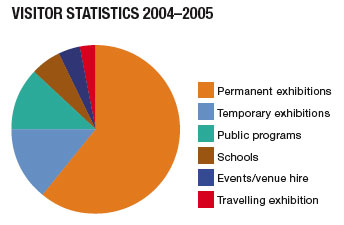 Permanent exhibitions
Temporary exhibitions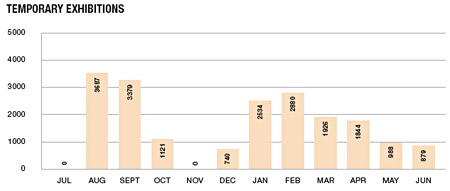 Travelling exhibitions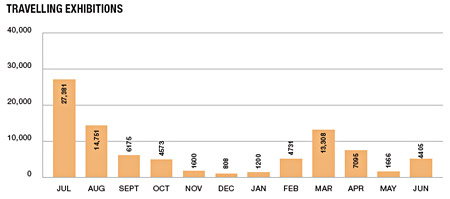 Public programs and events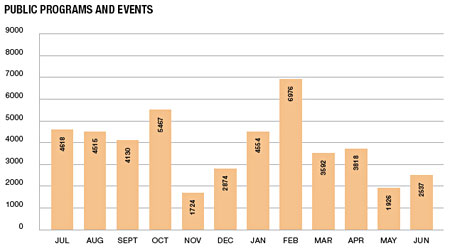 Functions/venue hire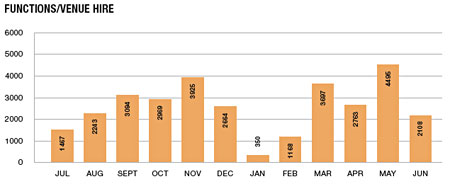 Visitor feedback
The Museum actively seeks visitor comment by conducting exit interviews, commissioning audience research and inviting visitors to use the feedback forms provided. Informal comment is also noted by hosts and public programs staff. Data collected from visitor interviews is entered into an increasingly valuable database that enables the analysis of visitor demographics, attitudes and behaviour over time.
Museum visitors have continued to demonstrate high satisfaction levels. Of 1218 visitors interviewed during the year, 91 per cent said they were 'satisfied' or 'very satisfied' with their experience.
Age groups most strongly represented were 4044 years, 5054 years and 5559 years (each 10 per cent).
Twenty-six per cent of visitors were from Canberra or Queanbeyan, 61 per cent from elsewhere in Australia, in particular Sydney and regional New South Wales, and 13 per cent were from overseas.
The proportion of repeat visitors rose to 40 per cent in April. Fourteen per cent of visitors interviewed during the year had previously visited the Museum three or more times.
When invited to say what they liked most about the Museum, visitors mentioned features such as Circa and Kspace (22 per cent and 16 per cent respectively) the Museum's architecture (16 per cent), and the overall layout and presentation of exhibitions (13 per cent). Asked to agree or disagree with a key statement, 77 per cent also confirmed that they had learned something new about Australian history during their visit.
The positive visitor response is also confirmed by questions such as 'Would you recommend the National Museum to your friends?' with 84 per cent of visitors responding 'yes, definitely' and a further 12 per cent 'probably'. When asked 'Which of these words describe the feelings you experienced during your Museum visit?', most visitors selected 'welcome' (75 per cent) and 'relaxed' (74 per cent). None felt 'bored', although 6 per cent admitted to feeling 'confused'.
Aspects of the Museum which elicited negative comment included 'confusing layout' (8 per cent) and 'easy to get lost' (3 per cent). An improved map given to all visitors as well as further work on exhibition labelling and signage is expected to address this problem.
Official visitors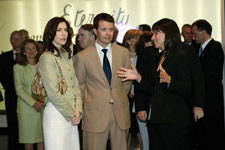 The Museum was host to an increasing number of official visitors during the year. These included delegations and representatives from overseas governments, international research institutes and cultural organisations, as well as visits from Australian members of parliament, other government representatives and sponsors and donors.
Photo (right): Curator Sophie Jensen shows Crown Prince Frederik and Crown Princess Mary of Denmark through the Eternity gallery.