We are no longer updating this page and it is not optimised for mobile devices.
Sponsorship and development
Corporate sponsorship and partnerships are secured to support Museum programs and to extend and enhance activities such as marketing and technology. In 2003-2004, the Museum increased its success in sponsorship and development activities by negotiating agreements with the potential to deliver more than $1.5 million in sponsorship. Substantial support was provided by: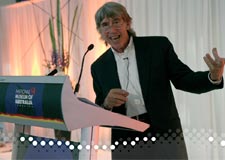 The APN News & Media Group entered their second year as a major media partnership, offering outdoor advertising promotion for the Museum brand and for the Outlawed! exhibition locally and interstate.
Doma Hotels Canberra, the Museum's preferred accommodation supplier, renewed support for the Museum for the third year, providing a sponsorship fee, free-of-charge room nights, assistance with tourism promotion and promotion of the Outlawed! exhibition.
Lockwood Security Products contributed a substantial cash sponsorship and exhibition support to secure Presenting Rights for Outlawed! in Canberra, Melbourne and Brisbane.
Novell is assisting the Museum to develop a personalised online website called My Museum
The Museum's innovative Corporate Circle Program continued to engage business supporters and provided opportunities to build additional linkages Australia wide. A key benefit provided for sponsors and Corporate Circle members was the annual networking forum Getting Down to Business held on 19 February 2004. The event attracted more than 260 of Canberra's public and private decision makers and featured a keynote presentation by futurist, Richard Neville.
A full list of Museum sponsors and supporters is in Appendix 14.
Merchandising and retail
Merchandising and retail operations enable the Museum to raise commercial revenues while at the same time enhancing visitor experiences through the provision of merchandise that is largely inspired by its exhibitions and its unique building.
In response to limited commercial returns in its first year of operation, a detailed review of retail activities was undertaken and implemented in 2002-2003, with further enhancements undertaken in 2003-2004. This contributed to a turnover increase of 4.4 per cent to $1,034,152 in 2003-2004.
In March, the Museum conducted a visitor survey which showed an improvement in all areas of retail service compared with the previous year, including:
Shop price range rating of very good to good increased by ten per cent
Shop variety of stock increased to a very good/good rating of 84 per cent
Shop presentation and appearance increased by three per cent to 97 per cent for a rating of very good/good
Shop customer service was 100 per cent at the very good/good rating, up seven per cent on the prior year.
Key areas for retail improvement during 2003-2004 included:
a 13 per cent growth in average spend per Museum visitor
an eight per cent increase in conversion rate (that is, the percentage of Museum visitors who purchase from the Shop during their visit)
the Shop conducted an exhibition in conjunction with the Chief Minister's Office (ACT) as part of the Nara sister city 10th anniversary. The official delegation from Nara visited the Museum as part of their stay in Canberra.
continued development of stock and suppliers, such as a visit to Alice Springs where time was spent with the Northern Territory Food Group. This facilitated an increase in the range of native bush foods and potential for program activities using this theme. The trip also involved meeting with Desart advocacy group, which represents over 36 Indigenous communities around Alice Springs. This has strengthened the Museum's Indigenous product range.
Retail staff were also active in forming an ACT cultural shops forum, including key members (Retail Managers) from the National Gallery of Australia, Questacon, Parliament House Shop, National Library, Old Parliament House and Screen Sound Australia.
Venue Hire
The Museum is a popular venue for a range of corporate events including conferences, meetings, product launches, gala dinners, awards presentations and cocktail receptions.
This year the Museum continued to focus on marketing its venue to the convention industry. Key relationships were developed within the industry to help promote the Museum as a venue to local, national and international markets. This resulted in participation in promotional events such as the Asia-Pacific Incentives Meetings Expo, the Canberra Showcase in Sydney and Melbourne and the Canberra Convention Bureau's 'Top Secret' events.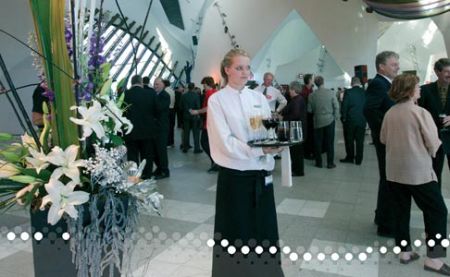 Return to

Top