We are no longer updating this page and it is not optimised for mobile devices.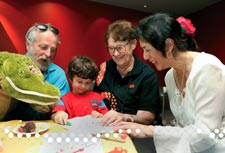 The Friends developed its membership base and profile during the year, providing programs to meet the needs and interests of its members, enhancing the quality of its membership services and strengthening the partnership with the Museum.
In December 2003, Friends membership comprised 3000 people. Approximately 25 per cent of members live outside a 150-kilometre radius of Canberra. Seventy per cent of members are families, 20 per cent individuals and 10 per cent organisations.
More than 2000 members attended Friends programs and events during the year, highlights of which included:
a winter gardening series
Rugby World Cup celebrations with 'Pies, Beer and Rugby'
play lunch with Friends
wine tasting at Pialligo winery
National Museum of Australia shopping nights
the Eternal Strings concert featuring instruments created by AE Smith
exhibition previews and behind-the-scene tours
Barbara Blackman on sound
John Feder, chief photographer for News Ltd on the war in Iraq
Professor John Mulvaney on Tasmania's Recherche Bay
Professor Stephen Foster on the Bandit Queen legend of Phoolan Devi.
The Friends magazine continued to be well received by members. Winner of a Museums Australia Publication Design Award in 2003, the magazine was also short listed in 2004. The magazine is distributed widely to parliamentarians, libraries and museums around Australia and Australia's diplomatic missions overseas.
The year culminated in two major achievements in the organisation of the Friends: the implementation of a new information management system, and endorsement by the Australian Taxation Office as a Deductible Gift Recipient. Both enhance the Friends' ability to manage member information and assist with the development of the National Historical Collection.
Carolyn Forster, President of Friends, was elected to the board of the Australian Federation of Friends of Museums in 2003. This provides valuable links with other organisations focusing on advocacy of Australian cultural institutions.
Other highlights of the year included:
continuing sponsorship by Rosemount Wines and the Hyatt Hotel
continuing sponsorship by JB Hi-Fi and Pete's Toys, providing stereo equipment and children's toys in the Friends Lounge
fundraising activities to assist with the Museum's conservation projects
implementation of small temporary displays in the Friends Lounge.
The Museum continued to provide financial support to assist with membership programs and services.
Return to

Top