Visitor numbers for the permanent exhibition galleries remained steady throughout the year, with monthly totals rarely moving more than five per cent above or below those of the previous year. Indications are that the Museum has now reached normal visitation levels for the permanent exhibitions, with additional numbers depending on levels of programming or scheduling of temporary exhibitions.
Areas of increased performance in 2003-2004 were public programs (up 11 per cent) and schools (up five per cent). A more rapid turnover of new exhibitions than in 2002-2003 resulted in a 99 per cent increase in visitation to temporary exhibitions.
LOCATION
NO. OF VISITORS
2002-2003
NO. OF VISITORS
2003-2004
Permanent exhibitions
486,080
435,101
Temporary exhibitions
47,524
94,964
Travelling exhibitions
192,599
122,164
Schools
-
85,141
Public Programs
36,539
40,593
Events
62,307
42,214
TOTAL
825,049
820,177
Booked schools are now categorised separately with an allowance made for unbooked schools in the permanent exhibition total.
The travelling exhibitions figure of 122,164 includes:
| | |
| --- | --- |
| Cartoons 2002 (Geelong, Albury) | 7248 |
| Rare Trades (Adelaide, Ipswich) | 30,319 |
| Behind the Lines (Brisbane, Melbourne) | 55,917 |
| Horacek (Townsville, Portland) | 10,641 |
| Stories from Australia (Adelaide) | 7984 |
| Outlawed! (Melbourne) | 2919 |
| Hickory Dickory Dock (Shepparton) | 7136 |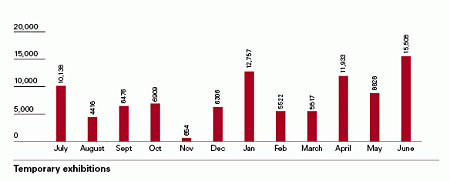 Visitor feedback
The Museum actively seeks visitor comment through exit interviews, commissioned market research and written feedback forms, and informal comment is also made to hosts and staff involved in the delivery of programs. Visitor interviews in particular have given rise to an increasingly valuable database of visitor demographics, attitudes and behaviour over time.
Museum visitors have continued to demonstrate high satisfaction levels. Of 2600 visitors interviewed during the year, 93 per cent said they were 'satisfied' or 'very satisfied' with their experience.
Age groups most strongly represented were 41-45 years (10.9 per cent) and 36-40 years (10.2 per cent).
Thirty-one per cent of visitors were from Canberra or Queanbeyan, 59 per cent from elsewhere in Australia, in particular Sydney and regional New South Wales, and 10 per cent were from overseas.
The proportion of repeat visitors rose to 44 per cent in January 2004. Fifteen per cent of visitors interviewed during the year have previously visited the Museum three or more times.
Visitors continued to make positive comments about the Museum's architecture (25 per cent of those surveyed) and the high quality of exhibitions (19 per cent). Eighty-five per cent also confirmed that they had learned something new about Australian history during their visit.
In response to suggestions made in the review, two new questions were introduced into visitor surveys during the year. The results confirm the very positive visitor response overall.
When asked 'Would you recommend the National Museum to your friends?', 86 per cent of visitors responded 'yes, definitely' and a further 10 per cent 'probably'. Only three per cent chose 'probably not' or 'not sure'. When asked 'Which of these words describe the feelings you experienced during your Museum visit?', visitors selected 'welcome' (74 per cent) 'relaxed' (73 per cent) and 'involved' (45 per cent). Only three per cent felt 'bored' and five per cent 'confused'.
Aspects of the Museum which elicited negative comment included difficulty with wayfinding (14 per cent) and a perceived lack of logic in exhibitions layout (12 per cent). These problems are in the process of being addressed, substantially through improvements in the map given to all visitors and in overall exhibition labelling and signage.
During the year the Museum also carried out observations and interviews devised to measure visitor learning, using templates devised by the MARVEL project (Museums Actively Researching Visitor Experiences and Learning), a joint initiative of the University of Technology, Sydney, the Australian Museum and other partners. Visitors gave Museum exhibitions particularly high scores for learning elements such as 'It was pleasant to be reminded and to learn more', ' I was reminded of the importance of some issues' and 'I discovered things that I didn't know'. The project is expected to continue next year, involving major museum partners in other states.