We are no longer updating this page and it is not optimised for mobile devices.
As specified in its Act, the Museum conducts and disseminates research about Australian history, consistent with the core thematic areas of Aboriginal and Torres Strait Islander history and culture, Australia's history and society since European settlement in 1788, and the interaction of people with the environment.
The Museum also undertakes scientific research related to the care and preservation of collection objects. Such projects are often collaborative ventures with academic and cultural institutions.
Other collaborative research projects focus on museological areas such as audience needs, evaluation, outreach and learning in museums.
Australian Research Council grants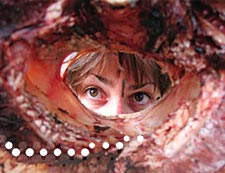 The Museum is currently a partner in a number of research projects funded by the Australian Research Council (ARC). These projects cover a diversity of topics including the conservation of national heritage collections, developing communication strategies for interacting with rural communities, multicultural displays in Asia-Pacific museums, managing the volunteer workforce, and documenting Papua New Guinean ethnographic collections.
As part of the larger project 'Aliens and others: Representing citizenship and internships in Australia during World War II', the Museum developed and planned a symposium, War and Citizenship in 20th-century Australia, which delivered scholarly papers on internment and other wartime citizenship issues.
The Museum also continued its partnership with the Murray-Darling Basin Commission and the University of Tasmania on the 'Committing to place: Murray-Darling Basin outreach project'. The project is researching how information and communication technologies can increase community engagement with environmental and cultural heritage issues.
The Museum was a successful industry partner for two conservation-related ARC Linkage grant projects: 'Bronze Age textiles from Dong Son coffins in Vietnam', partnered by ANU School of Archaeology and Anthropology, draws archaeologists and conservators together to investigate archaeological excavation techniques and the conservation of prehistoric textiles; 'Studies in the degradation of dyes and pigments in ink on paper, in photographic media and on painted surfaces', partnered by University of Canberra, National Archives of Australia, National Library of Australia, ScreenSound Australia, and Australian War Memorial, investigates the causes of deterioration in written documents, film and painted surfaces in museum collections.
The Museum's Aboriginal and Torres Strait Islander Program continued to work on two ARC projects with the Australian National University and one with Monash University, all of which have potential exhibition and publication outcomes. The projects were:
'Collaborating for Indigenous rights: A 50 year retrospective exploring the history of black and white Australian activism, 1957-1972'
'Unsettling history: Australian Indigenous modes of historical practice'
'Art and human rights in the Asia-Pacific: The limits of tolerance in the 21st century'.
Another three-year project, entitled 'The other within', which examines the presentation of Indigenous and minority visual cultures in the Asia-Pacific region, concluded this year with an academic conference, in collaboration with the Research School of Pacific and Asian Studies (ANU). A publication is in progress.
Part one of the 'Art and human rights' project concluded with a three-day academic conference entitled Witnessing to Silence. The Museum collaborated with the National Gallery of Australia, the Humanities Research Centre (ANU), Canberra University and Griffith University to host part of the conference.
Other ARC grant projects included:
'Anthropological perspectives on ethnographic collecting by Australian colonial administrators in Papua New Guinea and their contribution to museum collections'
'The human elements: A cultural history of weather in Australia'
'Asia's first people: The role of east Asia in human evolution during the past half million years'
'Managing the volunteer workforce: Flexible structures and strategies to integrate volunteers and paid workers'
'Copyright and cultural institutions: Digitising collections in public museums, galleries and libraries project'.
Details of all Australian Research Council Linkage projects are in
Appendix 7.
Other research projects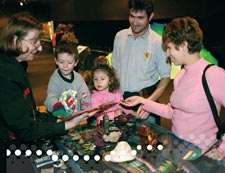 To demonstrate its strong commitment to developing as a learning institution, the Museum convened a workshop, attended by representatives from major museums in Canberra, Sydney and Melbourne, which explored the theory and practice of learning in museums.
In collaboration with the Australian Museum, Sydney, the Museum undertook an audience research study into family visitors, publishing the results as 'Knowledge quest: Australian families visit museums'.
Planning commenced to host a symposium with Yale University in collaboration with the Australian Centre for Indigenous History and Charles Darwin University, scheduled for August 2004.
The Conservation section entered a partnership with the Australian Defence Force Academy Sound and Vibration Laboratory on a project aimed at designing and developing vibration-free exhibition furniture.
Return to

Top