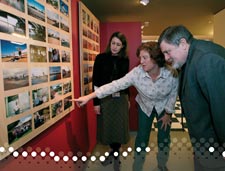 As part of its strategic priority of engaging audiences beyond the Museum site, the organisation undertook a range of public outreach programs. These included:
eight travelling exhibitions were held at a total of 11 venues and attended by 122,164 visitors (see page 43)
five major initiatives were implemented for schools throughout Australia, using print and online materials developed by the Museum (see page 38)
ten new publications were released, based on Museum collections, exhibitions and themes, designed for different audiences (see page 49)
four communities created photographic exhibits for the Nation: Symbols of Australia gallery exhibit Looking around (see page 20) which explores the diversity and experiences of Australian suburbs
young Aboriginal adults from the Alice Springs Gap Youth Centre also began preparing for their involvement in the Looking around project next year
the Museum was a key participant in the On the Trail with Cobb & Co. conference - a three-day conference in Bathurst celebrating the 150th anniversary of Cobb & Co.
The Museum makes extensive use of communications technologies to enhance its outreach activities. A highlight during the year was an online project in which 18 young new media artists remixed digital material from the Outlawed! exhibition, creating new images, animations and graphics. This project was produced in partnership with the Noise Festival, a national event that gives young people the opportunity to showcase their creativity on radio, television, in print and online. The work appeared online (over 10 million hits to date), on ABC TV's national program Rage, in the Noise publication (national circulation 60,000) and as a display in the Outlawed! exhibition at the Museum. The Outlawed! Remixed project also attracted significant media coverage in the Weekend Australian (27-28 September).
The Museum is one of the few cultural institutions in the world to have a broadcast studio capable of producing broadcast-quality radio, television programs, video conference and webcasts. The Studio is an important tool for outreach activities. For example, live videoconferencing activities this year included:
the Art of the Documentary international conference including a live link to acclaimed Russian director Alexander Sukurov in Florence, Italy
as part of National Science Week, encryption expert Simon Singh talked about the Enigma code-breaking machine from the London Museum of Science
the Indigenous Filmmakers Forum linked filmmakers based in New Zealand, Canada and Australia to discuss current trends and issues in Indigenous filmmaking.
The Studio also enabled media organisations such as the Australian Broadcasting Corporation to record programs at and broadcast programs from the Museum, for example, the popular ABC Radio Australia Talks Back program was recorded in the Studio during National Science Week.
Reaching beyond Canberra