Strategic planning
The staged development of a new five-year strategic plan commenced during the year. Phase 1, involving staff consultation and the identification of issues, was completed. Phases 2 and 3 have been delayed following the announcement of the Review of Exhibitions and Public Programs.
It is expected that the new Strategic Plan will be finalised in 2003-2004.
As part of its ongoing program of strategic development and review, the National Museum's planning, reporting and performance management system was updated during the year. Once implemented in 2003-2004, the new system will comprise:
three levels of planning, reporting and performance management


the adoption of a modified quadruple bottom line reporting approach


a management model driven by strategy.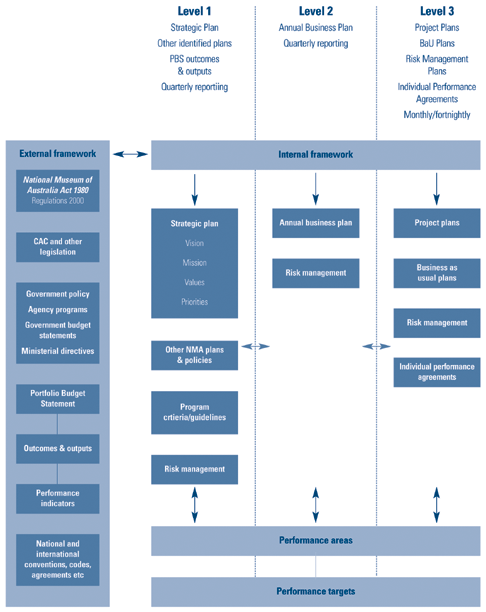 Business planning
Business planning and performance reporting are key components of the Museum's strategies to deliver its outcome and outputs for its stakeholders. At the beginning of each financial year business units complete a business plan which is linked to the strategic objectives of the Museum. The business planning process also identifies the key risks for the delivery of the Museum's objectives, as well as strategies for minimising these risks.
Divisions report performance and progress against business plan initiatives throughout the year. Each month management reports are prepared providing updates on achievements and future issues, as well as progress against key performance indicators.
Evaluation and review
The Museum is committed to an ongoing process of evaluation and review of all its programs to ensure their continued effective delivery to customers and clients. Specifically targeted internal evaluations and reviews during the year included:
wayfinding - despite improvements made to wayfinding in the Museum, feedback continued to indicate that this was an area affecting the visitor experience. A study was commissioned during the year to identify specific areas for improvements and these will be addressed next year


lighting - in response to visitor comments about the darkness of some gallery areas, a review of lighting was undertaken during the year. As a result of this review, the Eternity and Torres Strait Islander galleries were relamped, replacing all showcase lights with lights which have a greater beam angle. At the same time the heat load of the new lamps were reduced to aid conservation of objects and assist in the reduction of energy costs. New fittings were also installed in the First Australians gallery to provide greater levels of light to access areas such as stairs and walkways
Horizon and Nation as well as other parts of the First Australians gallery will be fitted with new lamps and, where possible, light levels in the public access areas will be increased next year.
Relamping also occurred in Tangled Destinies and lower parts of the Nation gallery to balance energy output and assist with maintaining conservation standards. A review of lighting in these areas will be undertaken later in 2003 to assess the standard of lighting for public access


competitive tendering and contracting - the Museum's standard proforma agreements were reviewed to ensure they maintained legal accuracy and that best practice contract management was being applied. External legal advisers, Deacons and Simpsons, were engaged to undertake this work which has now been completed. Staff workshops will be conducted next year to familiarise them with the new procedures and forms.
Return to

Top