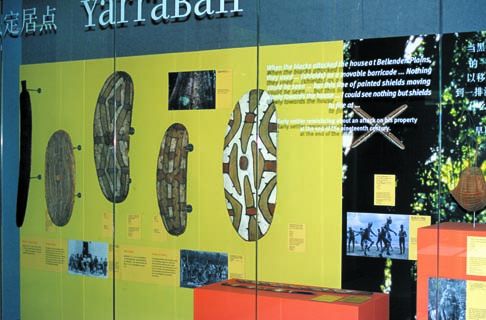 The Museum's first international exhibition, Stories from Australia: Aboriginal and Torres Strait Islander Peoples, opened in China in December 2002. As part of the celebrations of the 30th anniversary of diplomatic relations between China and Australia, the Guangzhou Museum of Art invited the Museum to present an exhibition showcasing Indigenous Australian cultures. The exhibition opened in Guangzhou on 6 December 2002 and was supported by Mr and Mrs Chau Chak-wing, Mr Cui Zhen Ji and Mrs Cui LiaoWen Ying. It also attracted sponsorship from Chinese and Australian companies.
The exhibition profiled nine diverse Indigenous communities across Australia, their lives and beliefs, and their distinctive stories and art. The exhibition, on show until February 2003, also explored the influence of ancestors and country, the message of ceremonies and the survival of ancient traditions. All objects in the exhibition came from the National Historical Collection. Traditional dancers from Saibai Island and East Gippsland introduced Chinese visitors to the exhibition through storytelling, song and dance, and Chinese school children worked with Indigenous artists to create a giant Rainbow Serpent.
The exhibition was opened by Vice-Mayor Chen Chuanya of the Guangzhou Municipal People's Government and the Australian Minister for the Arts and Sport, Senator the Hon. Rod Kemp. More than 40,000 visitors attended the exhibition.
The short timeframe available to develop the exhibition provided a challenge for staff. However, all deadlines were met including the identification and collection of objects, the collation of information, and packing and transport arrangements. Museum staff gained valuable experience in the areas of international transport, customs clearance and the issues involved in installing such a complex exhibition in another country.
Four exhibitions travelled across Australia during the year:
To Mars and Beyond: Search for the Origins of Life opened at the Melbourne Museum in December 2002
Cartoons 2002: Life, Love and Politics travelled to the Western Australian Constitutional Centre in Perth in May 2003
Rare Trades: Making Things by Hand in the Digital Age opened in February 2003 at Scienceworks in Melbourne before opening in Canberra in June 2003
I am Woman, Hear Me Draw: Cartoons from the Pen of Judy Horacek travelled to the Western Australian Constitutional Centre in September 2002 and the State Library of Victoria in December 2002.
Return to

Top