We are no longer updating this page and it is not optimised for mobile devices.
The delivery of a wide range of educational, informative and entertaining public programs and events relevant to the Museum's objectives, and linked to both its permanent and temporary exhibitions, is an important aspect of the Museum's activities, with the concept of 'lifelong learning' applied to both formal and informal learning programs for children and adults.
Programs for families and children

Families, and especially children, continue to be a key audience for the Museum with programs designed to encourage self-directed exploration and to provide opportunities for interaction with themes, ideas and stories in the Museum. Family and children's programs are designed to give children the experience of seeing and talking about objects and stories from the past; introduce children to new technologies and ways of interpreting the world around them; and to encourage children to imagine what their future, or their children's future, could be like.
I regret very much that when my children were small there was not such an interesting and absorbing place I could take them to give them a sense of our country, in all its diversity.
Grant McCall, Director, Centre for South Pacific Studies, University of New South Wales
The range of programs offered to families and children were expanded and diversified in the Museum's second year of operation and partnerships continued to be fundamental to their success.
Programs included:
a short course on cartooning and animation in collaboration with the Australian National University's Australian Centre for Arts and Technology in January 2003

seven sellout shows featuring Play School presenters supported by ABC TV and ActewAGL in April 2003

six workshops teaching children the basic skills of archaeology and forensic analysis of artefacts, involving archaeologists and anthropologists from the Australian National University's Centre for Archaeological Research. These workshops were part of the inaugural National Archaeology Week which was coordinated nationally by the Museum's Michael Westaway.
Other partnerships included activities with the University of Canberra, the May Gibbs Children's Literature Trust, the ACT Writers Centre and the ACT Children's Week Committee.
The museum is the best place to go.

Chloe, aged 7
The Museum's storytelling program continued to be enormously popular with younger children and their carers, with the program extended into the children's space for the Rare Trades exhibition. For the first time Auslan interpretation now accompanies the storytelling program once a month.
Storytelling was again a popular component of the children's festival at Canberra's Floriade festival in September and October 2002, and in April 2003 the Museum piloted its storytelling program outside Canberra at the Red Ochre festival in Dubbo, New South Wales. Introduced this year in association with the Friends of the Museum, Play Lunch with Friends is a paid program which provides parents and their young children with activities linked to storytelling and the themes of the Museum. The Museum is currently developing a strategy for under-five year old children and their carers which will include some paid programs.
Adult programming included paid storytelling on a variety of themes linked to the Eternity gallery, or special events such as the Winter Solstice and All Hallows Eve. These continued to be very popular with all sessions booked out.
Theatre and music were a strong feature this year for the Museum's public programs with musical performances for people of all ages held every second Sunday. In partnership with the Australia Council, magician Thor Blomfield and his team complemented the story in the Eternity gallery about Australia's most famous magician, Levante, by directing and presenting a performers-in-residence workshop in March 2003.
Commissioned by the Museum in 2001-2002, Edith Cowan University's major report on the representation of children in Australian cultural institutions was submitted in February 2003. A workshop in May 2003 was held by the Museum with key contributors to the report, and a major conference is planned for October 2003. The expected outcome of this research and the conference is to provide a sound framework for the representation of children, the interpretation of children's culture and the development of children's programs in the Museum.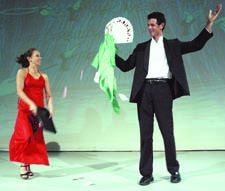 Young people's programs
A number of workshops for young people held throughout the year were part of the Museum's successful Writers in the Museum program, in partnership with the May Gibbs Children's Literature Trust. The ten workshops were led by successful artists including:
artist Elaine Russell making toys with minimal materials


writer and illustrator Jeanette Rowe how to create cartoon characters and develop a story around them


writer Hoa Pham creating stories based on experiences from other cultures


writer Elizabeth Honey how to create mood and atmosphere in writing


Thor Blomfield the secrets of being a magician.
Programs targeted at young people from their mid-teens to mid-20s were also a special focus this year. The multimedia program Sky Lounge, introduced in 2001-2002, was presented in the Garden of Australian Dreams over four Friday nights in February 2003. Designed to attract young people to the Museum with a mix of music, films and food, the general theme of the program this year, Animation and the Future, was consistent with the Museum's temporary exhibition, Cartoons 2002. A selection of the best digital animation from film festivals around the world was included with a collection of the best Flash animation. The work of emerging animators was showcased along with that of musical performers.
Sky Lounge proved to be a major success and attracted significant media support with the ABC's national youth network, Triple J, a partner in the project. Local television station Southern Cross Ten, BMA magazine and clothing company Stocks were also sponsors of the event.
It represents a much needed - courageous - foray into youth culture and youth markets This in itself is a significant coup for the Museum.
Muse magazine, March 2003
Highlights of other young people's activities were:
facilitating an 'online muster' in August 2002 involving 60 youth groups from all states and territories as part of activities for the 2002 Year of the Outback. The purpose of the muster was to enhance the delivery of the Museum's online programs to young people living in remote and outback communities

a national competition to create a concept for the youth section of the Museum's website, conducted in partnership with Noise, the Australia Council's national media-based arts festival which showcases the creative work of young Australians. The competition was won by 18-year-old Jem Freeman from regional Victoria who spent three days working with Museum staff to further develop his winning design. Jem's design will become part of the Museum's new website in December 2003

Youth Week activities at the Museum in April 2003 in partnership with the ACT Youth Week Committee

Presentation of a workshop, Creating the News, involving 20 young people working with television presenter Richard Morecroft, ABC Radio's Paul Carr, Canberra Youth Theatre's Linda McHugh and Museum broadcast staff to develop and film their own television news program based on the Museum's To Mars and Beyond temporary exhibition.
Public forums, seminars, conferences and presentations
The Museum brings together leading experts in their fields with members of the general public to exchange perspectives and experiences on themes relevant to the Museum's permanent and temporary exhibitions. In 2002-2003 the Museum presented 113 public lectures, forums, seminars, conferences and workshops and highlights included:
four forums on topical community issues such as the 2003 ACT bushfires and the national drought

two forums focusing on the recovery of Iraq's cultural heritage and the challenges of international cooperation, featuring a range of international experts such as Dr Lyndel Prott, former Director of UNESCO's Cultural Heritage Division and Professor Amareswar Galla, Director of the Australian National University's Centre for Sustainable Heritage Development

six workshops and seminars for the inaugural National Archaeology Week, organised by the Australian Archaeological Association and coordinated nationally by the Museum. Topics included forensic anthropology, the future of Iraq's cultural heritage, archaeology and the history of the Gallipoli battlefields, and the Aboriginal peopling of Australia

a seminar by Dr Carol Mayer, Senior Curator of Ethnology at the Museum of Anthropology in Vancouver, Canada who spoke about her museum's relationships with south Asian, Muslim, First Nations and Chinese communities

five lectures linked to the To Mars and Beyond exhibition, presented by eminent speakers such Dr Seth Shostak from Search for Extra Terrestrial Intelligence, Dr Fred Watson from the Anglo Australian Observatory, and Dr Allan Paull from the University of Queensland

a live satellite telephone cross to Arctic explorer, Marcus Fillinger who succeeded in making the first solo and unassisted dive at the North Pole, as part of activities for World Earth Day

the Celebrating Australians lecture series, based on stories in the Eternity exhibition, with Professor Graeme Clark presenting the inaugural lecture, 'The bionic ear: passion in science'

three public lectures on desert environments and archaeology presented by Professor David Thomas from the University of Sheffield, Professor Martin Williams from the University of Adelaide, and Professor Clive Gamble from the University of Southampton

'In conversation with Barry Hill on TGH Strehlow', with author Barry Hill and Museum archaeologist, Dr Mike Smith

a Discovering Democracy forum on civics education

a political cartooning conference in December 2002 featuring Australian cartoonists and Steve Bell, cartoonist from London's Guardian newspaper

regular lunchtime seminars for Friends of the National Museum, staff and other interested participants presented by both Museum staff and external researchers

a video conference link between museum workers across Australia and Museums Australia's national conference in Perth

'Untangling Tangled Destinies', a critique of the Museum's Tangled Destinies gallery, led by Museum archaeologist, Dr Mike Smith, and Dr Richard Gillespie from Museum Victoria

13 lectures and two major conferences, in collaboration with the Australian National University, covering a range of topics including population development, sustainable energy systems and evolutionary computing

four lectures, in collaboration with the Australian National University's Australian Centre for Art and Technology, on new forms of media

three film screening events held in collaboration with Canberra Institute of Technology and the Australian Film, Television and Radio School.
Details of all public lectures, forums, seminars, conferences and presentations are in Appendix 8.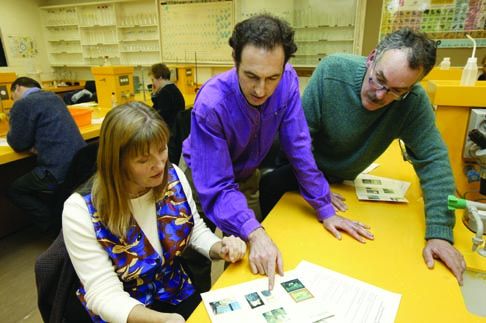 Working with community organisations
A sense of community ownership and commitment is essential to the Museum's success and future development. The Museum encourages this by involving communities in the development of its exhibitions, programs and services, working with communities to establish networks for fostering an understanding of Australia's history, providing expertise to assist small museums and community organisations improve their skill base, as well as assisting communities to document their own histories.
There are many examples of this type of Museum support and encouragement documented throughout this report. Examples of other relationships developed during the year with regional museums and other communities include the:
Adaminaby Snowy Scheme Collection Committee

Albury Regional Museum

Museum of the Riverina in Wagga Wagga

Echuca community in Victoria, through the piloting of a program called Basin Bytes which involves young people recording digital images of their environment for publication on the Museum's website

Canberra Institute of Technology where a number of Museum staff share their expertise with Museum Studies students.
Event management and coordination
Exhibitions, launches and other public occasions require event management and coordination, and many events are organised by the Museum in collaboration with outside community or commercial organisers.
Events were staged around the opening of temporary exhibitions and conferences as well as launches of the Museum's publications. Venue and event management were provided to mark events such as Mental Health Week, Dementia Awareness Week and the ACT Aids Action Council anniversary memorial vigil. The Museum also sponsored performances at Acton in conjunction with the National Folk Festival, the National Multicultural Festival and the Blues and Rock Festival.
Venue and event management was also provided for conferences held at the Museum by outside organisations, such as the Pan Pacific and South East Asia Women's Association of Australia's Sharing a Culture of Peace conference.
Return to

Top