We are no longer updating this page and it is not optimised for mobile devices.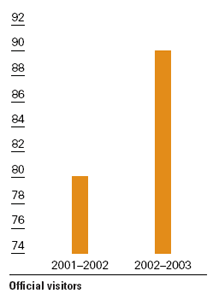 The Museum was host to an increasing number of official visitors during the year. These included delegations and representatives from overseas governments, international research institutes and cultural organisations, as well as visits from Australian members of parliament, other government representatives and sponsors and donors.
Visitors included the:
Association of Former Members of the Parliament of Australia
Delegation from the Papua New Guinea Parliament
Advisor to the President of the European Community
National Indigenous Youth Leadership Group
Delegation from the Beijing Municipal Government
Indonesian Ombudsman
French Chief of Army.
Return to

Top