We are no longer updating this page and it is not optimised for mobile devices.
Council approved 32 significant collections during the year for acquisition to the National Historical Collection, the details of which are in Appendix 3.
Highlights included:
the Saw Doctor's Wagon, a tinker's wagon operated from the 1930s to the 1960s as a tool-sharpening business and family home by Harold Wright, an English migrant. The collection also includes more than 3000 tools and other equipment associated with Harold's life and occupation. The wagon and tractor were brought from Wangaratta to Canberra and are featured in the Rare Trades exhibition

two suitcases and a child's handmade farmyard set from the Eddisons, an English immigrant family who arrived in Australia at the start of the First World War. Their story encompasses migration, war and land settlement and the collection will be on display in the Horizons gallery in early 2003-2004

Sabai Island dance costumes reflecting Islander trade networks and the continuation of their traditional culture

Sydney Olympics memorabilia including items from the opening and closing ceremonies as well as sporting equipment.
Other significant collections acquired by the Museum during the year included:
a 19th-century 18-carat gold cup awarded for the main horserace at the Tirrana Picnic Races, donated by the David Innes Watt family. By 1875 this race meeting, near Goulburn, New South Wales, was regarded as one of the best horse-racing venues and social events in the colony


an early 20th-century wooden ballot box used in state and federal elections


a limited-edition print of the word Eternity by Sydney artist, cartoonist and filmmaker, Martin Sharp, in a script similar to the one used by the eccentric Sydney street-dweller, Arthur Stace


a Rugby League jersey from the 2003 World Sevens tournament, signed by Rugby League players and relatives of the Coogee Dolphins Rugby League Club players who died in the 2002 Bali bombings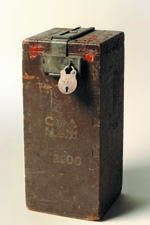 a targeted Indigenous collection from Tasmania comprising shell necklaces, prints, woven baskets, posters, possum-skin drums, and kelp water carriers


objects belonging to John Close, a member of Mawson's 1911-1913 expedition to Antarctica, including a brass and leather telescope, a pocket compass and a handsewn canvas bag


Humphrey B Bear's famous honeypot, yellow bowtie, tartan vest, straw hat, joggers, striped nightcap, and footage from his long-running children's television show.
Return to

Top